Walking Wednesdays
PCC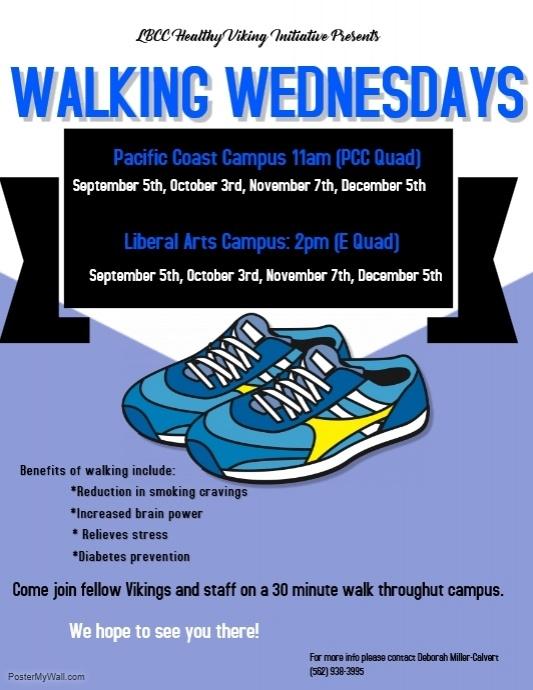 Sept. 5, Oct. 3, Nov. 7, Dec. 5
Pacific Coast Campus (PCC Quad) at 11am
Liberal Arts Campus (E Quad) at 2pm
Benefits of walking include:
– Reduction in smoking cravings
- Increased brain power
- Relieves stress
- Diabetes prevention
Come join fellow Vikings and staff on a 30 minute walk throughout campus.
We hope to see you there!
Healthy Viking Initiative
For more info please contact Deborah Miller-Calvert at 562-938-3995.
---
STUDENTS ONLY
If you require Sign language interpreting services or Communication Access Realtime Translation (CART) services , please contact the event contact person and Stephanie Bonales at least 72 hours prior to the event at (562) 938-4918 or sbonales@lbcc.edu.

FACULTY AND STAFF ONLY
If you require Sign language interpreting services, please contact the event contact person and Rebecca Lucas at rlucas@lbcc.edu at least 5 business days prior to the event.

If you require Communication Access Realtime Translation (CART) services, please contact the event contact person and Jaymee Hunt at cart@lbcc.edu at least 5 business days prior to the event. *Please note requests are based on provider availability*