Council approves new Downtown Innovation Center
The City of Long Beach, LBCC & BLANKSPACES launches new entrepreneurial hub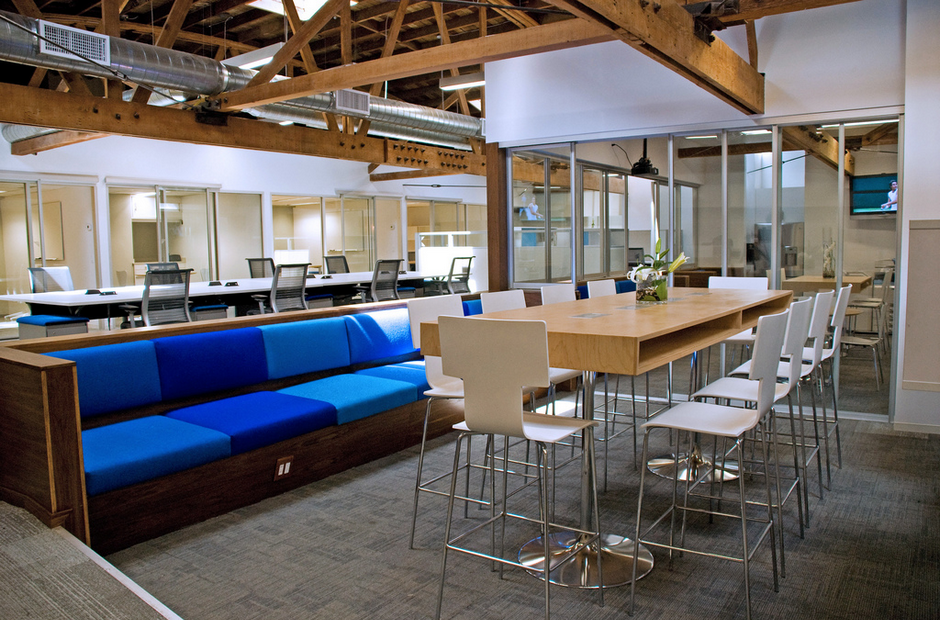 A partnership agreement approved by the Long Beach City Council on Tuesday, December 5, 2017, will create a new downtown learning and working center for business owners and entrepreneurs. The lease agreement formalizes a partnership between the City, Long Beach City College (LBCC) and BLANKSPACES to revitalize 309 Pine Ave. into a shared working environment and entrepreneurial innovation center.
"This is the most recent example of how we are building the entrepreneurial ecosystem in the City of Long Beach," said Mayor Robert Garcia. "Our goal is to leverage City assets in new and innovative ways to create economic opportunities for workers, investors, and entrepreneurs."
Under the agreement, the City will invest $250,000 in improvements to the property. LBCC will provide educational resources such as business advising, international accelerator programs, workshops, and access to capital to support Long Beach's existing and emerging entrepreneurs, and other innovative programs to grow the LB entrepreneurial ecosystem. BLANKSPACES, a private company that creates shared working environments in the greater Los Angeles area, will design and develop the property as a shared working space, manage day-to-day operations, and rent working spaces to local entrepreneurs. A portion of the proceeds generated from activities in the innovation center will be used to reimburse the City for its initial investment.
"This partnership will serve as a lightning rod for small business development and entrepreneurship in Long Beach," said First District Councilwoman Lena Gonzalez. "And, we will dedicate this facility to Shaun E. Lumachi, who was dedicated to fostering the entrepreneurial spirit and building unique partnerships, like this one, to drive economic growth."
The City-owned 309 Pine Ave. is currently occupied by LBCC's Small Business Development Center (SBDC). In July 2016, the City called for proposals to leverage public-private partnerships and maximize City-owned assets to increase the number of businesses in Long Beach. LBCC submitted the winning proposal that included a new partnership with BLANKSPACES to develop a shared working space at the 309 Pine Ave. building.
"This new partnership fits perfectly with LBCC's longtime mission of boosting the regional economy by helping businesses grow and create jobs," said Dr. Reagan F. Romali, LBCC Superintendent-President. "This re-imagined space is taking our support for entrepreneurs in a new and exciting direction, allowing them to work, collaborate and learn in the same place."
Long Beach City College is the host of the Los Angeles Regional SBDC Network, which provides a range of one-on-one technical advising to small businesses, the Goldman Sachs 10,000 Small Businesses program, and a number of Workforce Development training programs serving Southern California. All of these programs are administered by LBCC's College Advancement & Economic Development division, which focuses on small business development, entrepreneurship and job training to support job growth and the regional economy.
Brought forth by Councilwoman Lena Gonzalez, City Council voted on November 14, 2017 to request that the Housing and Neighborhoods Committee consider renaming the SBDC located at 309 Pine Ave., the Shaun E. Lumachi Innovation Center, after Shaun E. Lumachi. His legacy will help others achieve their innovative goals to make their businesses and the City of Long Beach a better place to live work and play.
The innovation center groundbreaking is set for January 2018, and the goal is for the hub to be fully operational by spring 2018.
About Economic Development
The mission of the City's Economic Development Department is to create economic opportunities for workers, investors, and entrepreneurs. This includes making it easier to start and grow a business, streamline the process for property development, and provide businesses with a skilled workforce. The Department includes Property Development, Business Development, and the Pacific Gateway Workforce Investment Network.
---
About Long Beach City College
Long Beach City College consists of two campuses with an enrollment of over 25,000 students each semester and serves the cities of Long Beach, Lakewood, Signal Hill, and Avalon. LBCC promotes equitable student learning and achievement, academic excellence, and workforce development by delivering high quality educational programs and support services to our diverse communities. Visit www.LBCC.edu for more information about Long Beach City College.
MEDIA CONTACT
Stacey Toda
LBCC Associate Director
Communications & Community Engagement
(562) 938-4004