Development of New Downtown Innovation Center Reaches Milestone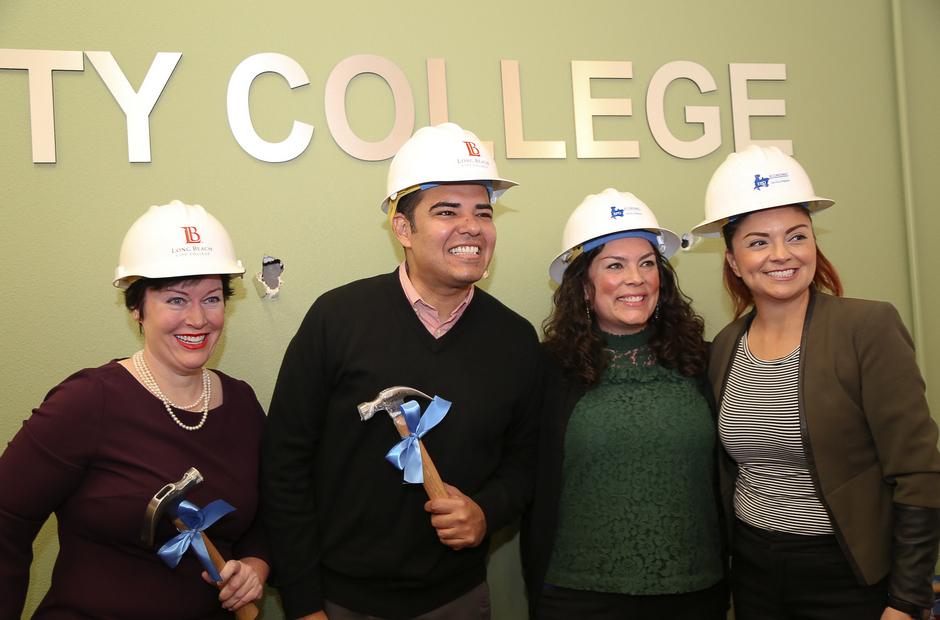 Earlier today, the City of Long Beach, in partnership with Long Beach City College (LBCC) and BLANKSPACES, celebrated the groundbreaking of a new downtown innovation center at 309 Pine Avenue. Long Beach City Council voted to approve a lease agreement on Tuesday, December 5, 2017, that formalizes a partnership between the City, Long Beach City College (LBCC) and BLANKSPACES to revitalize 309 Pine Ave. into a shared working environment and entrepreneurial innovation center.
"We strive to move our City forward economically by equipping and empowering entrepreneurs," said Mayor Robert Garcia. "Our partnership with Long Beach City College and BLANKSPACES enables us to support Long Beach's new and existing business ventures and help grow the local entrepreneurial ecosystem."
The two-story building, encompassing 4,888 square feet, is currently occupied by LBCC's Small Business Development Center, which focuses on small business development, entrepreneurship, and job training to support the regional economy. The new partnership will now include BLANKSPACES, a brand of co-working community, that will design and develop modern co-working space as well as manage day-to-day operations while LBCC will deliver programs and support services for entrepreneurs.
"The Shaun Lumachi Innovation Center is the latest step in the revitalization of Pine Ave," said Councilwoman Lena Gonzalez.
"This center will bring together entrepreneurs, small business owners, education and civic leaders to shape the future of our great city."
Improvements to the new downtown Innovation Center will include a new façade, modern work and meetings spaces, and restoring an elevator and placing it back into service to maximize the programs and services provided.
"This is the future of entrepreneurship, and LBCC is thrilled to be a part of it," said Long Beach City College Superintendent-President Reagan F. Romali. "Today marks a new chapter in our partnership with the City of Long Beach, and a significant step toward a thriving entrepreneurial ecosystem."
Under the agreement, the City will invest $250,000 in improvements to the property. A portion of the proceeds generated from activities in the innovation center will be used to reimburse the City for its initial investment.
Brought forth by Councilwoman Lena Gonzalez, City Council voted on November 14, 2017, to request that the Housing and Neighborhoods Committee consider renaming the SBDC located at 309 Pine Ave., the Shaun Lumachi Innovation Center, after Shaun R. Lumachi. His legacy will help others achieve their innovative goals to make their businesses and the City of Long Beach a better place to live work and play.
The Innovation Center is set to be fully operational by spring 2018.
---
About Long Beach City College
Long Beach City College consists of two campuses with an enrollment of over 25,000 students each semester and serves the cities of Long Beach, Lakewood, Signal Hill, and Avalon. LBCC promotes equitable student learning and achievement, academic excellence, and workforce development by delivering high quality educational programs and support services to our diverse communities. Visit www.LBCC.edu for more information about Long Beach City College.
MEDIA CONTACT
Stacey Toda
LBCC Associate Director
Communications & Community Engagement
(562) 938-4004