LBCC breaks ground on $29 million project to upgrade Auditorium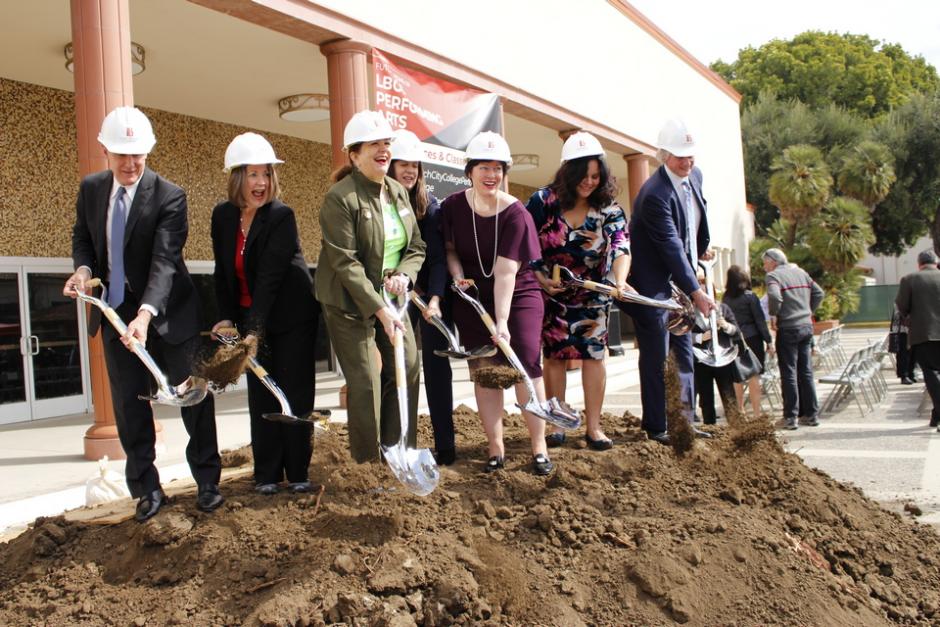 Long Beach City College executives, Board of Trustees members, students and staff celebrated the kickoff of a $29-million renovation of the Auditorium, Building J, with a groundbreaking ceremony today, March 8 at the College's Liberal Arts Campus.
"Long Beach City College is celebrating our 90th anniversary. We're extremely committed to academic excellence in a variety of ways including providing our students state-of-the-art learning facilities," said LBCC Superintendent-President Reagan F. Romali. "When we return here for our grand re-opening, we will be standing in front of a renovated auditorium that will look very similar from the front but will be far improved inside. And it's going to be so much more than just the LBCC auditorium. It will be a premier venue for theater, dance, award-winning shows, and lecture series."
The renovation project will update the home of the Performing Arts Department, with a new dance studio, air conditioning, new visual display systems, updated lobby, costume shop, green room and more.
The Auditorium has hosted famous performers and budding artists since it first opened in May 1957. Musicians from Dave Brubeck to Kenny G., actors such as Val Kilmer and Vincent Price, singer Shirley Jones, and speakers including Dr. Cornel West and Van Jones, have all performed on its stage.
The project will be paid for with funds from Measure E and Measure LB Bonds approved by the voters for renovation and repairs at LBCC's Pacific Coast Campus and Liberal Arts Campus.
The project architect is SVA Architects. Novus Construction is the general contractor. The Cordoba Corporation oversees and manages all Measure E and LB projects.
---
About Long Beach City College
Long Beach City College consists of two campuses with an enrollment of over 25,000 students each semester and serves the cities of Long Beach, Lakewood, Signal Hill, and Avalon. LBCC promotes equitable student learning and achievement, academic excellence, and workforce development by delivering high quality educational programs and support services to our diverse communities. Visit www.LBCC.edu for more information about Long Beach City College.
MEDIA CONTACT
Stacey Toda
LBCC Associate Director
Communications & Community Engagement
(562) 938-4004