New Electrical Technology & Senior Studies Facilities Open at PCC
Grand opening of two new campus buildings at the Pacific Coast Campus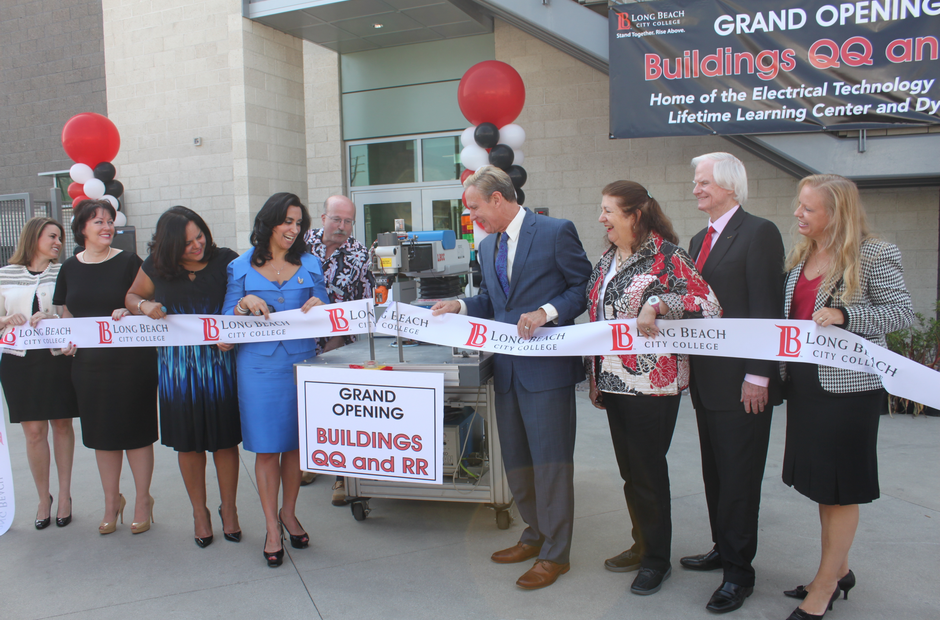 Long Beach City College hosted the grand opening of two buildings that house the Electrical Technology Program and the Lifetime Learning Center at the Pacific Coast Campus today, Oct. 4. The $20.3-million project, financed by voter-approved bonds, included construction of one new building and major renovation to another.
The new two-story, 24,454-square-foot Building QQ is a shared space for the Electrical Technology Program and the Lifetime Learning Center, which offers Senior Studies programs for older adults. The adjacent renovated 7,667-square-foot Building RR is dedicated to Electrical Technology.
Thanks to our local voters, Long Beach City College has been able to modernize our Electrical Technology facilities to provide a more robust education and training program for this high-demand industry.
"In addition, the new Lifetime Learning Center will allow us to expand and provide high-quality programs to more seniors in our community," said Dr. Reagan F. Romali, Long Beach City College Superintendent-President.
The new buildings provide students and faculty with state-of-the-art labs and technology as well as "green" features to save energy and water use, and installation of two new electric car charging stations. LBCC's electrical technology students can earn an Associate of Science degree or choose from multiple specialized certificate programs, such as solar panel installation and design, networking and more.
Previously located at the Liberal Arts Campus, the Electrical Technology program now joins other Advanced Manufacturing programs at the Pacific Coast Campus, including Welding, Computer Aided Design, Metal Fabrication and Computer Numerical Control. LBCC is now the only community college in the region to offer such a high number of Advanced Manufacturing programs on one campus. This array of related disciplines will allow faculty and students to collaborate across departments.
Features of Buildings QQ and RR include:
7 Electrical Classrooms: Transformer Motor, Cisco/Networking, Active Learning (AutoCAD), 2 Active Learning (Tab Arm), Labvolt, Motor Control.
Specialized labs: Motor Control and PLC (Programmable Logic Controller) Lab, Cisco Networking and Building Automation Lab, Building Lighting and Automation Lab, Robotics Lab. LBCC will be one of first community colleges in the state with a dedicated Building Lighting and Automation Lab and was built with California's highest levels of energy efficiency standards.
Outdoor work yard for solar panels.
Nearly full-sized traffic signal intersection workstation for traffic signal technicians.
Full Automation wing that will include Robotics, Electro-hydraulics, and Pneumatics.
The new Lifetime Learning Center features new computers, upgraded technology, and new facilities that will allow for additional classes.
The $20.3 million project was paid for with funds from the Measure E Bond, passed by voters in 2008, which granted $440 million for new construction, renovation and repairs at LBCC's Pacific Coast and Liberal Arts campuses.
Construction of the facilities began in April 2016. The architect was HPI Architecture and the builder was RC Construction. The Cordoba Corp. manages LBCC's bond development program.
---
About Long Beach City College
Long Beach City College consists of two campuses with an enrollment of over 25,000 students each semester and serves the cities of Long Beach, Lakewood, Signal Hill, and Avalon. LBCC promotes equitable student learning and achievement, academic excellence, and workforce development by delivering high quality educational programs and support services to our diverse communities. Visit www.LBCC.edu for more information about Long Beach City College.
MEDIA CONTACT
Stacey Toda
LBCC Associate Director
Communications & Community Engagement
(562) 938-4004