Automotive Training Programs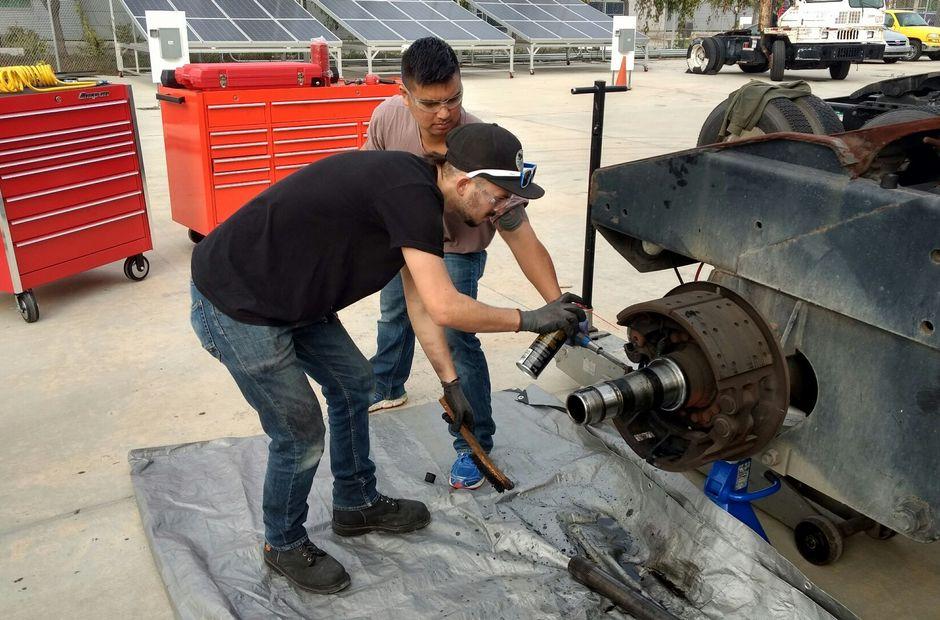 LBCC's Advanced Transportation Technology (ATT) Training Program offers a variety of training classes in technical areas related to alternative fuels.
We provide training for municipal and private fleet technicians and mechanics in the areas of cylinder inspection for Compressed Natural Gas vehicles, use of INSITE, the leading OEM diagnostic software for Cummins Electronic Engines, and more. All classes are hands-on, and include both lab and lecture components. Course descriptions are listed below.
Note: If you're a business interested in having your employees trained in these classes, please contact Dana Friez, Workforce Development Training Manager.
Course Listings
* The classes are only offered to businesses for their employees on a fee basis. These classes are no longer open enrollment.
CNG Cylinder Safety Inspection and Certification
In this 16-hour course, students learn the regulations and proper required periodic inspections of cylinders used in Compressed Natural Gas vehicle applications. This is a two-day course designed for both technicians and management, inspection standards and techniques are covered along with applicable damage and corrective actions. Notebook and study materials are included in training fees. The CSA examination is available through CSA America for an additional fee upon completion of the course.
Digital Volt Ohm Meter (DVOM)
This 8-hour course is designed to improve understanding of basic DVOM functions through a hands-on approach and safe use. Training includes both lecture and lab experience. Technicians will be given the opportunity to take the Snap-on DVOM meter certification test and receive a certificate if they score 80% or higher on the exam.
Electrical Principles
Unlock the mystery of the Electrical System on a vehicle with this hands-on workshop. This 8-hour course is a must for those seeking a better understanding of the diagnosis of electrical circuits.
Electrical Schematics
Using a hands-on approach, this 8-hour course will investigate the use of schematics and wiring diagrams in the troubleshooting of electrical circuits. Diagnostic techniques are covered to better understand the concepts involved.
Electrical Scan Tools & Diagnostics
Come to learn how to best utilize scan tools in diagnostics of computerized circuits in this 8-hour course. We will be demonstrating the use of various scan tools and their features while learning the best practices used in diagnosis. Examples will include many manufacturers and systems available in the industry such as Snap-on, MasterTech, Ease, Determinator, INSITE, and other laptop based software.
ISL-G Diagnostics & Repair Level 1
This training provides a comprehensive review of inputs, actuators, and processing of the Cummins ISL-G CNG Electronic Engine Management System, including manual testing of components to learn where they are located on the engine and how they work. This class prepares you for the one-day INSITE class and the following ISL-G level 2 program.
ISL-G Diagnostics & Repair Level 2
Learn hands-on diagnostics procedure for fault detection and repair of inputs, actuators, and processing of the Cummins ISL-G CNG Electronic Engine Management System, using Cummins own INSITE software tool.
INSITE for Cummins CNG/LNG Systems
Train on the leading OEM diagnostic software for Cummins Electronic Engine Management System. This hands-on workshop for technicians covers special parameters for ISL-G, user tips, diagnostic procedures, and screen-by-screen examples. It is highly recommended that this INSITE class be taken prior to taking the advanced portion of the ISL-G program, ISL-G Diagnosis and Repair Level.