Breathe Easy at LBCC
Campuses Officially Smoke & Tobacco Free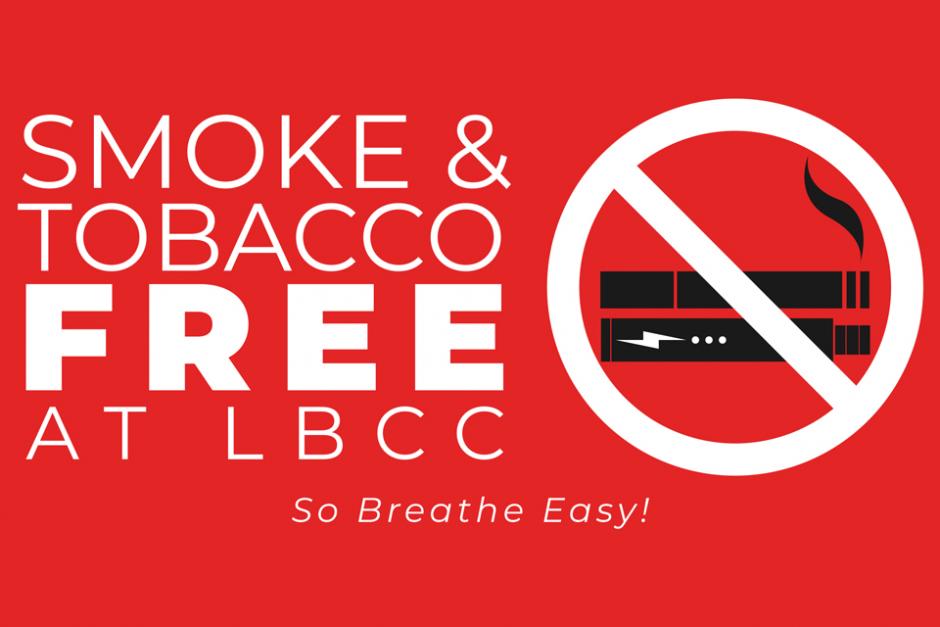 The Long Beach Community College District, in support of the California Community College Chancellor's Office and Board of Governors resolution, is officially implementing a smoke and tobacco-free policy at both campuses.
In recognition of the well-documented hazards of smoking, the Board of Governors of the California Community College in May 2018 passed a resolution for a Smoke and Tobacco-Free Community College System to support the adoption and implementation of 100% smoke- and tobacco-free policies at all 114 California community colleges. Smoking of any kind, including use of electronic devices, and all uses of tobacco are prohibited on all property and in all indoor and outdoor spaces owned, leased, licensed, or otherwise controlled by the District, and in all District-owned vehicles. This includes parking lots; smoking and vaping in private vehicles that are parked in LBCC lots is prohibited.
We recognize that while there is widespread support for making the transition to a smoke- and tobacco-free campus, we need to proceed thoughtfully and carefully. To that end, we convened a task force with representatives from campus constituent groups — Academic and Classified Senates, Faculty and Classified Unions, ASB, and others. The group developed a plan for implementing the revised Board Policy and Administrative Regulation, which includes adding signage around campus and sharing information via e-mail and online. We are also working on repurposing some of the designated smoking areas in a way that still allows students and staff to gather and enjoy our beautiful campuses. The task force will continue to meet over the next few months to ensure that we make this transition as smoothly as possible.
In further support of our campus community, LBCC wants to support anyone who chooses to quit smoking. The Healthy Viking initiative offers smoking cessation workshops that anyone is welcome to attend. The LBCC Veterans Services team partners with the V.A. to host a Tobacco Cessation Group and other activities such as yoga and hypnosis that can benefit those trying to quit. The California Smokers' Helpline is a text message program that is available to anyone, and free telephone counseling and resources are available in six languages at 1-800-NOBUTTS. There are also several apps focused on helping people to quit smoking, such as No Butts, QuitGuide, quitStart, and This is Quitting, which was designed specifically for college students.
To accommodate those who smoke, LBCC provides Cigarette Surrender Zones where students can throw away their cigarettes before they come onto the main parts of the campus.
Cigarette Surrender Zone (LAC)