Native American & Indigenous Heritage Events
Join us for Celebration!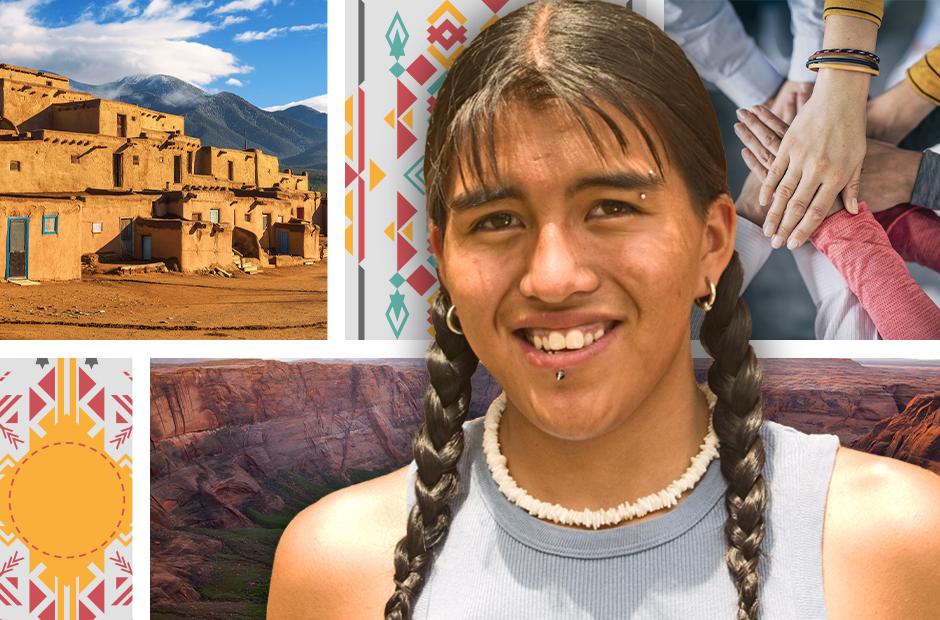 We wish to affirm and elevate the campus community by celebrating the diverse tapestry of intersectional identities that make us LBCC.
Native American Heritage Month Kickoff (PCC)
DATE/TIME: Tuesday, November 7, 2023, 12:00PM – 2:00PM
LOCATION: PCC, EE Quad (in front of the Student Union)
Theme: What's Native Enough?
At LBCC we recognize that Native American Indigenous students and employees, and the many rich cultures collectively embodied within this umbrella term, are an integral part of our campus community! Join us in celebrating Native American Heritage Month with food, music, and more.
---
Film Screening of "Saging the World"
DATE/TIME: Thursday, November 9, 2023, 12:00PM – 3:00PM
LOCATION: LAC, E Building (Nordic Lounge)
Come to a free screening of "Saging the World" and enjoy some free pizza, popcorn, and drinks!
---
Bead Making Circle
Join facilitator Jennafer Viera, who is a Dine and Salvadorian artist, in the traditional art of beading. Bead Making Circles symbolize Indigenous resiliency and units of immeasurable social and cultural wealth.
---
Keeping it 100
DATE/TIME: Monday, November 20, 2023, 4:00PM – 5:00PM
LOCATION: LAC, T-1200
To "Keep It 100″ means to keep it as real as possible and that is exactly what this panel will be doing. A panel of successful Native American professionals will be sharing their success stories, how to overcome obstacles, and offer useful tips on navigating spaces that may not have been designed for Native American people.
---
Sip N' Paint
Celebrating Native American Heritage Month through art, conversation, self-care, and creativity.
RSVP HERE
(Sign-up form opens 11/7 @8am)
---
Beyond the Box: What's Native Enough?
DATE/TIME: Tuesday, November 28, 2023, 3:30PM – 5:00PM
LOCATION: LAC, T-1300
Statistically Invisible: Supporting Native American Indigenous students in the California Community College system. What's Native Enough?
---
Sip N' Science Presents: Exploring Science Through an Indigenous Lens
DATE/TIME: Wednesday, November 29, 2023, 6:30PM – 7:30PM
LOCATION: LAC, D-104 (DESTINO Center)
Join Nicholas Rajen, a Natural Resource Specialist with the intertribal Agriculture Council, to discuss how indigenous knowledge (indigenous STEM and TEK- Traditional Ecological Knowledge) forms the bedrock of modern global agriculture systems and how it can be applied to build sustainable and healthy communities for both people and the environment.
Food and refreshments will be provided!
---
Meet Your Village
DATE/TIME: Thursday, November 30, 2023, 1:30PM – 2:30PM
LOCATION: LAC, P-127
Meet Native/Indigenous identifying students, staff, faculty, and administrators at LBCC while enjoying some delicious sweet Fry Bread!
---
Peacemaking Circle
"Generational trauma and displacement are heavy burdens to carry. Often we do not know how to begin the healing." Join us in participating in a Peacemaking Circle, facilitated by Dr. Thomas Reed who is a CSULB American Indian Studies Associate Professor, to promote individual and collective healing. Based on indigenous customs, Peacemaking Circles provide a safe space for honest dialogue.
---
STUDENTS ONLY
If you require Sign language interpreting services or Communication Access Realtime Translation (CART) services , please contact the event contact person and Stephanie Bonales at least 72 hours prior to the event at (562) 938-4918 or sbonales@lbcc.edu.
FACULTY AND STAFF ONLY
If you require Sign language interpreting services, please contact the event contact person and Rebecca Lucas at rlucas@lbcc.edu at least 5 business days prior to the event.

If you require Communication Access Realtime Translation (CART) services, please contact the event contact person and Jaymee Hunt at cart@lbcc.edu at least 5 business days prior to the event. *Please note requests are based on provider availability*