New Anti-Phishing and Anti-Spam Service
November 2nd, 2023
Dear Colleagues,
In the ongoing effort to protect Long Beach City College from the onslaught of continued and new cyber threats, ITS will deploy the latest anti-phishing and anti-spam services for Office 365 on Tuesday, November 7th.
Because some legitimate messages look suspect, when Office 365 quarantines an email, it will send you a message that offers specific actions that you can take (e.g., block, review message, request release) based upon the potential risk. The message from Office 365 will look like the following: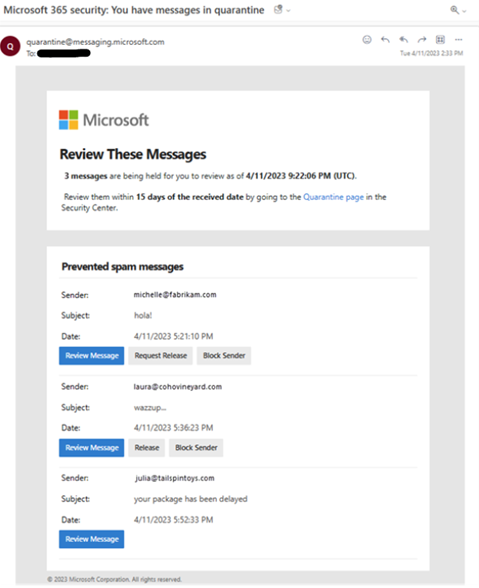 When you have a moment, please take the time to watch Managing the User Quarantine in Microsoft Defender for Office 365 (1min 17secs) from Microsoft for a quick review of the new service.
For more, in-depth information, you may also wish to read Manage Quarantined Messages and Files as a User.
If you have any questions regarding this or any other previous advisory, please feel free to email the Office of Information Security.