Sarah Hawbaker
Film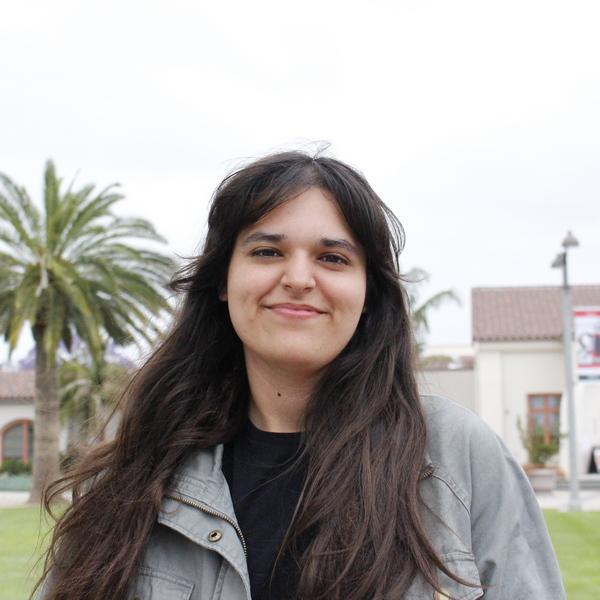 NAME:
Sarah Hawbaker
AGE:
20
HOMETOWN:
Paris, France
MAJOR:
Film
LBCC ORGANIZATIONS, CLUBS OR SPORTS AFFILIATIONS:
President fo the Film Club
Q: HOW LONG HAVE YOU ATTENDED LBCC?
A: This is my second year and fourth semester.
Q: WHY DID YOU DECIDE TO ATTEND LBCC?
A: I originally intended to go to SMC, but before attending my first class there, an individual gave a worrying speech to the students waiting in front of the class, explaining how he wanted to get back to his father… I went to the administration to report it, but they didn't take it seriously. My parents didn't want me to stay there either, so I enrolled a few days late at LBCC, and I'm so glad I did.
Q: WHAT WERE YOUR EXPECTATIONS WHEN COMING TO LBCC?
A: Since I enrolled here so suddenly, I didn't have specific expectations when coming to LBCC. I was just hoping that it would be somewhere I could learn in a welcoming atmosphere.
Q: WHAT DOES LBCC MEAN TO YOU?
A: For me, LBCC has been somewhere I was able to pursue my goals and test my abilities. Also, I love the diversity of its student body. As someone who immigrated here, I am maybe a little more comfortable in that setting, which feels accepting. You witness different cultures, but it still has that sense of a community. Even more in our small film program, everyone knows each other, which is great to network as well. That's what makes LBCC stand out to me.
Q: WHO IS YOUR ROLE MODEL?
A: I would have to say my role model is my grandmother, even though she passed away. She was such an autodidact, she had countless skills and would thrive for perfection. Not only that, she also used to share many Oriental and Hispanic tales and songs with me, which I'm sure influenced me greatly.
Q: WHAT IS YOUR BIGGEST PASSION?
A: Storytelling. That would be my biggest passion. I love to write, share people's stories, create my own, discover and understand how humans and the world connect with each other.
Q: IN WHAT WAY HAVE YOU MADE AN IMPACT AT LBCC?
A: Other than just participating in class discussions, I hope I made an impact at LBCC through the Film Club. With events such as our annual film fest and the film faculty Q&A panel, I'd like to say I was able to give students a voice and platform to share and celebrate their work, as well as ask questions so that they can keep learning and get advice. Though I definitely couldn't have done it alone, I'm lucky I had willing students and caring professors to make it happen.
Q: HOW HAS LBCC SHAPED YOU INTO YOUR BEST SELF?
A: I believe LBCC shaped me into a better self by letting me be initiative and providing me with a supporting circle.
Q: WHAT ADVICE WOULD YOU HAVE FOR NEW LBCC STUDENTS?
A: I would advise any new LBCC student not to shy away from asking questions so that they quickly become familiar with the environment. Get to know your professors, get involved with Student Life (going to the Fishbowl is a good start), visit the Transfer Center (A building), ask them or your professors about the Honors Program. If you're having difficulties in your classes, there's the tutoring center. Make sure to use the computer labs if you need to. I know life can get in the way, but finding time to get involved will create opportunities for you, and you can always email or call.
Q: IF THERE IS ONE THING LBCC HAS TAUGHT YOU, WHAT WOULD IT BE?
A: If there is one thing LBCC has taught me it's that if you're determined and disciplined enough, you can achieve what you put your mind to, and don't shy away from going the extra mile, it will pay off.
Q: WHAT ARE YOUR PROFESSIONAL GOALS?
A: My professional goals include being a writer and a documentary filmmaker.
Q: WHAT DO YOU PLAN TO DO AFTER YOU LEAVE LBCC?
A: After I leave LBCC, I hope to transfer and pursue film at a 4-year university.