Student Support & Services Provided
Learn more about how we support all LBCC students, including our hours & communication methods.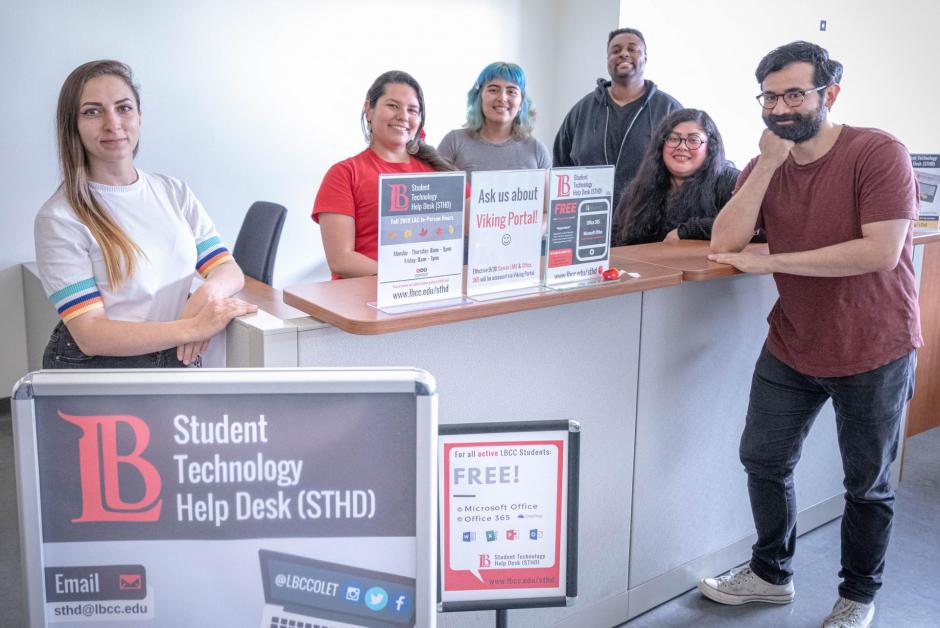 Welcome! The Student Technology Help Desk (STHD) supports all Long Beach City College students in accessing and successfully using Long Beach City College technology. We are staffed with knowledgeable and friendly student team members to provide peer guidance to all students. All assistance provided is FREE for Long Beach City College students.
What do we support?
We support the successful access and navigation of LBCC Technologies.
Viking Portal & Password Support
Canvas LMS
Free Microsoft Office/365
Citrix Web & Workspace
Student Viking System
Student Viking Email
LBCC Website Navigation
& More!
Don't see something you need help with listed here? Reach out to us anyhow. We can try to help you get to the right support area.
How to locate the STHD
Phone: (562) 938-4250
Email: sthd@lbcc.edu
Chat: Click here to find a team member to chat with.
Zoom: We can connect via Zoom. We can send you an invite link.
In-Person Locations (currently closed due to campus closure):

LAC: L Building 2nd Floor Landing
PCC: Student Union (EE Building)
Fall 2021 Hours
August 30 – December 16
Remote Support (phone, email, chat): Monday - Thursday 8am – 7pm, Friday 8am – 4pm, Saturday 10am – 1pm.
In-Person LAC Support (subject to change): Monday – Wednesday 10a – 3pm, Thursdays TBD.
Policies
Please note that for the protection of LBCC students and our team members, the Student Technology Help Desk (STHD) team is not permitted to work on student devices, which includes installing software, removing viruses, doing homework, or providing instructions to users on how to fix computer problems.
STHD team members will not handle your device.
Please note that whenever possible we will provide as much support as possible and then refer to you the most appropriate support.