Women Art Now 2021
Women Art Now features artwork by the female faculty of the Long Beach City College Visual & Media Arts Department. This diverse group of professional artists has exhibited work at national and international venues. Their creative production spans a wide array of art disciplines, media, and styles embodying representation and abstraction, traditional and postmodern methods. In mounting an exhibition devoted exclusively to art by women, we pay tribute to the women of the Feminist Art Movement whose goal was to radically remake existing systems rather than acquiesce to women's greater participation in an art world dominated by men.
It's been fifty years since art historian Linda Nochlin, wrote the groundbreaking article "Why Have There Been No Great Women Artists?" (ArtNews, 1971) in which she challenged the patriarchal biases of the discipline by arguing a lack of educational opportunities, as well as societal and institutional barriers, inhibited women achieving artistic careers. At that time in California, Judy Chicago founded the first Feminist Art Program and the Woman's Building in Los Angeles became a mecca to support women's art and culture, providing alternative education, exhibition galleries, and spaces for performance and political groups. Today with Women Art Now, we both herald decades of progress since the 1970s and also continue the effort for gender equity. By highlighting the impressive artwork of the VMA women faculty, we recognize their individual critical accolades and crucial role in educating the next generation of artists for whom they serve as models of successful studio practices.
Director's Statement
Women Art Now is an online exhibition that celebrates Women's Month 2021, by featuring art made by women faculty members, currently teaching in the Visual and Media Arts Department at Long Beach City College.
The women artists featured in Women Art Now range in ages from the young, unable to witness first-hand, the early struggles for the representation of women in the arts – to more mature artists with a life-long portfolio of experiences and practices to share.
My thanks go to Professor Sarah Vure for organizing this project, and in particular for writing an insightful and informed introduction to Women Art Now.
Carolyn Castano
Carolyn Castaño is a Los Angeles-based artist who uses eco-feminist frameworks in painting, installation, video, and artist books to explore the landscape, migration, female and family identities in works that juxtapose drawing, photography, performance with patterns found in textiles, graphic design, and geometric abstraction.
Her work has been exhibited both nationally and internationally in Cali es Cali at the Orange County Museum of Art, Carolyn Castaño: A Female Topography 2001-2017 at Loyola Marymount University's Laband Art Gallery; We Must Risk Delight-Twenty Artists from Los Angeles at the Magazzino Di Sale; Phantom Sightings at LACMA and International Paper at the Hammer Museum.
Carolyn has taught in LBCC's Visual Media Arts Department for close to eighteen years, starting off as an adjunct and now as Associate Professor in Painting and Drawing. When not teaching, Carolyn is in her studio, momming her two kids, or asking her husband Gary, "What are we having for dinner?"
Carolyn Castano. Los Farallones ( Diptych). 2019. Watercolor, gouache, acrylic, and ink on watercolor paper mounted on plexiglass. 102 x 134 in.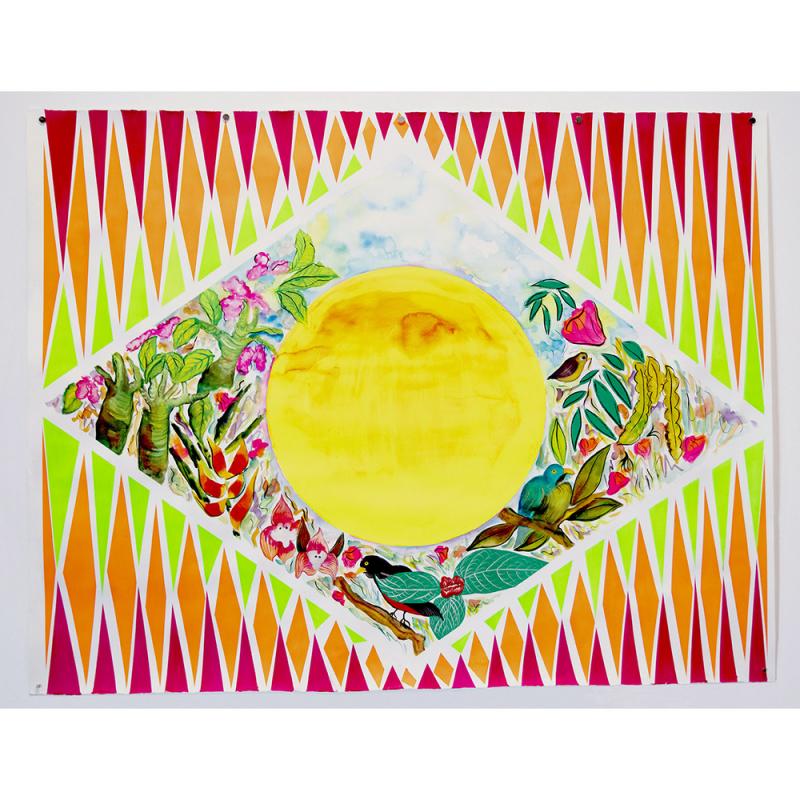 Carolyn Castano​. Valley of the Sun. 2019. Watercolor, gouache, acrylic, and ink on watercolor paper. 51.5 x 66.5 in.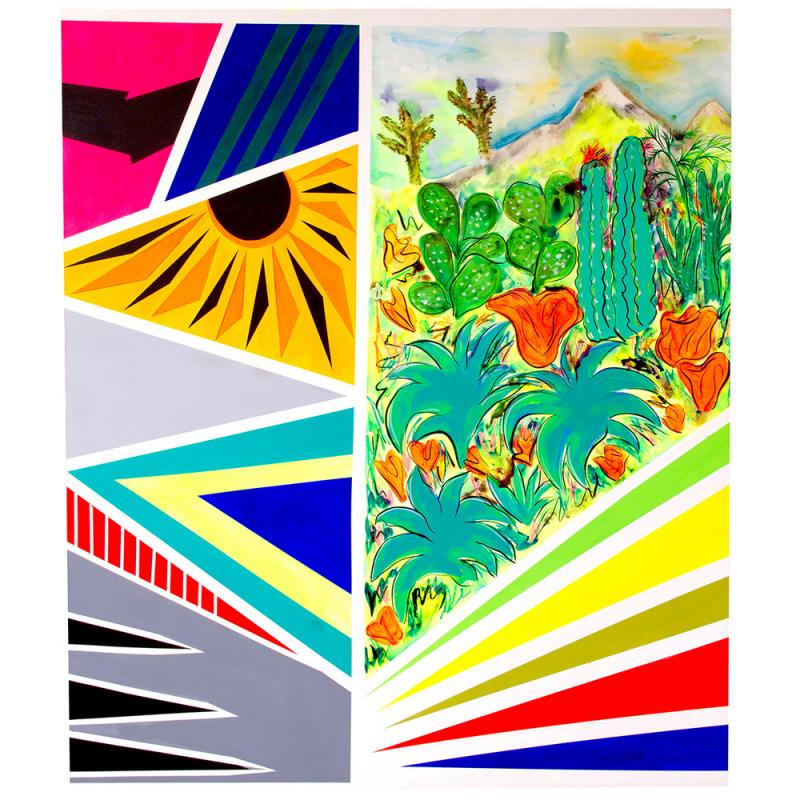 Carolyn Castano​. Ventanas ( Desert). Watercolor, gouache, acrylic, and ink on watercolor paper mounted on wood panel. 51 x 60 in.
Coleen Sterritt
Professor, Sculpture/3-D Design Coordinator
Coleen Sterritt is a Los Angeles-based artist known primarily for her abstract, hybrid sculpture. Her work has been exhibited nationally and internationally and is held in public and private collections including the Museum of Contemporary Art, L.A., and the Los Angeles County Museum of Art. Named a John Simon Guggenheim Fellow in 2016, her other awards and fellowships include the National Endowment for the Arts, the J. Paul Getty Trust Fund for the Visual Arts /California Community Foundation, the Roswell Artist-in-Residence Program, Art Matters, Inc., and the City of Los Angeles Individual Artist (COLA) Fellowship.
In 2019 she has received the Outstanding Educator Award from the International Sculpture Center. Sterritt was born in Morris, Illinois. She received a BFA from the University of Illinois, Champaign-Urbana, and an MFA from Otis College of Art & Design, Los Angeles. Her teaching career began in 1983 and she's been at LBCC since 1997.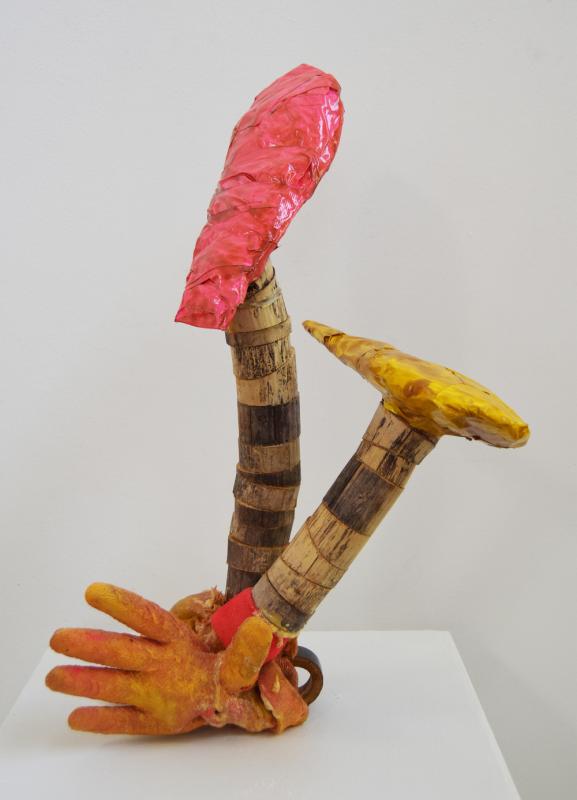 Coleen Sterritt. Hands&Feet. 2020. Bamboo, rubber gloves, cardboard, duct tape, shellac. 20 x 13 x 11 in.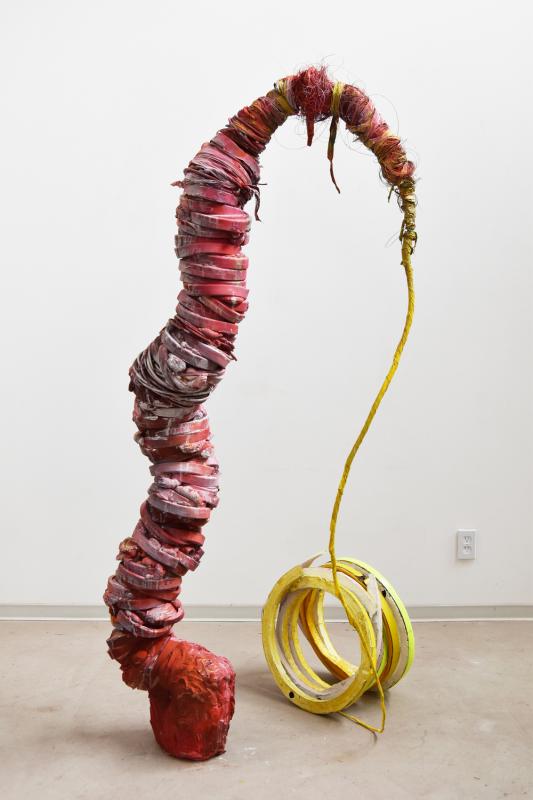 Coleen Sterritt​. Lanky Cranky. 2109. Wood, rubber, plaster, plastic, fishing line, duct tape, paint.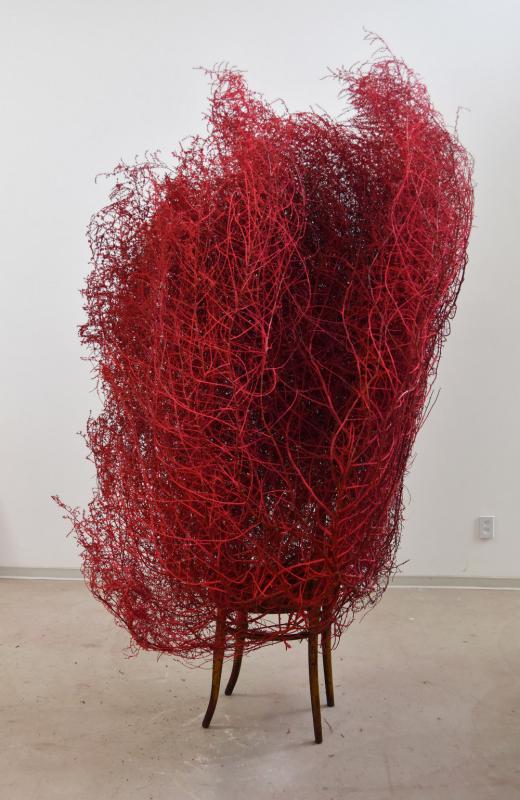 Coleen Sterritt​. Rumble Tumble Love. 2018. Tumbleweed, found furniture, pain 84 x 36 x 56in.
Michelle Ohm
Michelle lives and works in Long Beach, with her husband, Matt, and their two wiener dogs Melon and Forest. She received her MFA from Otis College of Art and Design and has shown in multiple galleries in Los Angeles.
Artist Statement
For this series, I studied female characters in film and television that I found to be archetypes that I either aspired to be or already related to. I wanted to be Andie in The Goonies, felt insecure and vulnerable like Annette, tried to be a great best friend like Cyn in Working Girl, and been the good Jewish daughter like Rachel in Mad Men (except I can't wear a hat as well as her). Pop culture has been a heavy influence in my life, and I study how representations of women in film and television create gender roles and stereotypes that are unattainable in real life.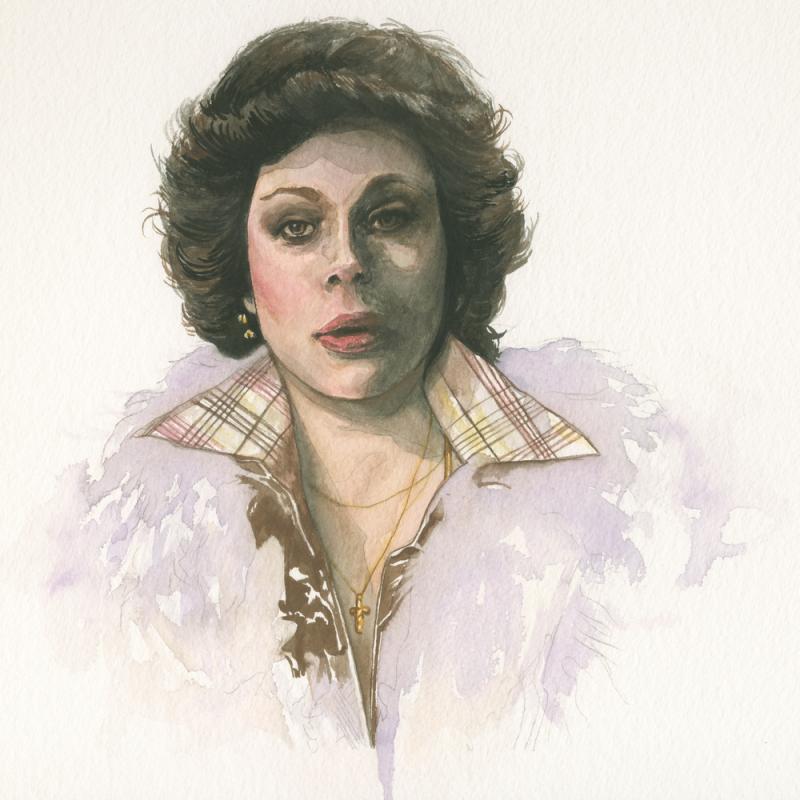 Michelle Ohm. Annette from Saturday Night Fever. 2010. Watercolor on Paper. 22 x 30 in.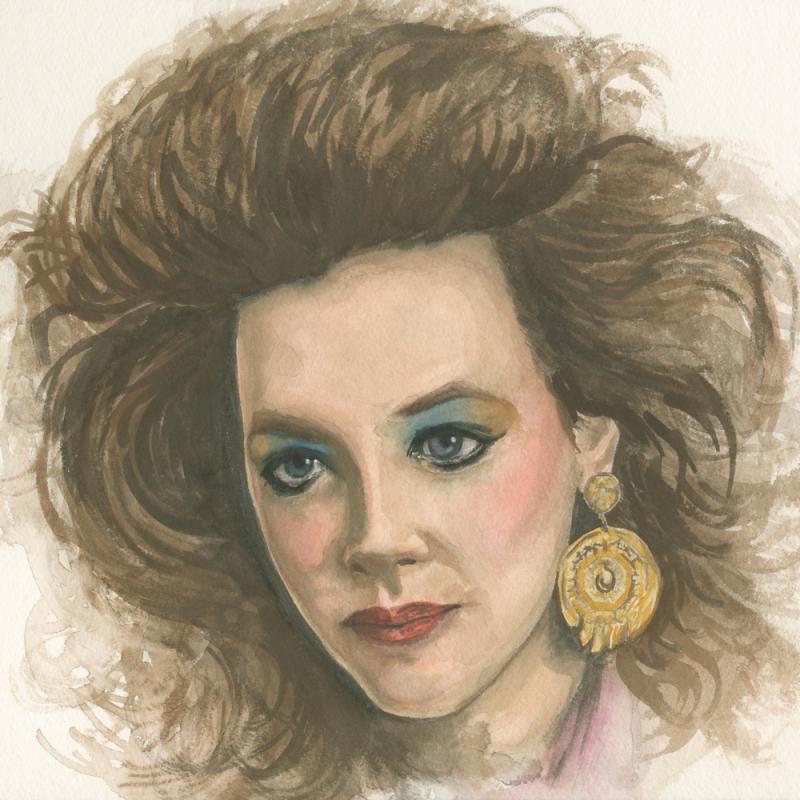 Michelle Ohm​. Cyn from Working Girl. 2010. Watercolor on paper. 22 x 30 in.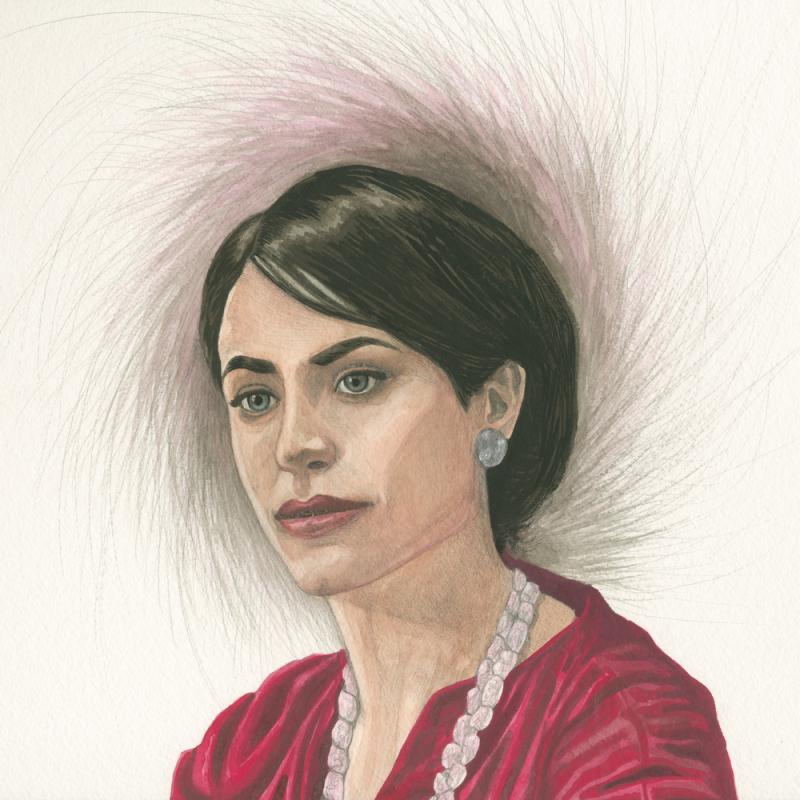 Michelle Ohm​. Rachel from Mad Men. 2010. Watercolor on paper. 22 x 30 in.
Sandra Low
During my undergrad and graduate studies, there was definitely a feeling of a boys' club among my male peers. In grad school, almost every male tenured art faculty member had dated and married their students. Men outnumbered women 2 to 1 in my MFA class. If you wanted any respect, you couldn't be seen as "weak." I kept my mouth shut to a lot of a**-holery and drank a lot of whiskey trying to fit in. It didn't work.
Sandra Low. My Hair Grows Dark Again. 2020. Ink & graphite on paper. 11.5 x 18 in.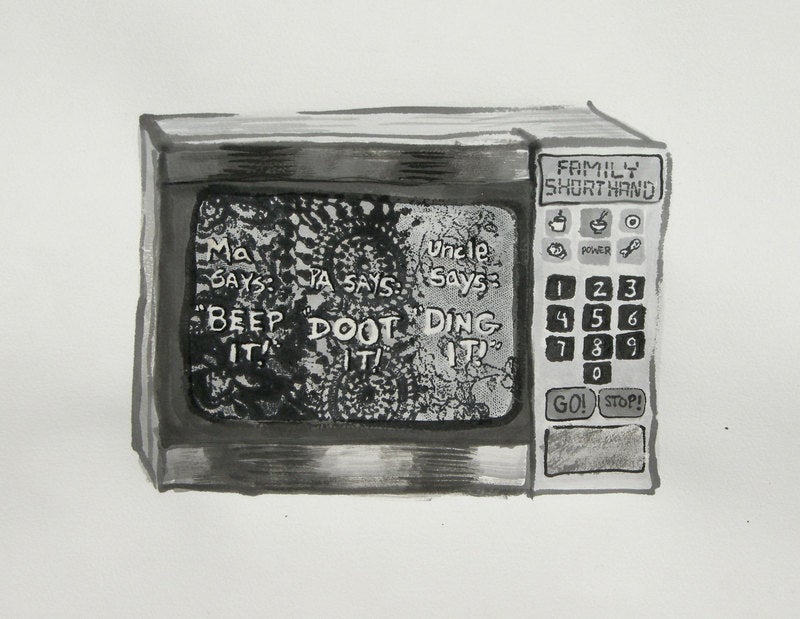 Sandra Low​. Beep, Doot, Ding. 2020. Ink on paper. 13 x 16in.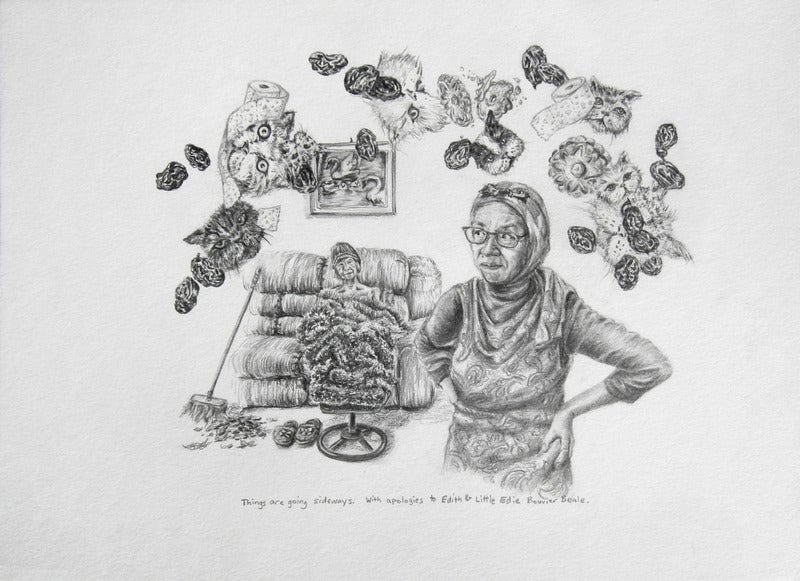 Sandra Low​. Things Are Going Sideways. 2020. Graphite on paper. 11 x 15 in.