ABC7 Journalist, Veronica Miracle announced as 2019 Commencement Speaker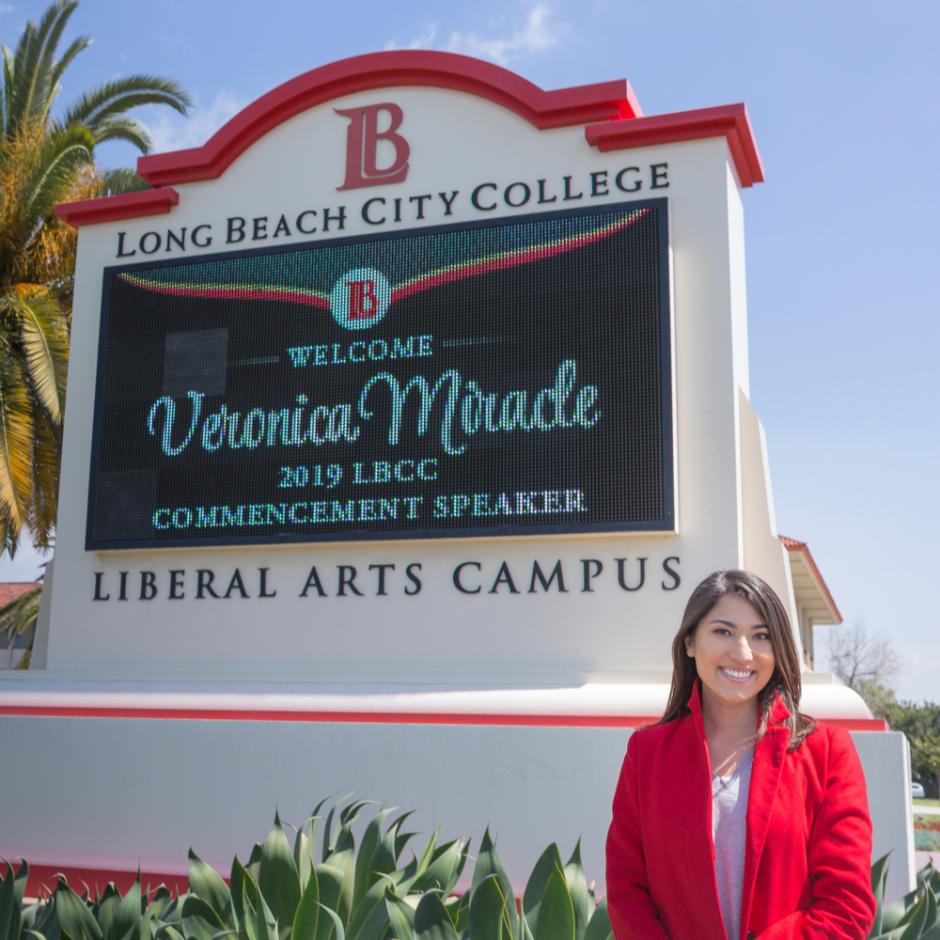 The Long Beach Community College District is proud to announce the selection of broadcast journalist Veronica Miracle as the 2019 Commencement Speaker for the Long Beach City College graduation ceremony scheduled for Thursday, June 6, 2019.
Miracle is a general assignment reporter for ABC7 Eyewitness News, and serves as a fill-in anchor and is often the lead news reporter for the evening news broadcasts. She joined ABC7 Eyewitness News in August of 2017 after spending three years at ABC30 in Fresno as a weekend anchor and reporter.
"Learning about Veronica's journey in life, including overcoming obstacles such as having a parent incarcerated, has given her a unique perspective on life," said LBCCD Board of Trustees President Sunny Zia. "She shows us all how to push through challenges with grace and determination We are all looking forward to hearing from this motivational young woman who is wise beyond her years."
"Long Beach Community College District is extremely fortunate to have obtained someone as special as Veronica Miracle as this year's commencement speaker," said LBCCD Superintendent-President Reagan Ferragamo Romali, Ph.D. "Veronica has a unique ability to reach across generations and cultures. I know that our students will enjoy hearing her story and feel inspired by her as they continue on their life path after graduating from LBCC."
Miracle obtained her undergraduate degree from the Murrow College of Communication at Washington State University. She studied broadcast journalism and political science. In 2018, Miracle graduated from Syracuse University with a master's degree in journalism innovation. She was born in Osaka, Japan, where most of her family lives today.
"I am humbled to take part in such a special day for the LBCC graduates," said Miracle. "It's a privilege and an honor to share my story with the 2019 graduating class. But most importantly, I look forward to working alongside these future leaders and changemakers, as they enter the workforce and make a difference in their communities."
ABC7 is the most-watched television station in Southern California. The leader in HD programming, Eyewitness News is the first television station in Southern California to broadcast news in high-definition.
The LBCC Class of 2019 Commencement Ceremony will begin at 4 p.m. at Veterans Memorial Stadium. No tickets are necessary and the public is invited to attend. For more information, please visit our Commencement page.
---
About Long Beach City College
Long Beach City College consists of two campuses with an enrollment of more than 25,000 students each semester. The education program's primary purpose is to prepare students for transfer to baccalaureate-granting institutions, entry into work or career development, and to support businesses in economic development. Long Beach City College serves the cities of Long Beach, Lakewood, Signal Hill and Avalon. Long Beach City College promotes equitable student learning and achievement, academic excellence, and workforce development by delivering high-quality educational programs and support services to our diverse communities.