Laptops Gifted to 100 Incoming LBCC Students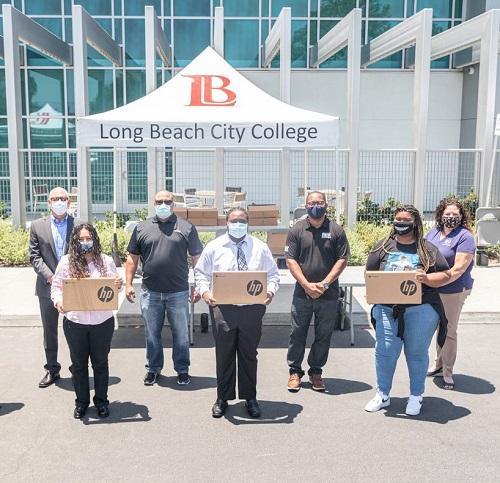 The Long Beach Center for Economic Inclusion (LBCEI) presented Long Beach City College (LBCC) a donation of 100 Chromebook laptop computers for LBCC students on Mon., June 22 as part of the citywide #InThisTogetherLB pandemic emergency response campaign.
Together, LBCEI and LBCC distributed the 100 Chromebooks during an event at the Michelle Obama Neighborhood Library to incoming LBCC students who live in North Long Beach.
The #InThisTogetherLB campaign has been LBCEI's pandemic emergency response initiative that directed $250,000 of program funding primarily from BRIDGE Development Partners, along with funding from Wells Fargo and the Office of Long Beach Councilmember Rex Richardson to support under-served families and underrepresented small businesses in North, Central and West Long Beach over the past two months. Funds have supported #InThisTogetherLB partner agencies in their community crisis relief efforts, including the contribution of Chromebooks refurbished by human-I-T for LBCC and YMCA students.
LBCEI, a community development corporation, aims to create an environment where everyone, including students, has a seat at the table and an opportunity to thrive. Youth development is a critical program element of the organization. One of LBCEI's #InThisTogether goals has included getting technology into the hands of young people in most need – especially in light of mandated online classroom instruction that students must currently participate in during the COVID-19 pandemic. Wells Fargo was the initial funding partner for LBCEI.
Please see the following quotes below from the partner organizations.
"Our current health and economic emergency has had a profound impact on how we access work, health, and education, forcing students and families without access to internet and technology off a digital cliff," said Councilmember Rex Richardson. "I'm proud to support our incoming students from Uptown by providing these Chromebooks as a critical resource for their success."
"When the coronavirus pandemic hit, it closed access to resources that our LBCC students depended on to complete their class assignments, including our valuable computer labs," said Long Beach Community College District Board of Trustees Vice President Uduak-Joe Ntuk. "I'm grateful for this generous donation and our community partners who stood up to meet this moment and stand with us to address the digital divide that unfortunately impedes too many of our students from North Long Beach."
"LBCC provided 300 loaner Chromebooks to students since we moved our classes to remote learning," said Long Beach Community College District Interim Superintendent-President Lou Anne Bynum. "A large number of our students do not have a laptop or computer at home. But this generous gift from LBCEI, the BRIDGE Development Partners and human-I-T have provided a more permanent solution for our students and their families."
"When you're the Chair of a Board and get to see young people have access, it makes it all worthwhile. We are proud of our youth who are working so hard to build their dreams. Youth development is critical to economic inclusion," shared Bob Cabeza, Chair of LBCEI.
"This is a great event. Promoting educational equity in our community is the kind of cause that Bridge is proud to get behind. This means everything to us and we're excited to be a part of it," said Rosendo Solis, Senior Director of Development at BRIDGE Development Partners.
"What's great about an event like this is that people have come together. They've pivoted to help each other, their neighbors, their communities, their friends and people in need. There's no better example like what we're doing today, which is getting this collaboration of partners that are helping our young people move ahead," expressed Gabe Middleton, CEO of human-I-T.
---
About Long Beach City College
Long Beach City College consists of two campuses with an enrollment of over 25,000 students each semester and serves the cities of Long Beach, Lakewood, Signal Hill, and Avalon. LBCC promotes equitable student learning and achievement, academic excellence, and workforce development by delivering high quality educational programs and support services to our diverse communities. Visit www.LBCC.edu for more information about Long Beach City College.
MEDIA CONTACT
Stacey Toda
LBCC Associate Director
Communications & Community Engagement
(562) 938-4004