LB College Promise Announces Groundbreaking
College Promise 2.0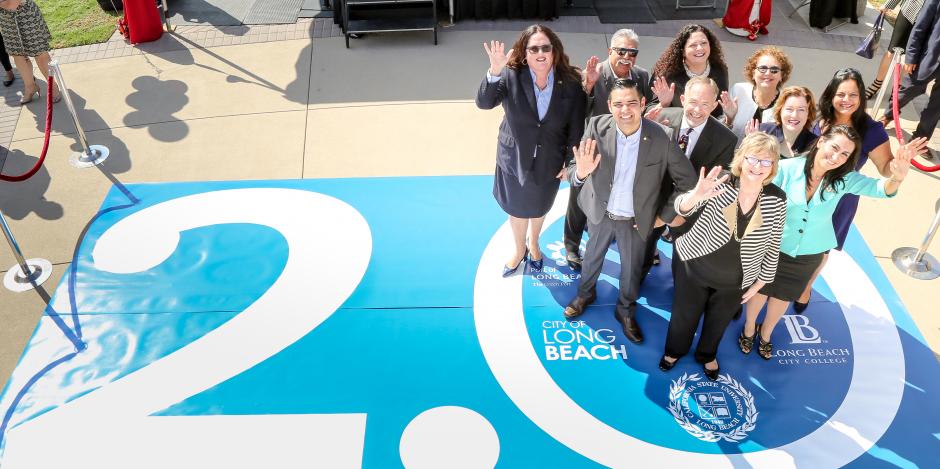 The Long Beach College Promise announced a new milestone today with the unveiling of Promise 2.0. Beginning in fall 2019, the enhanced initiative will feature a guaranteed transition from Long Beach City College (LBCC) to California State University, Long Beach (CSULB) for qualifying graduates of Long Beach Unified School District (LBUSD). In addition, The Promise welcomed the Port of Long Beach as the first industry partner in the Long Beach College Promise.
LBUSD graduates eligible for Promise 2.0 will attend LBCC to complete their lower division courses and thereafter receive guaranteed admission to CSULB.
By entering into Promise 2.0, LBUSD students would benefit by:
Paying a lower tuition rate by attending LBCC, including free tuition for the first year.
Earning transferable college credit at LBCC towards a bachelor's degree from CSULB.
Receiving priority registration for classes at LBCC.
Earning a bachelor's degree from CSULB.
Ensuring a smooth transition from LBCC to CSULB. Students will be able to map out courses at both institutions. Students would also receive guidance from both LBCC counselors and CSULB academic advisors.
Being part of a cohort of Promise 2.0 students.
Receiving both LBCC and CSULB student ID cards that will allow students to enjoy benefits of both colleges, allowing them to participate in special events at both CSULB and LBCC.
"At a time when college costs continue to increase, the Long Beach College Promise is stepping up to offer local students their first two years of college free with a clear path to a degree," said Mayor Robert Garcia. "The new partnership between LBCC and CSULB and support from the Port brings our College Promise to a whole new level."
"Our newly coordinated pathways will make higher education more accessible to Long Beach students while providing them with the support they need to succeed in college," said Long Beach State University President Jane Close Conoley. "The Long Beach College Promise 2.0 affirms our commitment to youth and supports the social and economic well-being of our region."
"We are always looking at innovative ways that we can improve the College Promise," said LBCC Superintendent-President Dr. Reagan F. Romali. "This truly takes the College Promise to a new level to make higher education more attainable for our Long Beach students. We are giving them not only a way to make college more affordable, and we're providing them additional academic assistance to make the transition from LBCC to CSULB easier."
"With today's announcement we begin an exciting new chapter for the Promise, and for local students," LBUSD Superintendent Christopher J. Steinhauser said. "Dual admission at the community college and university, combined with additional academic support, will make a college education possible for many more students. We thank our Promise partners for creating greater opportunities for success in college and beyond."
The university, the community college and the school district first committed to The Promise in 2008, extending the promise of a college education to every student in the Long Beach Unified School District. The City of Long Beach and its Mayor's Office joined the initiative in 2014. Since its inception, The Promise has served as a model for communities in California and across the nation to develop partnerships centered on student success.
The Port of Long Beach recently joined as the newest partner in the Long Beach College Promise. As the first industry partner of The Promise, the Port will strengthen its partnerships with LBUSD, LBCC and CSULB to further their education outreach and workforce goals to prepare the next generation of leaders in our industry by building awareness and understanding of the Port and the maritime industry, developing a skilled workforce that supports international trade and goods movement by creating career pathways and programs, training the trainer by ensuring that teachers and administrators have access to the maritime industry for curriculum development, and creating an online hub that provides job and training resources, career profiles and opportunities to attend trade-related educational events.
"As the first industry partner to participate in the Long Beach College Promise, the Port can help connect students to training programs and local job opportunities in the logistics sector," said Tracy Egoscue, President of the Long Beach Board of Harbor Commissioners. "We also hope that the Port can now serve as an inspiration for how businesses can have a real effect on the Promise by providing advice on curriculum, internships and scholarships."
"This further demonstrates our ongoing commitment to education and preparing our youths for good-paying jobs at the Port of Long Beach and the maritime industry," said Mario Cordero, Executive Director of the Port of Long Beach. "We believe this partnership will build an improved awareness and understanding of the Port while also creating a skilled local workforce."
The Promise includes efforts to align academic standards, teaching methods and student assessment across institutions to improve student achievement and teacher quality. The initiative has garnered recognition and attention by the White House, Gov. Jerry Brown and the California State Senate, and it has been modeled by many other communities in California, including Fresno, the Inland Empire, Los Angeles, Sacramento and San Francisco.
Watch the College Promise 2.0 video recap here.
---
About Long Beach City College
Long Beach City College consists of two campuses with an enrollment of over 25,000 students each semester and serves the cities of Long Beach, Lakewood, Signal Hill, and Avalon. LBCC promotes equitable student learning and achievement, academic excellence, and workforce development by delivering high quality educational programs and support services to our diverse communities. Visit www.LBCC.edu for more information about Long Beach City College.
MEDIA CONTACT
Stacey Toda
LBCC Associate Director
Communications & Community Engagement
(562) 938-4004