LBCC Announces 2019 Hall of Fame Inductees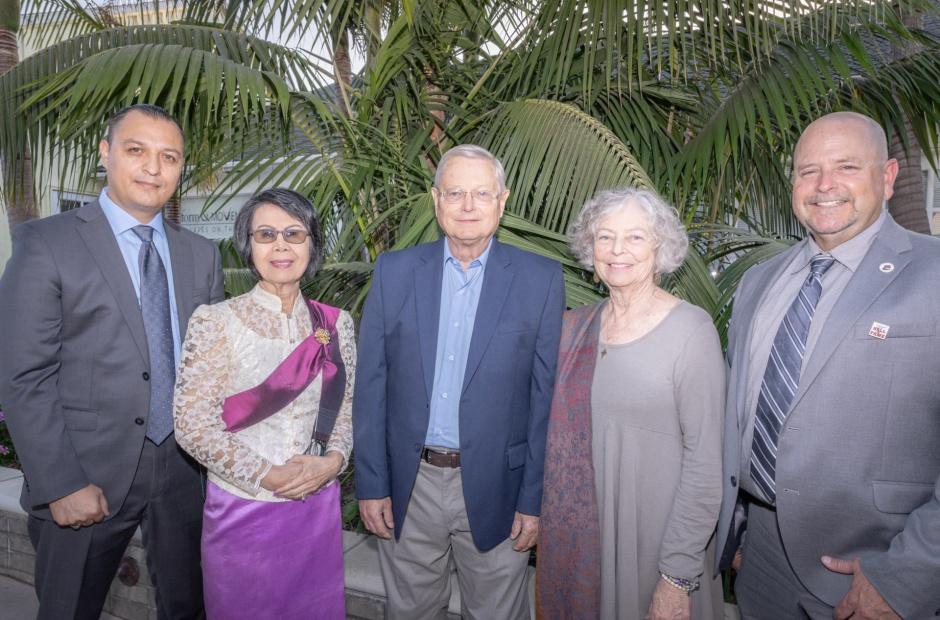 An assistant city treasurer, an executive director of a local community organization, a former city manager and CEO, a community services manager, and an author have been named as Long Beach City College's 2019 Hall of Fame inductees, LBCC officials recently announced.
This year's honorees are: Long Beach City Assistant Treasurer Fidel Aguayo; Executive Director of Khmer Parent Association Chan Hopson; retired municipal chief executive officer Roger Kemp; Lakewood City Community Services Manager Chuck Martucci; and author and historian Edwina Romero.
"We are proud to have these five accomplished individuals as part of our Viking family and look forward to honoring them with the College's most prestigious alumni award," said Long Beach Community College District (LBCCD) Board of Trustees President Vivian Malauulu.
LBCC's 2019 Alumni Hall of Fame Induction Ceremony and Dinner is scheduled for Wed., Nov. 6, at 5:30 p.m. at The Grand Long Beach Events Center, 4101 E. Willow St., Long Beach, CA 90815. The Long Beach City College Foundation Alumni Association hosts this annual event.
"The Hall of Fame is our opportunity to celebrate our distinguished alumni and their many accomplishments," said LBCCD Superintendent-President Dr. Reagan Ferragamo Romali.
About this year's inductees:
Fidel Aguayo – Aguayo is the Assistant City Treasurer for the City of Long Beach. He plays a vital financial leadership role that ensures funding for the City's capital projects and infrastructure improvements. His direct responsibilities have a significant impact on the City's economy and long-term financial condition. As Assistant City Treasurer, he oversees the City's $3 billion debt portfolio consisting of 40 outstanding bond transactions issued on behalf of the Airport, Gas and Oil, Marinas, Port, and Utility systems. He is also responsible for managing the City's $30 million Master Capital Lease Program consisting of 10 lease obligations. Aguayo has supported numerous non-profit organizations including the Long Beach City College Foundation and YMCA of Greater Long Beach. In 2012, he was awarded the Humanitarian Award by the Long Beach Community Hispanic Association for his commitment to social responsibility and philanthropic efforts.
Chan Hopson – Hopson is a former teacher who co-founded the Khmer Parent Association and has served as its volunteer executive director since 1995. She has established numerous events, forums, and trainings in Long Beach dealing with health, inter-generational communication, and employment issues in the Cambodian community. Hopson is also the founder of the South-East Asian Scholarship, which has been distributing annual awards to 15 graduating high school seniors for the past 25 years. She has provided more than 10,000 volunteer hours to St. Mary Medical Center, and served on their Benefit Advisory Board for over a decade. Hopson was named the 2016 Woman of the Year by California Assemblymember Patrick O'Donnell. She was also recognized in the California State Senate Resolution for "Women Who Make a Difference." Hopson is the recipient of the Gene Lentzner Human Relations Award from the California Conference for Equality and Justice, as well as Women of Distinction Awards from State Senator Ricardo Lara and Soroptimist International of Long Beach.
Roger Kemp – Kemp has served as a city manager for several municipalities including the cities of: Seaside, CA; Placentia, CA; Clifton, NJ; and Meriden, CT. While working full-time in the Office of the City Manager for the City of Oakland, CA, he attended school in the evening to earn his Ph.D. He taught graduate seminars at leading universities including the University of California, California State University, Golden Gate University, Rutgers University, Farleigh Dickinson University, University of Connecticut, and the University of New Haven. He wrote, edited, and was a contributing author to nearly 50 books dealing with cities. Many of his books focus on various aspects of cities, and highlight national best practices being used to improve the quality of their services as well as their livability. Kemp was recognized by the California Legislature Assembly and as one of 50 distinguished alumni of San Diego State University's School of Public Affairs at their 50th-anniversary celebration in fall 2018.
Chuck Martucci – Martucci is the Community Services Manager for the City of Lakewood, where he has worked for the past 39 years. In 1992, he organized Lakewood's first Special Olympics program and established the city's first Teen Program at the Lakewood Youth Center in 1995. In 2000, he was honored as the Special Olympics Volunteer Coach of the Year for Southern California. In 2018, Martucci coached the Lakewood Dirtbags to a silver medal in the Special Olympics USA Games Softball Tournament. During his time as a student at Long Beach City College, Martucci was awarded ASB Man of the Year in 1984. In 2016, he was presented with the LBCC Distinguished Alumni Award from the Long Beach City College Foundation.
Edwina Romero – Romero is a prolific author of fiction, poetry, and historical works largely centered on Las Vegas, NM. She worked at California State University, Dominguez Hills until 1981, when she moved to New Mexico and began attending a graduate program at New Mexico Highlands University (NMHU). She later earned her Ph.D. in English at the University of New Mexico in Albuquerque while teaching at NMHU. After 14 years of teaching, Romero accepted a position as the Professional Development Director with a Title V Developing Hispanic-Serving Institutions Federal Grant Project at Luna Community College (LCC) in Las Vegas, NM. She went on to create the Luna Community College Foundation, a Distance Education Program, and technologically-assisted teaching/learning classroom at LCC.
"The LBCC Alumni Association and Foundation are thrilled to acknowledge this year's Hall of Fame inductees for their incredible accomplishments and service to the College and community," said LBCC Foundation Executive Director Paul Kaminski.
Established in 1972, the Hall of Fame recognizes former LBCC students who have made outstanding contributions to their chosen fields and communities. The 2019 honorees will join past honorees who have attended Long Beach City College, from former Mayor Beverly O'Neill and actor John Amos, to comedian Paul Rodriguez and philanthropist Naomi Rainey-Pierson, and many others.
For reservations, sponsorship opportunities or other information on the 2019 Alumni Hall of Fame, please contact Paula Barrow at (562) 938-4303 or pbarrow@LBCC.edu.
---
About Long Beach City College
Long Beach City College consists of two campuses with an enrollment of over 25,000 students each semester and serves the cities of Long Beach, Lakewood, Signal Hill, and Avalon. LBCC promotes equitable student learning and achievement, academic excellence, and workforce development by delivering high quality educational programs and support services to our diverse communities. Visit www.LBCC.edu for more information about Long Beach City College.
MEDIA CONTACT
Stacey Toda
LBCC Associate Director
Communications & Community Engagement
(562) 938-4004