LBCC Announces 2020 Valedictorian
Abimbola Idowu Mitchell to Address the Class of 2020 at Virtual Online Ceremony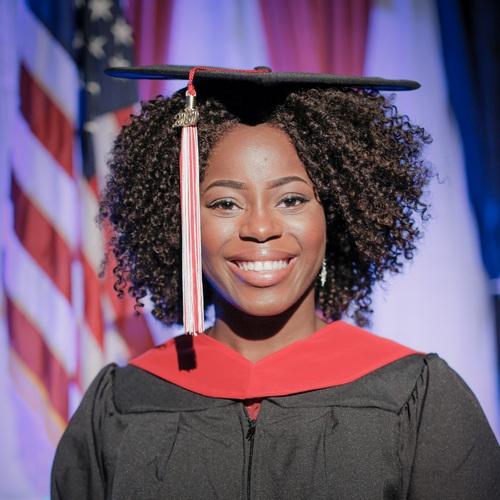 Long Beach City College announced that Abimbola Idowu Mitchell is LBCC's 2020 Valedictorian. She will address the Class of 2020 at LBCC's first virtual Commencement Ceremony at 5 p.m., on Fri., June 12 that will stream on the LBCC website.
The Nigerian-born Mitchell moved to Texas at the age of nine. She found herself living in her car by 2017, but soon discovered a new love and new life in Long Beach. The 26-year-old became a kinesiology major at LBCC, keeping a perfect 4.0-grade point average to qualify for the honor of applying for Valedictorian.
"I have told my husband more than once that I absolutely love LBCC," Mitchell said. "There are constant programs to really truly help students be successful. I learned that not only are there tutor programs to help students academically, but there are programs, such as the Viking Vault, to assist students to survive the high demands of life. There's even a shower for any student that might be homeless to come shower at school. This is a school that really cares!"
Mitchell received acceptance to CSULB for Fall 2020. She plans to continue on to graduate school at CSULB for a Doctorate degree in Physical Therapy.
Hear more inspiring words from Abimbola Idowu Mitchell at LBCC's inaugural Virtual Commencement Ceremony on at 5 p.m., on Fri., June 12 at www.LBCC.edu.
---
About Long Beach City College
Long Beach City College consists of two campuses with an enrollment of over 25,000 students each semester and serves the cities of Long Beach, Lakewood, Signal Hill, and Avalon. LBCC promotes equitable student learning and achievement, academic excellence, and workforce development by delivering high quality educational programs and support services to our diverse communities. Visit www.LBCC.edu for more information about Long Beach City College.
MEDIA CONTACT
Stacey Toda
LBCC Associate Director
Communications & Community Engagement
(562) 938-4004