LBCC Appoints Executive Vice President of Student Services & Vice President of Business Services
Dr. Nohel C. Corral and Dr. Raymond "Chip" West unanimously approved by Board of Trustees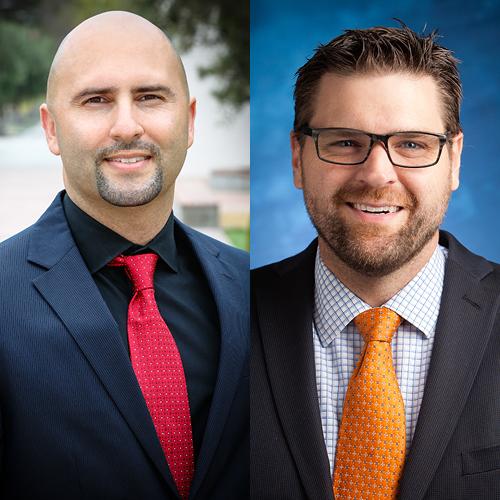 The Long Beach Community College District (LBCCD) Board of Trustees recently approved the selection of Dr. Nohel C. Corral as the Executive Vice President/Vice President of Student Services and Dr. Raymond "Chip" West as the new Vice President of Business Services for Long Beach City College (LBCC).
"Dr. Corral has dedicated himself to working with diverse student populations throughout his career in the California Community Colleges and California State University systems," said LBCCD Board President Uduak-Joe Ntuk. "He actively engages with his colleagues and students to produce positive, equitable results, so we know he will thrive in this position at LBCC."
The Student Services division provides comprehensive support, services, and courses designed to help students and prospective students connect, enter, progress, and complete a certificate, degree, or transfer to a four-year university. In his new position, Corral will oversee the areas of Counseling and Student Support Services, Enrollment Services, Student Affairs, Student Equity, and Athletics.
"From my first day at Long Beach City College, I have worked alongside Dr. Corral and we have formed both a great friendship and working relationship," said LBCCD Superintendent-President Dr. Mike Muñoz. "I know first-hand how passionate he is to ensure a positive atmosphere for our students and employees here at LBCC."
Corral has served as Long Beach City College's (LBCC) Dean of Counseling since 2014 and the Interim Executive Vice President of Student Services since March of 2021. Prior to joining LBCC, Corral served in roles such as part-time counselor, full-time counselor, Director for the Learning Center, Program Services Coordinator for the Hermanos Program and Director for TRIO, and Dean of Counseling at Skyline College, a general counselor at Berkeley City College, and as the Assistant Director for the Student Center for Professional Development in the College of Business at California State University, Long Beach.
The Lakewood resident is a first-generation college graduate and a native Californian. A son of Mexican immigrants, his parents instilled in their four sons that an education would provide opportunities should they work hard and persevere. Corral went on to earn Bachelor's Degrees in Sociology and Spanish from the University of California at Santa Barbara; a Master's of Science degree from California State University Long Beach and his Ed.D. in Adult Learning and Leadership through the John E. Roueche Center for Community College Leadership at Kansas State University. Corral has provided leadership in roles supporting Region 8 and participating in advisories to the Chancellor's Office Student Equity and Achievement Program.
West's duties will include overseeing the District-wide fiscal, facilities, business and technology services.
"Dr. West has long been admired as a versatile leader in education," said Muñoz. "He has experience in so many aspects of College life, with a great can-do spirit about him, so I know he will fit right in with the Viking family."
For more than twenty-five years, Dr. West has worked at both public and private higher education institutions throughout the country in the areas of Budget and Finance, Construction and Facilities Management, Leadership, Planning & Development, Student Union Operations, and Student Services/Affairs. He has held College leadership positions at the University of LaVerne, and most recently at Riverside City College.
"Long Beach City College is very fortunate to have Dr. Chip West join us at this point in time," said Ntuk. "Our bond construction program is in full-swing, our student life is rebounding from the pandemic and California Community College budgets are at record levels, so we are glad to have such an experienced professional in this key fiscal position."
After graduating with a bachelor's degree in education from Virginia's George Mason University, West earned a master's degree in higher education/personnel management from the University of Arizona and his Ph.D. in higher education administration and finance from Claremont Graduate University.
West is a resident of Riverside, where he resides with his husband and five children.
---
About Long Beach City College
Long Beach City College consists of two campuses with an enrollment of over 25,000 students each semester and serves the cities of Long Beach, Lakewood, Signal Hill, and Avalon. LBCC promotes equitable student learning and achievement, academic excellence, and workforce development by delivering high quality educational programs and support services to our diverse communities. Visit www.LBCC.edu for more information about Long Beach City College.
MEDIA CONTACT
Stacey Toda
LBCC Associate Director
Communications & Community Engagement
(562) 938-4004