LBCC Breaks Ground for New $75M Performing Arts Facility
The all-new structure will replace existing Buildings G and H on the Liberal Arts Campus.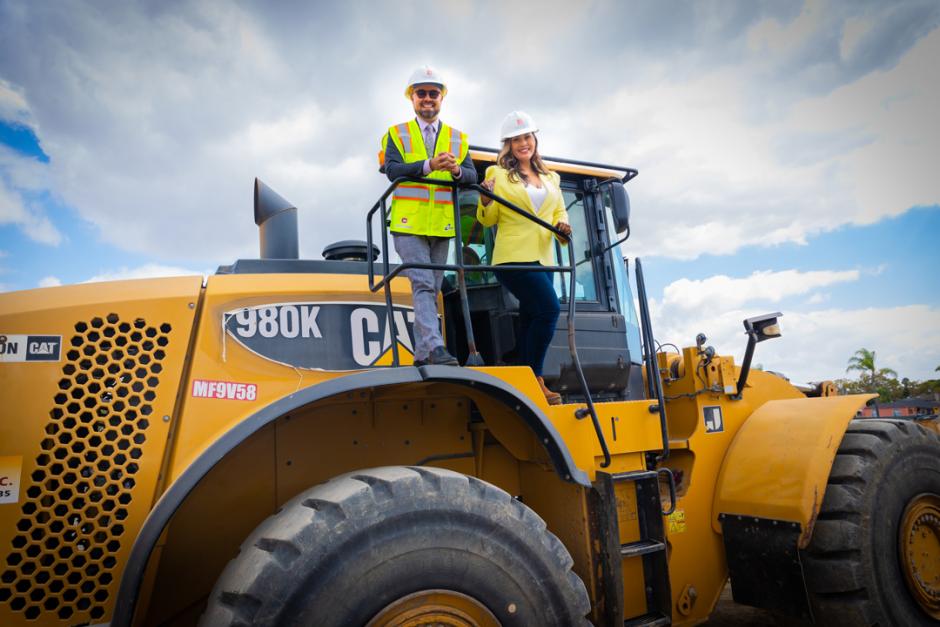 Long Beach City College (LBCC) broke ground for a future state-of-the-art music and theatre complex today during a celebration at the Liberal Arts Campus. The new 67,000 square foot, $75-million Performing Arts Center will house the LBCC's Performing Arts, Music, Dance, and Radio/TV/Broadcasting departments and is scheduled to be open for classes by Spring Semester 2026.
"LBCC's Performing Arts programs are not only an important cornerstone of our campus life but also a wonderful source of artistic enrichment and entertainment for the broader community," said LBCC Board of Trustees President Herlinda Chico. "This new facility will play a pivotal role in nurturing the growth and skill development of performing artists, leaving a lasting impact for generations. We could not have accomplished this without the residents of Avalon, Lakewood, Long Beach, and Signal Hill whose support and approval of our bond initiatives made the modernization of our two campuses possible."
The new performing arts building will replace the existing and outdated Music Building G and Theatre Arts Building H.
"This incredible Performing Arts Center, will be equipped with state-of-the-art design and technology facilities, and represents a wonderful leap forward for both our students and faculty in the field of performing arts education," said LBCC Superintendent-President Dr. Mike Muñoz. "Its sustainable design and advanced technology systems highlights our commitment to cultivating an exceptional learning environment, one that will nurture future artists and staff in dance, theater, music and broadcasting."
The new two-story, steel-framed performing arts building will include instructional classrooms, specialized labs, private music practice rooms, student practice studios, dance performing studio, a black box studio, broadcast studio, a new home for the campus radio station, and smaller scale live performance areas including a 236-seat auditorium and an outdoor performance stage.
Construction began in July 2023. The project will receive both State dollars and funding from Measure E and Measure LB Bonds approved by the voters for renovation and repairs at both LBCC's Pacific Coast Campus and Liberal Arts Campus.
The project architect is the DLR Group and Bernards is the general contractor. The Cordoba Corporation oversees and manages all Measure E and LB projects.
Left to right: Dr. Nohel Corral, LBCC Executive Vice President of Student Services; Dr. Lisa Orr, LBCC Dean of Social and Behavioral Sciences; Megan Kerr, City of Long Beach Councilmember; Dr. Virginia Baxter, LBCC Board of Trustees Member; Herlinda Chico, LBCC Board of Trustees President; Dr. Mike Muñoz, LBCC Superintendent-President; Vivian Malauulu, LBCC Board of Trustees Vice President; CoCo Dobard, LBCC ASB President; Dr. O. Lee Douglas, LBCC Vice President of Academic Affairs; Dr. Raymond "Chip" West, LBCC Vice President of Business Services; and Dr. Janét Hund, LBCC Interim Dean of Visual, Performing Arts & Cultural Programs.
---
About Long Beach City College
Long Beach City College consists of two campuses with an enrollment of over 25,000 students each semester and serves the cities of Long Beach, Lakewood, Signal Hill, and Avalon. LBCC promotes equitable student learning and achievement, academic excellence, and workforce development by delivering high quality educational programs and support services to our diverse communities. Visit www.LBCC.edu for more information about Long Beach City College.
MEDIA CONTACT
Stacey Toda
LBCC Associate Director
Communications & Community Engagement
(562) 938-4004