LBCC Completes $14.17 Million Measure E Bond Renovated Science Building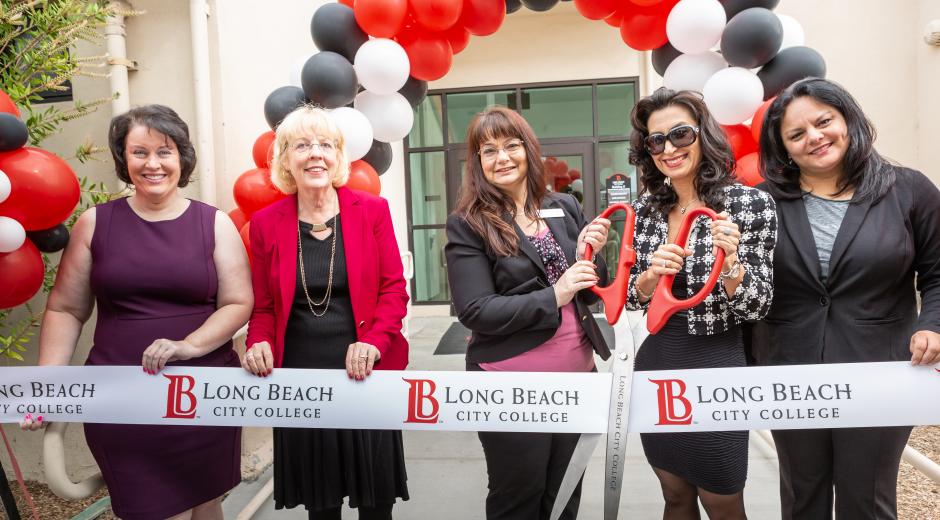 The Long Beach Community College District (LBCCD) has completed another renovation of an academic building under the Measure E Bond. Building D, which houses Science programs at the Liberal Arts Campus, celebrated with a ribbon-cutting today, April 4.
All construction was completed from within, with no changes to the outside of the building. Open throughout most of the duration of construction, new laboratories for Allied Health and the Sciences, including Anatomy, Radiology, Medical Assisting and Microbiology were created.
"The renovation of Building D plays a very important role in the lives of our students because of the subject matter that resides within," said LBCCD Superintendent-President Reagan Ferragamo Romali, Ph.D. "Our sciences are high-demand courses so LBCC is very pleased to now be able to increase student capacity."
When the Mathematics department moved from Building D to the new Building V in 2015, an entire new floor was opened up to be renovated for the Sciences.
"It is such an exciting time to be at Long Beach City College because so many of the projects that have long been in planning, are coming to fruition," said LBCCD Board of Trustees President Sunny Zia.
As with all LBCC construction and renovation work, Building D access has now been improved and incorporates "green building practices" that reduces energy and water usage.
Other features of the Building D project include:
First floor renovation of 15,000 square feet (of the 27,000 total square feet) include new classrooms and lab areas, plus paint and cosmetic updates for existing offices;
Creation of a second microbiology classroom on the second floor that has doubled past capacity;
New data cables throughout the entire building and audio/visual upgrades in new areas;
Upgrades to all student and staff restrooms with water-conserving, low-flow fixtures;
Energy efficient replacements of two rooftop HVAC units and an exhaust fan;
The total construction budget for the modernization of Building D, including design and construction, is nearly $14.17 million. The project was being funded through the Measure E Bond, which has provided millions of dollars for new construction, renovations and repairs at LBCC's Liberal Arts and Pacific Coast Campuses.
---
About Long Beach City College
Long Beach City College consists of two campuses with an enrollment of over 25,000 students each semester and serves the cities of Long Beach, Lakewood, Signal Hill, and Avalon. LBCC promotes equitable student learning and achievement, academic excellence, and workforce development by delivering high quality educational programs and support services to our diverse communities. Visit www.LBCC.edu for more information about Long Beach City College.
MEDIA CONTACT
Stacey Toda
LBCC Associate Director
Communications & Community Engagement
(562) 938-4004