LBCC Earns 2022 Equity Champion of Higher Education Award
LBCC is recognized for transfer efforts for Black and Latinx Students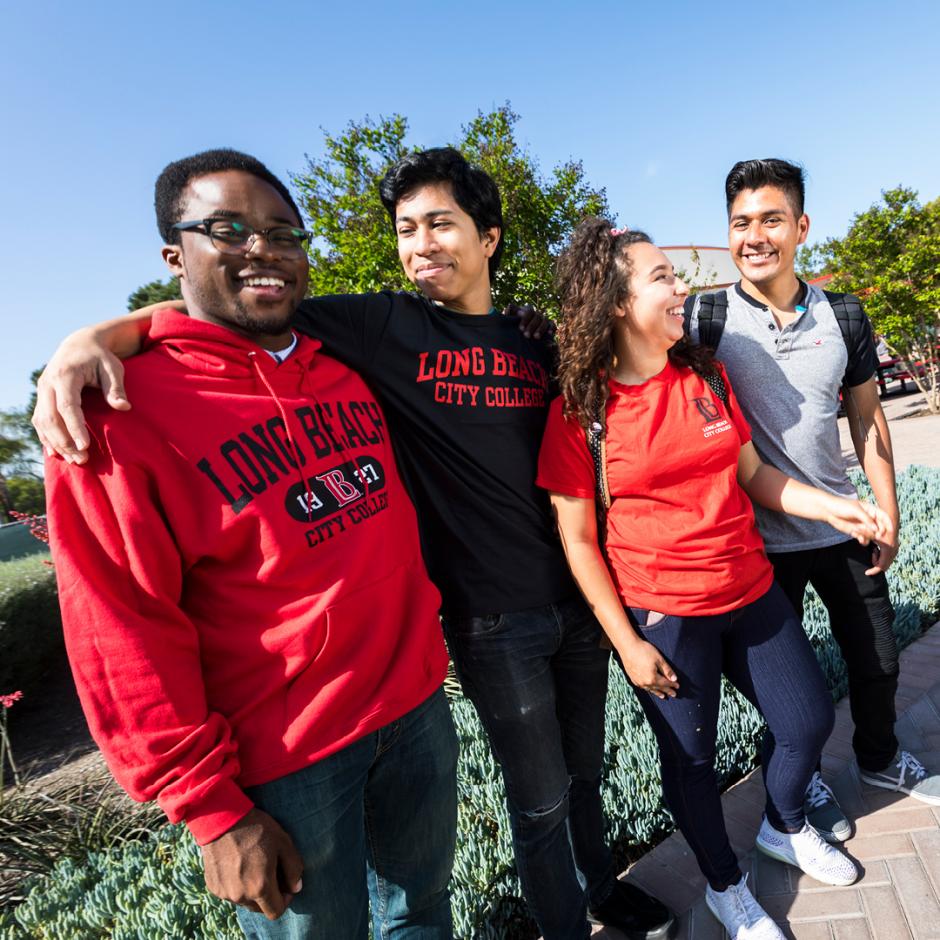 The Campaign for College Opportunity announced that Long Beach City College (LBCC) has captured the 2022 Equity Champion of Higher Education award for its accomplishments in supporting Black and Latinx student transfer efforts.
The College will be officially recognized at the Campaign for College Opportunity's virtual event, the 2022 Champions of Higher Education Celebration, on Tues., Nov. 1, 2022.
"For the past few years, LBCC has deliberately focused systemwide efforts to serve our students from historically underserved communities," said Long Beach Community College District (LBCCD) Board of Trustees President Uduak-Joe Ntuk. "We are proud that our hard work has been recognized by the Campaign for College Opportunity. More important than the recognition is knowing that our work has resulted in LBCC Black and Latinx students obtaining their Bachelor's degree at a faster rate which leads to saving both time and money in that process."
With the passage of SB 1440 (Padilla) in 2010, the California Community Colleges have awarded more than 360,000 Associate Degree for Transfer (ADT), with LBCC always a top-conferring institution since then.
"Long Beach City College has been focusing on closing equity achievement gaps and we are honored that the Campaign for College Opportunity recognizes our deliberate and dedicated work surrounding our Black and Latinx students," said LBCCD Superintendent-President Dr. Mike Muñoz. "In the last five years, LBCC's transfer and ADT completion rates for both Black and Latinx students have continued to rise despite the challenges presented by the pandemic and changing learning modalities."
For university transfer, the rates for Black/African American students has increased by 54 percent and ADT completion rates increased by 117 percent in the past five years. During the same time frame, Latinx student transfers increased by 23 percent and ADT completion increased by 26 percent.
Associate Degrees for Transfer provides a number of benefits for LBCC students planning to transfer to the Cal State University (CSU) system, such as:
Guaranteed admission into a university within the CSU system with a "similar" major (no guarantee to a specific campus)
Earn an Associate Degree for completing transfer requirements
Grants priority consideration when applying to impacted majors and/or campuses
Guarantees a 60 (LBCC) 60 (CSU) unit pathway to CSU graduation
Those who earn the ADT, transfer to the CSU with junior status
ADT degree holders from LBCC earn their Bachelor's Degrees nearly twice as fast from CSUs
This is the fifth time out of six years that the Campaign for College Opportunity has recognized LBCC for their transfer efforts.
The Campaign for College Opportunity, since 2002, has worked for policy reforms and advocacy, partnerships and public awareness to help more students complete their college education.
---
About Long Beach City College
Long Beach City College consists of two campuses with an enrollment of over 25,000 students each semester and serves the cities of Long Beach, Lakewood, Signal Hill, and Avalon. LBCC promotes equitable student learning and achievement, academic excellence, and workforce development by delivering high quality educational programs and support services to our diverse communities. Visit www.LBCC.edu for more information about Long Beach City College.
MEDIA CONTACT
Stacey Toda
LBCC Associate Director
Communications & Community Engagement
(562) 938-4004