LBCC Hosts first OER Mini Conference
The Future is Free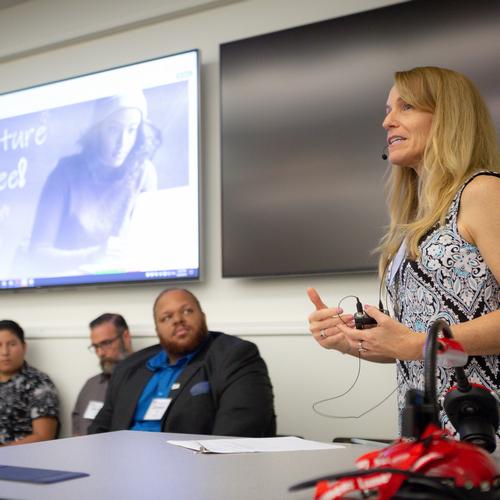 Long Beach City College hosted its first OER Mini-Conference on April 26.
The mini-conference featured four sessions that addressed how faculty could meet the needs of students while still maintaining a high academic standard of textbooks and ancillary materials.
More than 70 faculty registered for the conference. Participants were inspired and motivated by the presentations, which resulted in a steep increase in OER adoptions in the weeks following the mini-conference.
The conference effort was led by English Professor and OER Coordinator Allison Murray and also included assistance from LEAD Academy group from Cohort 6, including Chris Baker, Diana Phat, Muriel Hernandez, LaFreda Johnson, Giovani Vergara, and Heidi Neu-Stephens.
---
About Long Beach City College
Long Beach City College consists of two campuses with an enrollment of more than 25,000 students each semester. The education program's primary purpose is to prepare students for transfer to baccalaureate-granting institutions, entry into work or career development, and to support businesses in economic development. Long Beach City College serves the cities of Long Beach, Lakewood, Signal Hill and Avalon. Long Beach City College promotes equitable student learning and achievement, academic excellence, and workforce development by delivering high-quality educational programs and support services to our diverse communities.