LBCC Labor Center Opens With Virtual Ceremony on Sept. 24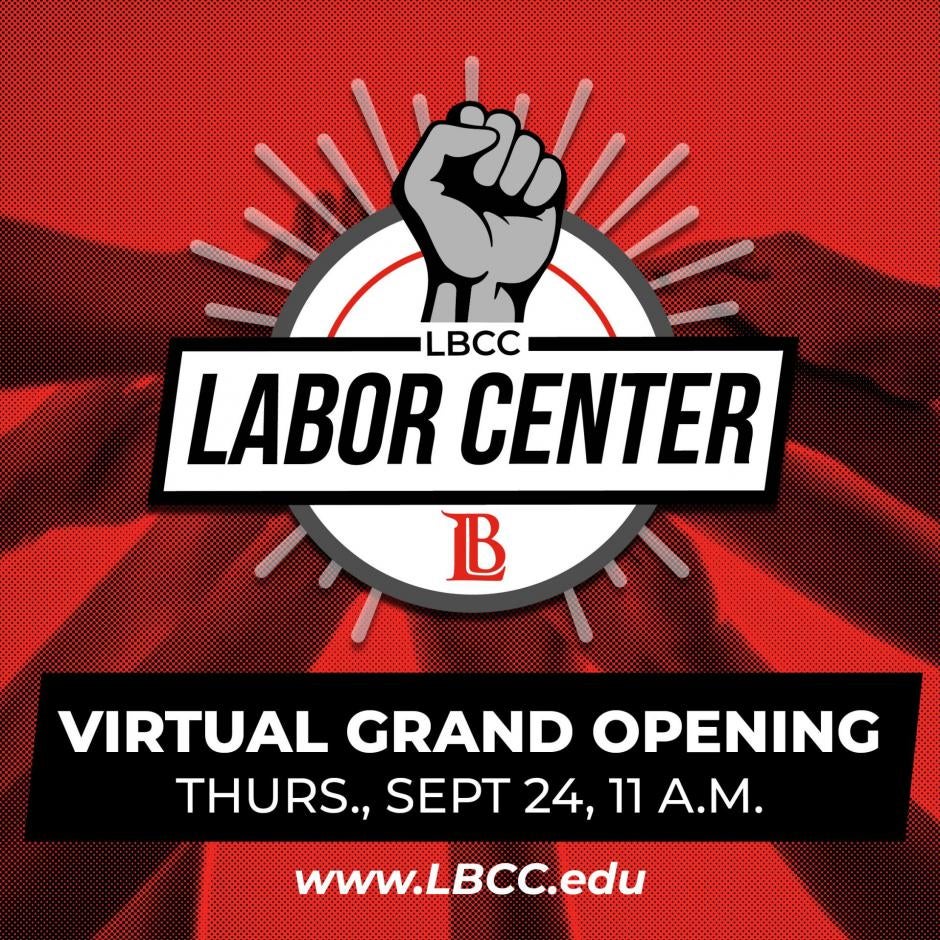 During a virtual ceremony today, September 24, Long Beach City College (LBCC) celebrated the grand opening of the first labor center in the harbor area.
The LBCC Labor Center, located at the Pacific Coast Campus, will provide labor-related experiences for students including activities and events facilitated by renowned industry leaders that will expose them to real-world work opportunities. Additionally, students will visit job sites and training centers to gain valuable hands-on experience. They will also receive personal protective equipment thanks to a generous donation of facial masks from the Port of Long Beach. Students will obtain tips on how to navigate the process of joining a union and finding a sponsor, attend lectures hosted by labor leaders about the history of unions and available careers, and undergo interviews to meet with apprenticeship coordinators. Panels discussing the collective bargaining process and other mechanisms unique to the labor industry will also be presented. LBCC will be launching a fundraising effort in the next few months to provide students with tools that are required in their chosen occupations.
"The trades taught at the Pacific Coast Campus lead to well-paying, stable union jobs that are the backbone of our working class, so it is very fitting that the Labor Center be located at PCC," said Long Beach Community College District Board of Trustees President Vivian Malauulu, who initiated the effort to establish the center. "I am very grateful for the excitement that has been generated in support of this new venture because everyone recognizes that it will benefit our students and the community tremendously. The LBCC Labor Center has the potential of becoming a destination for anyone eager to learn about America's rich labor history and the dynamic connections that it has to this region."
Featured special guest speakers at the virtual ceremony included: Dolores Huerta, president and founder of the Dolores Huerta Foundation; State Senator María Elena Durazo, former secretary-treasurer of the Los Angeles County Federation of Labor, AFL-CIO; Ron Herrera, president of the Los Angeles County Federation of Labor; and Ron Miller, executive secretary of the Los Angeles/Orange Counties Building & Construction Trades Council.
"The Labor Center will strengthen the great relationships and build on the success we've already cultivated with our industry and union partners," said LBCCD Interim Superintendent-President Lou Anne Bynum. "The opportunities that we can offer our students through this venture are endless because labor education and experience are both such integral parts of preparing the future workforce."
The entire grand opening ceremony can be watched on LBCC's YouTube channel at www.YouTube.com/LongBeachCityCollege
---
About Long Beach City College
Long Beach City College consists of two campuses with an enrollment of over 25,000 students each semester and serves the cities of Long Beach, Lakewood, Signal Hill, and Avalon. LBCC promotes equitable student learning and achievement, academic excellence, and workforce development by delivering high quality educational programs and support services to our diverse communities. Visit www.LBCC.edu for more information about Long Beach City College.
MEDIA CONTACT
Stacey Toda
LBCC Associate Director
Communications & Community Engagement
(562) 938-4004