LBCC Launches Pilot Program for Student Overnight Parking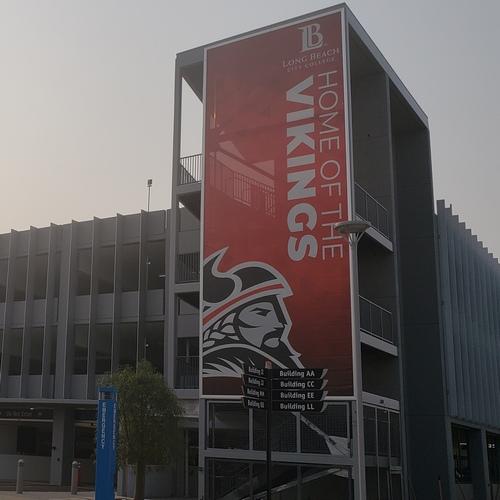 Long Beach City College (LBCC) officials have announced the implementation of a pilot Safe Parking Program for enrolled students to reside in their vehicles overnight in a secure campus location. This pilot program is the only known program of its kind in the region at a community college.
LBCC initiated this program to address the needs of unhoused students and provide a safe place for them to park overnight.
"Our goal for this program is that it will serve as a pathway to housing stability for our students," said LBCCD Board of Trustees President Uduak-Joe Ntuk. "These students would otherwise have to be worrying nightly about their vehicles being broken into, trying not to be seen or bothered, and not having the police called on them, all while keeping up with their coursework. It could be an exhausting situation that makes it more difficult to get ahead."
All currently enrolled students who are experiencing homelessness are eligible to stay in the secured Pacific Coast Campus Parking Structure, seven nights a week, between 10 p.m. and 7 a.m. The students will have access to restrooms and Wi-Fi throughout the night. They will also have access to showers at the Pacific Coast Campus between 6 a.m. and 8 a.m. daily.
For this pilot program, LBCC students must be independent with no spouses, partners, or children sleeping in the vehicle with them. Service and Emotional Support Animals are allowed to stay with the students if proper documentation is provided.
"The unfortunate truth is that LBCC has close to 70 students sleeping in their cars each night —quite possibly more," said Long Beach Community College District (LBCCD) Interim Superintendent-President Dr. Mike Muñoz. "If we can help to keep our students safe so they can better focus on their student responsibilities, this program is absolutely worth pursuing. Our goal at LBCC is always to remove barriers that get in the way of our student's success."
Students participating in the Safe Parking Pilot Program would also be case-managed by LBCC staff in order to find more long-term and stable housing.
LBCC has contracted with a security firm to keep watch throughout the duration of the pilot program from Oct. 25, 2021 to June 30, 2022. Safe Parking LA (SPLA) will serve as a consultant to the College's Basic Needs Program, which is overseeing the effort, providing technical assistance and training for the first three months.
"LBCC demonstrates incredible leadership in positively impacting their students who are unhoused by understanding that access to stable housing touches all aspects of their life," said Silvia Gutierrez, Safe Parking LA executive director. "Everyone deserves a safe place to sleep and safe parking programs build pathways to housing and stability. SPLA is excited to be part of this endeavor and share our best practices."
The pilot program is the latest in LBCC's efforts to assist unhoused students. The LBCC Foundation has a fundraising group that focuses on finding housing solutions and the LBCC Basic Needs Office was formed in recent years to provide food and other assistance for students.
---
About Long Beach City College
Long Beach City College consists of two campuses with an enrollment of over 25,000 students each semester and serves the cities of Long Beach, Lakewood, Signal Hill, and Avalon. LBCC promotes equitable student learning and achievement, academic excellence, and workforce development by delivering high quality educational programs and support services to our diverse communities. Visit www.LBCC.edu for more information about Long Beach City College.
MEDIA CONTACT
Stacey Toda
LBCC Associate Director
Communications & Community Engagement
(562) 938-4004