LBCC Top 10 Finalist in the Million Dollar Community College Challenge
Long Beach City College will receive $100,000 as a finalist to promote services to adult learners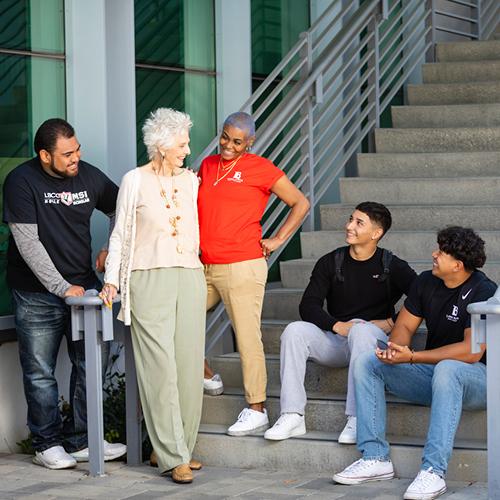 Lumina Foundation announced that Long Beach City College (LBCC) was one of the top 10 finalists in The Million Dollar Community College Challenge, a grant competition to promote branding and marketing efforts at community colleges. LBCC and eight other community colleges received $100,000 and Madera Community College took the top prize of $1 million.
The funding will be used to help promote LBCC's services to adult learners.
"We are grateful that Lumina recognizes our country's community colleges as an integral piece of the higher education experience," said Long Beach Community College District (LBCCD) Board of Trustees President Uduak-Joe Ntuk. "LBCC works hard to help anyone who wants a college degree or certificate, so we appreciate the assistance in our efforts to reach out to those who might have the misconception that it's too late for them to further their education."
In Lumina's competitive process, LBCC's application was recognized among hundreds of community colleges across the country. Lumina required each of the top 10 colleges to submit a video narrative about their college's promise to adult students to determine the final winner of the $1 million grant.
"Lumina asked us to tell our story of what makes us exceptional and reflect how we can best serve our adult student population," said LBCCD's Superintendent-President Dr. Mike Muñoz. "Thanks to the funding, we will be able to enhance our outreach to inform our communities that we are their educational partner with the tools from online classes to in-person services to assist anyone who wants to better their life."
---
About Long Beach City College
Long Beach City College consists of two campuses with an enrollment of over 25,000 students each semester and serves the cities of Long Beach, Lakewood, Signal Hill, and Avalon. LBCC promotes equitable student learning and achievement, academic excellence, and workforce development by delivering high quality educational programs and support services to our diverse communities. Visit www.LBCC.edu for more information about Long Beach City College.
MEDIA CONTACT
Stacey Toda
LBCC Associate Director
Communications & Community Engagement
(562) 938-4004