LBCCD Board of Trustees Appoints New Interim Superintendent-President
Current LBCC Vice President Dr. Mike Muñoz will begin March 4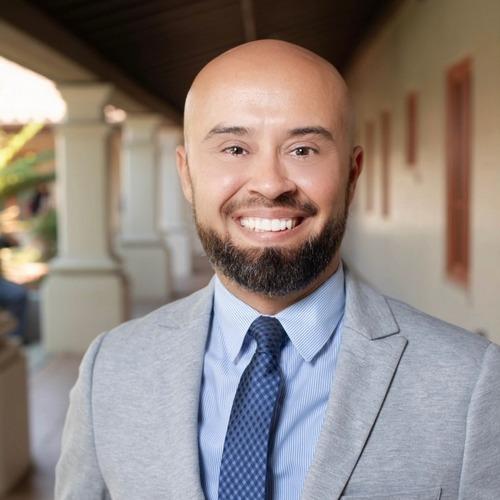 During a Special Board of Trustees Meeting last night, March 2, the Long Beach Community College District Board of Trustees unanimously voted to appoint current Long Beach City College Vice President of Student Services Dr. Mike Muñoz as the new Interim Superintendent-President.
Muñoz will begin his new role on March 4, 2021. His contract will end on June 30, 2022.
The Board of Trustees announced yesterday that the search for a candidate to fill the Superintendent-President position is suspended for now. It will resume next year to ensure the District has ample time to conduct a search for a final candidate.
"Dr. Muñoz is a proven leader who draws from his own educational journey and faced many challenges that are not unlike what many of our LBCC students face today," said Ntuk. "He is a first-generation college student. While he attended college, he experienced both food and housing insecurities — all while caring for his daughter as a single father. He uses his past experience and applied it as he led LBCC's Student Services. And I know he will do the same when he becomes our Interim Superintendent-President for the entire Long Beach Community College District."
Muñoz joined LBCC in 2018 as the Vice President of Student Services. He has led the LBCC Student Support Services team in several accomplishments including the increase enrollment of Long Beach College Promise Direct High School Matriculants by more than 30% from Fall 2018 to Fall 2019, increased the number of Pell Recipients by 27% in 2019-20, expanded services in mental health and basic needs, and supported the increase in completions through the implementation of completion counseling efforts. He pushed for additional technology such as a virtual queue line, chat box functions that have become increasingly used during the pandemic to assist LBCC staff to be more efficient and enhance communication between the College and students. He has also provided support and leadership by serving on the Long Beach College Promise Steering Committee.
"I want to thank the Board of Trustees for having the confidence and belief in my skills and leadership to give me this opportunity to lead this amazing community college," said Muñoz.
Muñoz has been instrumental in LBCC's work so far in advancing racial equity work at the College as Co-Chair of the President's Taskforce on Race & Equity, and serves as the lead Administrator for the College's Framework for Reconciliation.
"Dr. Munoz has done a tremendous job advocating for students of color – not just Latino students – but ALL students from marginalized communities. He works hard, putting in long hours into introducing and implementing programs that truly reflect the values that the district has in support of our students, faculty, staff, and our entire community," said LBCCD Trustee Vivian Malauulu.
He has extensive experience teaching both at the undergraduate and graduate level in counseling and higher education. He's taught master's level courses at California State University, Long Beach and USC, and doctoral level courses at California State University, Los Angeles. He's currently serving as an Adjunct Professor of Higher Education at the USC Rossier's School of Education teaching a leadership course focused on the Community Colleges. Muñoz was recognized as Outstanding Faculty Member in 2019 from USC's Rossier Student Organization, and the 2018 Dr. Cynthia S. Johnson Award from CSULB that recognized his contributions to higher education through exceptional student mentoring.
Trustee Sunny Zia, the Board's senior member and a long-time advocate for students especially those facing food and housing insecurities, as well as those who were formerly incarcerated said "I appreciate all he does for our students and his care for our most vulnerable students and those who need a helping hand."
His national leadership experience includes: serving on the Board of Directors for the National Community Colleges Hispanic Council, a diversity council of the American Association of Community Colleges; a founding Board Member of COLEGAS, the California Community Colleges Latinx professional association; and as a Member of the California Community Colleges Chancellor's Office Fiscal Advisory Committee.
Trustee Dr. Virginia Baxter, who has been affiliated with LBCC since 1970, said she has been impressed with Dr. Muñoz for his response to the need for more direct support for LBCC's homeless student population. "When Dr. Muñoz arrived, the attention and follow-through he provided to this issue helped to create a much more positive future for these students."
Muñoz is a proud product of the California Community College system. He attended East Los Angeles College and Fullerton College before transferring to the University of California, Irvine, where he received his bachelor's degree in Psychology and Social Behavior. He received his master's degree in Counseling, and his doctor of education with a specialization in community college leadership, from California State University, Long Beach.
"He is a kindred spirit for me as we are both California Community College alumnus and first-generation college graduates," said LBCCD Board Vice President Herlinda Chico. "I know we will see great things from Dr. Muñoz and I look forward to collaborating with him on new ideas that benefit our students."
The Board also appointed LBCC Dean of Counseling and Student Support Services Dr. Nohel Corral as the Interim Vice President of Student Services. He will also begin in his new role on March 14, 2021.
"The Board of Trustees are grateful that Dr. Muñoz and Dr. Corral have agreed to step into these new roles to ensure a smooth transition," said Ntuk. "The Board looks forward to working with both of them in their new capacities and together we will all continue to help our students achieve their educational goals at LBCC."
---
About Long Beach City College
Long Beach City College consists of two campuses with an enrollment of over 25,000 students each semester and serves the cities of Long Beach, Lakewood, Signal Hill, and Avalon. LBCC promotes equitable student learning and achievement, academic excellence, and workforce development by delivering high quality educational programs and support services to our diverse communities. Visit www.LBCC.edu for more information about Long Beach City College.
MEDIA CONTACT
Stacey Toda
LBCC Associate Director
Communications & Community Engagement
(562) 938-4004