LBCCD Board of Trustees Names Dr. Mike Muñoz as New Superintendent-President
Muñoz will begin his new role on Jan. 1, 2022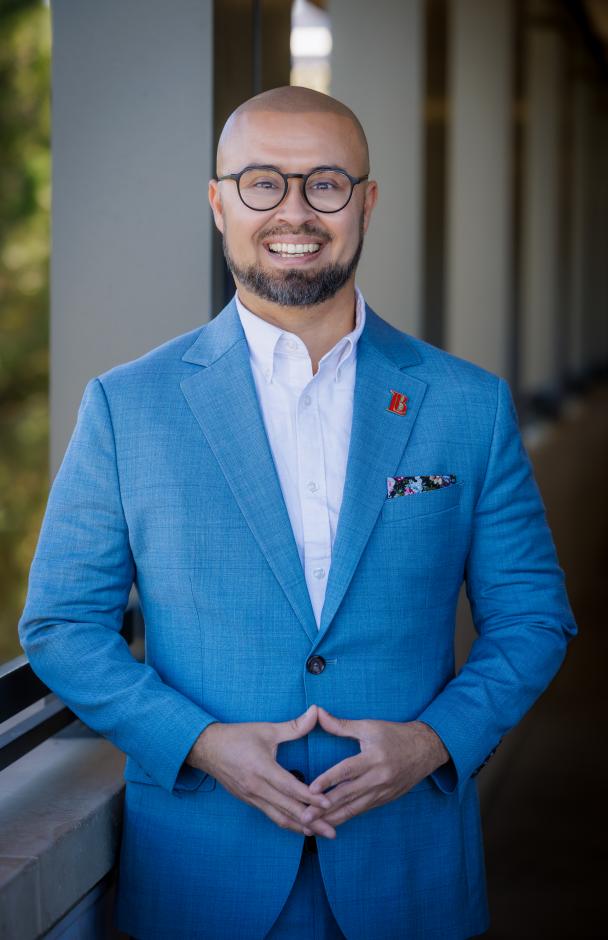 After meeting during a Special Closed Session, the Long Beach Community College District (LBCCD) Board of Trustees unanimously selected Dr. Mike Muñoz as new Superintendent-President. Muñoz will start his new leadership position at Long Beach City College on Jan. 1, 2022.
"After conducting a comprehensive nationwide search, we are confident that the best person to lead Long Beach City College is one of our own," said LBCCD Board of Trustees President Uduak-Joe Ntuk. "Dr. Muñoz has been a truly transformative leader who will lead our College as we continue to recover from the COVID-19 pandemic, modernize our student services, close racial equity gaps, and collaborate with our employees to ensure all students have an opportunity to reach their academic goals. The Board of Trustees is thrilled that we will continue to work with Dr. Muñoz and we are looking forward to innovating together to support our students."
Muñoz has served as the interim Superintendent-President since March 2021. He first joined LBCC in 2018 as the Vice President of Student Services. Prior to LBCC, he spent more than a decade at Rio Hondo College serving in several key leadership positions.
"Serving as the new Superintendent-President of Long Beach City College is an honor of a lifetime," said Muñoz. "LBCC is an amazing community college with the most passionate employees I've met in my career. Thanks to the many years of hard work from our talented staff, we've celebrated a lot of success and recognition recently — from the $30 million grant from MacKenzie Scott to the launch of the Safe Parking pilot program. We've seen significant improvements as we focus on advancing racial equity on campus and better serving our students from historically underserved communities. I'm so proud to be chosen for this role and I look forward to continuing to help our students achieve their educational goals."
Muñoz is a nationally recognized leader in higher education. He is an expert in closing racial equity gaps for students of color, creating inclusive campus cultures for LGBTQIA+ students, and effectively leading for transformational change.
A product of the California Community College system, Muñoz attended East Los Angeles College and Fullerton College before transferring to the University of California, Irvine, where he received his bachelor's degree in Psychology and Social Behavior. He received his master's degree in Counseling and his doctor of education with a specialization in Community College Leadership, from California State University, Long Beach.
He is a first-generation college student. While attending college, he experienced both food and housing insecurities — all while caring for his daughter as a single father.
On the national stage, his leadership experience includes serving on the Board of Directors for the National Community Colleges Hispanic Council, as a founding Board Member of COLEGAS, the California Community Colleges Latinx professional association; and as a Board Member for the California Conference on Equality and Justice.
Muñoz's contract will be formally voted on at the Dec. 15, 2021, LBCCD Board of Trustees meeting.
PPL Inc. was hired as the company to guide the nationwide search for a new Superintendent-President. An 18-member Search Committee, including faculty, staff, student, and community representatives, had forwarded three final candidates to the Board of Trustees. One candidate declined the opportunity from being considered for the position.
---
About Long Beach City College
Long Beach City College consists of two campuses with an enrollment of over 25,000 students each semester and serves the cities of Long Beach, Lakewood, Signal Hill, and Avalon. LBCC promotes equitable student learning and achievement, academic excellence, and workforce development by delivering high quality educational programs and support services to our diverse communities. Visit www.LBCC.edu for more information about Long Beach City College.
MEDIA CONTACT
Stacey Toda
LBCC Associate Director
Communications & Community Engagement
(562) 938-4004