Long Beach City College and Special Olympics Southern California Jump In Together in New Partnership
Special Olympics will now practice swimming, basketball, bocce ball, and track & field at LBCC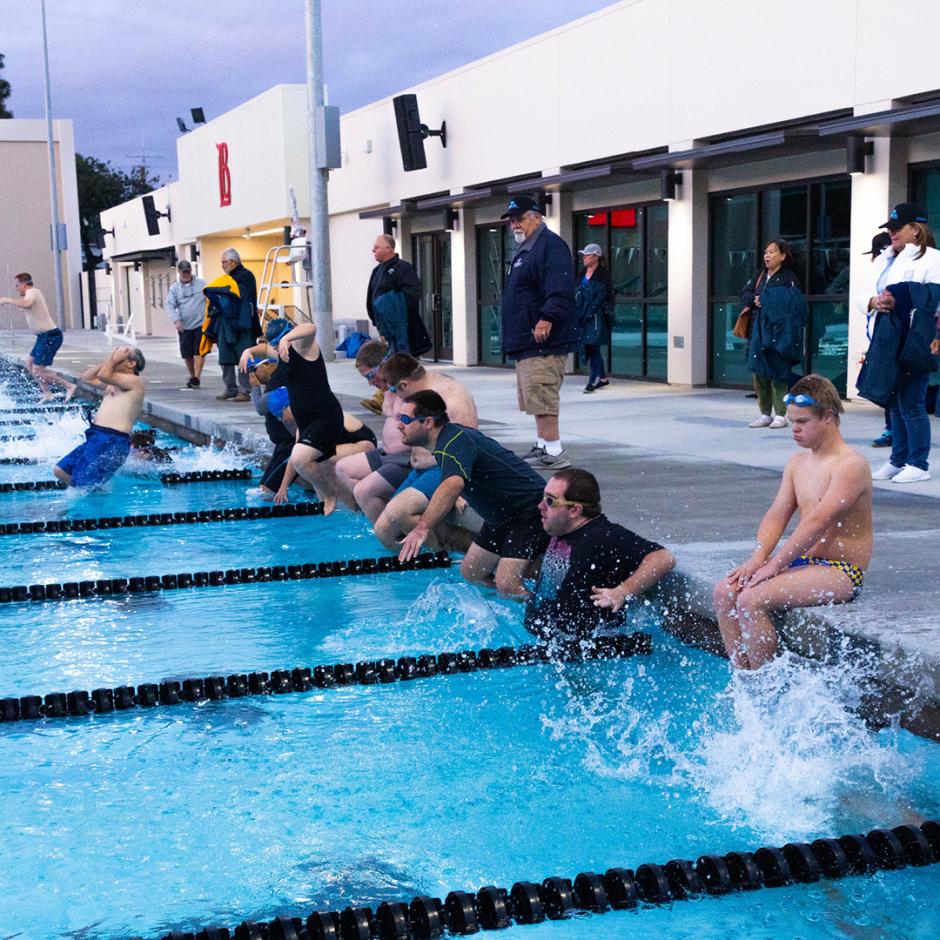 The Long Beach Community College District (LBCCD) and Special Olympics Southern California (SOSC) dignitaries and athletes gathered at the College's new Kinesiology Labs and Aquatic Center on Fri., March 23 to announce a new partnership that will allow more than 80 SOSC athletes to practice at Long Beach City College's (LBCC) Liberal Arts Campus.
The event celebrated both the new partnership and highlighted Ivan Parrott, the SOSC athlete who took the initiative to make it happen.
"It has been LBCC's mission from the beginning to share our state-of-the-art facilities with the community," said LBCCD Board of Trustees President Herlinda Chico. "It's really great to establish this relationship with Special Olympics Southern California and the SOSC athletes. Hat's off to SOSC athlete Ivan Parrott, whose love for swimming so inspired him that he looked for and found a solution here at this community college."
The Aquatic Center pool and facilities, Hall of Champions gym and the track at Veterans' Stadium will be used by Long Beach SOSC athletes on Tuesdays and Thursdays in the evening.
"Our campuses, both here at the Liberal Arts Campus and at our Pacific Coast Campus are truly for everyone to enjoy – both inside and outside our classrooms, regardless of age or fitness level," said LBCCD Superintendent-President Dr. Mike Muñoz. "We are proud to welcome Special Olympics Southern California and provide practice facilities for their outstanding athletes"
The partnership started when SOSC athlete Ivan Parrott mentioned to LBCC Foundation staff member Gina Mascaro that SOSC needed a new place to train. Mascaro then connected SOSC with LBCC.
"Our new relationship started out as a conversation between an incredible athlete with a passion for swimming who wanted a place to train and a family friend who represented the LBCC Foundation who saw that the two organizations' missions aligned. And now our athletes are so excited to train in such impressive facilities," said SOSC President and CEO Kelly Pond.
The event concluded with a splash, as Special Olympics Southern California athletes jumped in LBCC's Aquatic Center's new Olympic-size pool to symbolically seal the deal.
"Partnering with organizations that serve our community is essential in building goodwill that is inclusive, supportive, innovative, and collaborative. We are proud to have this synergy with the Special Olympics," said LBCC Foundation CEO Paul Kaminski.
---
About Long Beach City College
Long Beach City College consists of two campuses with an enrollment of over 25,000 students each semester and serves the cities of Long Beach, Lakewood, Signal Hill, and Avalon. LBCC promotes equitable student learning and achievement, academic excellence, and workforce development by delivering high quality educational programs and support services to our diverse communities. Visit www.LBCC.edu for more information about Long Beach City College.
MEDIA CONTACT
Stacey Toda
LBCC Associate Director
Communications & Community Engagement
(562) 938-4004