Long Beach City College Celebrates the Class of 2018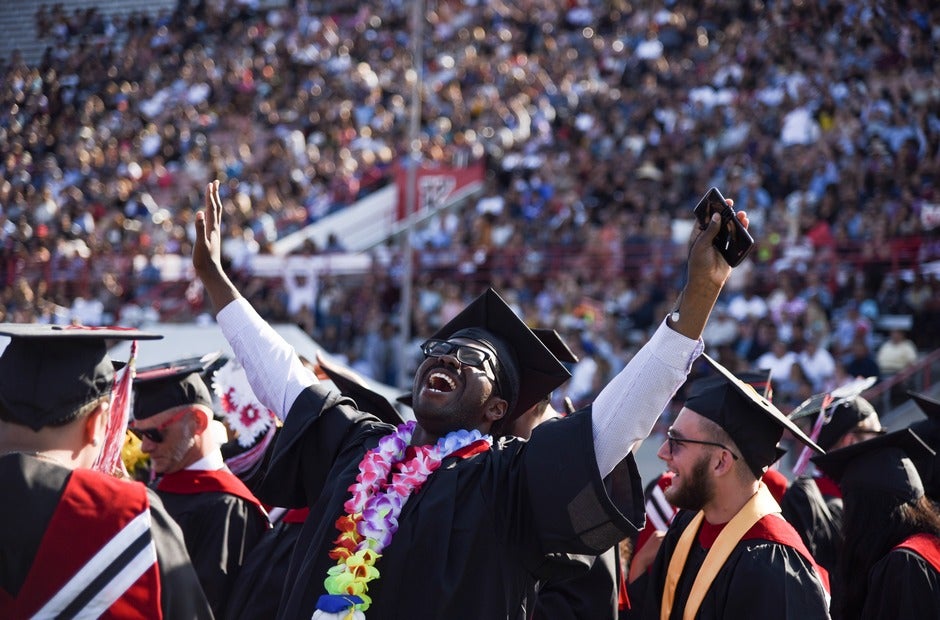 Nearly 800 Long Beach City College students participated in the annual Commencement Ceremony at Long Beach City College's Veterans Stadium tonight, June 7.
A few highlights from today's ceremony and re-cap of this academic year:
1,925 graduates earned Associate of Arts or Associate of Science degrees.
316 students earned Certificates of Achievement.
230 LBCC students achieved Honors by earning a 3.500 – 3.749 cumulative grade point average; 149 students graduated with High Honors (3.75 – 3.99 cumulative grade point average); and 44 students graduated with Highest Honors, a perfect 4.00 cumulative grade point average.
Professor and author Dr. J. Luke Wood served as the keynote speaker.
LBCC student Mackenzie Howard, a product of the Long Beach College Promise, was selected as the 2018 Valedictorian.
LBCC recognized its transfer students during a May 31 ceremony. Approximately 1,300 LBCC students transfer every year to four-year universities and colleges.
More than $1 million in scholarship funds was awarded to LBCC students at a ceremony June 6.
---
About Long Beach City College
Long Beach City College consists of two campuses with an enrollment of more than 25,000 students each semester. The education program's primary purpose is to prepare students for transfer to baccalaureate-granting institutions, entry into work or career development, and to support businesses in economic development. Long Beach City College serves the cities of Long Beach, Lakewood, Signal Hill and Avalon. Long Beach City College promotes equitable student learning and achievement, academic excellence, and workforce development by delivering high-quality educational programs and support services to our diverse communities.