Long Beach City College Hosts Large Community Job Fair Sept. 11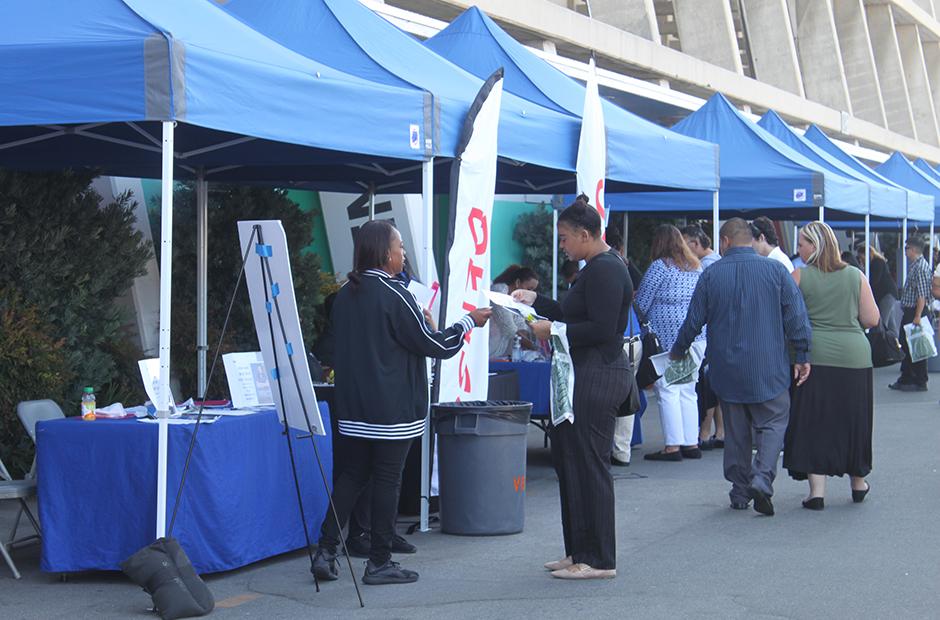 Long Beach City College will host the Long Beach Community Job Fair at Veterans Stadium, 4901 E. Conant St., on Tues., Sept. 11 from 10 a.m. to 2 p.m. The event is free and open to the public, with pre-registration required.
Job seekers should bring resumes, dress professionally and be ready to be interviewed. There will be free parking for the day at Veterans Stadium, but not in adjacent neighborhoods as vehicles may be cited or towed.
More than 65 employers are scheduled to participate, including public and private sector employers in aerospace/aviation, construction, engineering, logistics/transportation, manufacturing, government, healthcare, retail and hospitality. Employers will be offering full-time, part-time and seasonal positions.
The event is hosted and organized by Long Beach City College, and sponsored by the office of Los Angeles County Supervisor Janice Hahn, the City of Long Beach, GAIN (Greater Avenue for Independence), GROW (General Relief Opportunities for Work) and the Los Angeles Department of Public Social Services.
Last year, more than 600 community members and LBCC students attended the job fair.
Visit www.pacific-gateway.org/LBCJobFair to see a list of participating employers, and to register as an attendee.
---
About Long Beach City College
Long Beach City College consists of two campuses with an enrollment of over 25,000 students each semester and serves the cities of Long Beach, Lakewood, Signal Hill, and Avalon. LBCC promotes equitable student learning and achievement, academic excellence, and workforce development by delivering high quality educational programs and support services to our diverse communities. Visit www.LBCC.edu for more information about Long Beach City College.
MEDIA CONTACT
Stacey Toda
LBCC Associate Director
Communications & Community Engagement
(562) 938-4004