Long Beach City College's Dr. Mike Muñoz Chosen for Prestigious Aspen Rising Presidents Fellowship
Dr. Muñoz also receives Ricardo Salinas Scholarship for the National Community College Leadership Program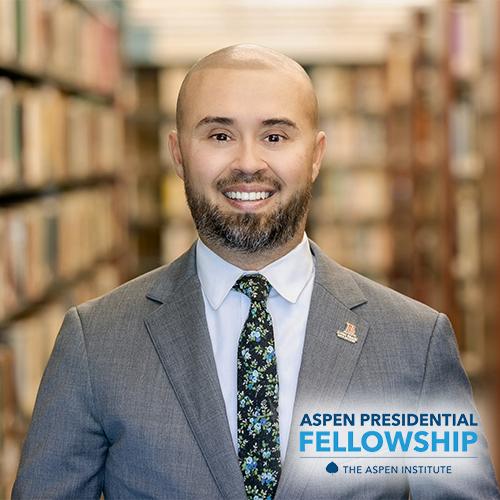 The Aspen Institute College Excellence Program today announced that Long Beach Community College District (LBCCD) Interim Superintendent-President Dr. Mike Muñoz is one of 40 leaders selected for the 2021-2022 class of the Aspen Rising Presidents Fellowship, a highly selective national leadership program preparing the next generation of community college presidents to transform institutions to achieve higher and more equitable levels of student success.
"Since joining Long Beach City College in 2018 as the Vice President of Student Services, Dr. Muñoz has transformed our College by helping to advance equity to achieve academic success for all of our student groups," said LBCCD President Uduak-Joe Ntuk. "He has been the right leader to continue the transformational work to take the College to the next level of success. This fellowship will empower him with new tools to make him an even stronger force for LBCC students."
Muñoz and the 39 other Rising Presidents Fellows from throughout the country will embark on a 10-month fellowship beginning in November 2021. Delivered in collaboration with the Stanford Educational Leadership Initiative, the fellows will be mentored by current and former community college presidents who have achieved exceptional outcomes for students throughout their careers, and will learn strategies to improve student outcomes in and after college, lead internal change, and create strong external partnerships with K-12 schools, four-year colleges, employers, and other partners.
"To become institutions that truly advance social mobility and talent development, community colleges must have presidents with a clear vision for equitable student success," said Monica Clark, director of leadership initiatives at the College Excellence Program. "We have selected these fellows because they share that commitment and are well-positioned to become transformational leaders."
Nationally, nearly 80 percent of sitting college presidents plan to retire in the next decade. While the traditional pathway to the presidency has often excluded women and people of color, the incoming class of Aspen Rising Presidents Fellows is composed of 68 percent women and 70 percent people of color, and represents institutions of varying sizes and locations.
Together, the 2021-22 fellows are leaders at colleges that collectively serve more than 400,000 students. As well, 67 Rising Presidents Fellowship alumni have become presidents of community colleges that collectively serve an additional 953,000 students nationwide.
Muñoz, a trailblazer in the push for equity and inclusion, was also honored to receive the Ricardo Salinas Scholarship from the Latinos and Society Scholarship committee based on his unique trajectory and perspective that are impacting policy and practice across the country and worldwide. This scholarship will cover expenses for his participation in the fellowship.
He was appointed as the LBCCD Interim Superintendent-President in March 2021. He joined LBCC in 2018 as the Vice President of Student Services. Muñoz led the LBCC Student Support Services team in several accomplishments including the increase enrollment of Long Beach College Promise Direct High School Matriculants by more than 30% from Fall 2018 to Fall 2019, increased the number of Pell Recipients by 27% in 2019-20, expanded services in mental health and basic needs, and supported the increase in completions through the implementation of completion counseling efforts. He pushed for additional technology such as a virtual queue line, chat box functions that have become increasingly used during the pandemic to assist LBCC staff to be more efficient and enhance communication between the College and students. He has also provided support and leadership by serving on the Long Beach College Promise Steering Committee.
Muñoz is a proud product of the California Community College system. He attended East Los Angeles College and Fullerton College before transferring to the University of California, Irvine, where he received his bachelor's degree in Psychology and Social Behavior. He received his master's degree in Counseling, and his doctor of education with a specialization in community college leadership, from California State University, Long Beach.
---
About Long Beach City College
Long Beach City College consists of two campuses with an enrollment of over 25,000 students each semester and serves the cities of Long Beach, Lakewood, Signal Hill, and Avalon. LBCC promotes equitable student learning and achievement, academic excellence, and workforce development by delivering high quality educational programs and support services to our diverse communities. Visit www.LBCC.edu for more information about Long Beach City College.
MEDIA CONTACT
Stacey Toda
LBCC Associate Director
Communications & Community Engagement
(562) 938-4004