NEW GROUNDBREAKING INITIATIVE AT LONG BEACH CITY COLLEGE LINKS STUDENTS AND REGIONAL EMPLOYERS
New Center for Community & Industry Partnerships Announced at LBCC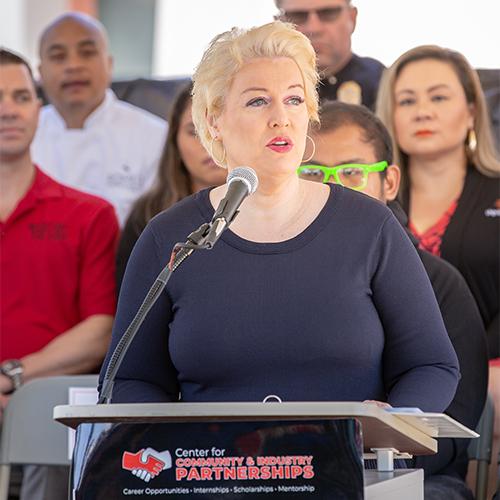 Surrounded by dozens of community members and influential supporters, the Long Beach Community College District (LBCCD) hosted a press event to announce the new Center for Community & Industry Partnerships on Tuesday, April 23, at the Liberal Arts Campus.
From the Mayors' Offices of Long Beach, Lakewood and Signal Hill to Seal Beach and Long Beach law enforcement, non-profits, health care, hospitality and a variety of businesses – more than 50 businesses and community organizations have signed on to be future employers and mentors of Long Beach City College (LBCC) students in filling needs in high-demand jobs and possible assistance with mentorships and scholarships.
"Many of our students utilize LBCC for career guidance before taking on a greater financial commitment at a university," said LBCCD Superintendent-President Reagan Ferragamo Romali, Ph.D. "Today, we are proud to announce that our Center for Community & Industry Partnerships members have committed to helping these students in discovering how to translate their time at LBCC into a fulfilling future career."
The Center for Community & Industry Partnerships members can support LBCC students through a variety of opportunities including:
Career Opportunities – This involves supporting the employment of LBCC students, including advertising job openings, and job fairs.
Internships – Internships provide students hands-on experience which further their knowledge and help them prepare for a career.
Scholarships – Scholarships provide support for students enrolled in LBCC by defraying the cost of education for the students.
Advisory Committees – Advisory committees are used across Long Beach Community College District as a way to connect our educational programs to the experts in the local community. These experts provide insight and guidance for many curricular initiatives at the college.
Career Exposure – Community partners can provide invaluable education and career exposure to the students by participating in or offering: Guest Lecturers, Work Site Field Trips, Informational Interviews, Job Shadowing, Career Fair, Mentoring, etc.
Long Beach Community College District Board of Trustees President Sunny Zia was pleased with the results of the day and what the future holds.
"What this indicates to us is that our community cares about the students of Long Beach City College," Zia said. "These people have pledged that they want to become more involved with by strengthening the ties between higher education and the workforce, and keeping our talented students local. This is a wonderful win-win relationship for both the local economy and education."
Also attending the event were speakers:
Long Beach Mayor Robert Garcia
Long Beach Harbor Commissioner Frank Colonna
Port of Long Beach Executive Director Mario Cordero
Goli Ameri, CEO of Start It Up, and former Assistant Secretary of State for Educational and Cultural Affairs at the US Department of State, former head of the United States delegation to the United Nations General Assembly, and served on the UN Commission on Human Rights as appointed by President George W. Bush
Founding Center for Community & Industry Partnerships members include: Airgas USA; Boy Scouts of America; California Complete Count – Census 2020; California Conference for Equality and Justice; California State University, Long Beach; Cambrian Healthcare; Children Today; Chops Jobs, Inc.; City of Lakewood; College Medical Center; COPE Health Solutions; Cordoba Corporation; Dignity Health; Dr. T Healthcare; Duke Givens Photography; Englander, Knabe & Allen; Flexi-Van Leasing, Inc.; Hansen & Adkins Auto Transport; ICES Educational Partners; International Transportation Service; JustAdMe; Khmer Parent Association; LA Chamber of Commerce (Bixel); Lakewood Chamber of Commerce; Lakewood Dental Arts; Lee Andrews Group; LGBTQ Center of Long Beach; Long Beach Beer Lab; Long Beach Local News; Long Beach Police Department; Lucy's Boudoir; Mathnasium; Mr. Package, Inc.; Nelson & Associates; New York Life; California Assemblymember Patrick O'Donnell; P2S Incorporated; Performance Plus Tire; Phillips Steel Company; The Port of Long Beach; Primal Alchemy Catering; Rainbow-In-A-Cloud Child Development Center; California Assembly Speaker Anthony Rendon; Romeo Chocolates; SEO Savvy; Start It Up; Success in Challenges; Tarzana Treatment Centers; Tichenor Clinic for Children; Water Replenishment District of Southern California; Way Beyond Cake Bakery; Westgroup Design; and WERE Real Estate.
For more information about signing on and joining the Center for Community and Industry Partnerships, please contact Marcia Parker, LBCC Senior Director of Community Relations and Academic Partnerships, (562) 938-5007.
---
About Long Beach City College
Long Beach City College consists of two campuses with an enrollment of over 25,000 students each semester and serves the cities of Long Beach, Lakewood, Signal Hill, and Avalon. LBCC promotes equitable student learning and achievement, academic excellence, and workforce development by delivering high quality educational programs and support services to our diverse communities. Visit www.LBCC.edu for more information about Long Beach City College.
MEDIA CONTACT
Stacey Toda
LBCC Associate Director
Communications & Community Engagement
(562) 938-4004