Vivian Malauulu
Trustee, Area 2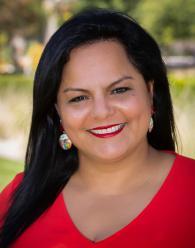 Vivian Malauulu is the first Latina elected to the Long Beach Community College District Board of Trustees to represent Area 2 which covers all of West Long Beach and the south-central parts of the city. She is also the first board member with direct ties to a Polynesian family.
A career educator, Vivian has more than 20 years of substantial experience teaching a variety of high school subjects for the Los Angeles Unified School District, as well as classes at Los Angeles Harbor College and California State University, Dominguez Hills (CSUDH). She has a bachelor's degree in Journalism from California State University, Northridge (CSUN), a master's degree in Educational Administration from CSUDH, and four K-14 bilingual teaching credentials. When she was elected to the College Board in April of 2016, Vivian taught Journalism part-time at Long Beach City College (LBCC) and was an active member of the Executive Boards of both the part-time Faculty Association and the Trades Advisory Council at LBCC.
Vivian is a full-time registered longshore worker with Local 13 of the International Longshore and Warehouse Union (ILWU) at the Long Beach/Los Angeles twin-ports complex. She has almost 20 years of experience manning a variety of jobs in several skill categories of marine cargo work. The membership of Local 13 has repeatedly elected her to serve multiple terms on the Executive Board and the Political Action Committee (PAC), and she was the first woman elected as Trustee of Local 13, overseeing the local's financials. Vivian has served as an elected delegate to the Southern California District Council (SCDC) which includes representatives from other locals, and is the political and legislative arm of the ILWU in Southern California from Fresno to Mexico and Nevada to the coast. She has also served multiple terms as the Chair of the local's Publicity/Public Relations Committee, and chaired it during the term which covered the 2014-2015 contract negotiations that generated unprecedented international attention for the union, west coast ports, and the maritime industry. Her work with Local 13, through the SCDC, and other labor groups involves extensive educating and organizing efforts on and off the docks. Currently, Vivian is one of only six titled officers in Local 13, overseeing the welfare and pension benefits of more than 10,000 members, retirees, and their dependents. In 2018, she became the first woman in the ILWU's 81-year history to be elected to that office as the local's Health Benefits Representative.
In addition to her teaching and longshoring experience, Vivian has consistently fulfilled her deep-rooted passion to write by regularly contributing to various media outlets as a bilingual freelance journalist. She has bylines in a wide range of publications along with credits in radio and television covering a variety of subjects. A significant amount of her contributions have been published both locally and internationally, and in Spanish.
She was born Vivian Ramirez in an impoverished barrio of San Pedro Sula, Honduras to a young, unwed mother. Together and through many hardships, they migrated to California in 1981 pursuing what all immigrants want from America – the chance of a better life. Vivian was seven years old and spoke zero English. She became Vivian Williams when her mother married an African-American petroleum engineer who adopted Vivian and raised her as his own. Together with her mother and stepfather, Vivian settled in Carson, CA where she grew up in an all-black neighborhood and attended all-black public schools. She was a hard worker and tested out of the English as a Second Language (ESL) program in three months, and tested into the Gifted and Talented Enrichment (GATE) program in less than one year. Identified as a "high achieving" student, Vivian enrolled in Honors and Advanced Placement classes, played after school sports, and was elected as student body president of every school she attended. In high school, she was awarded various honors including induction to the National Ephebian Society, National Honor Society, was voted Homecoming Queen, and chosen for five of the 18 senior personality polls including Most Popular and Most Likely to Succeed. Vivian was chosen to represent the City of Carson as an ambassador to Soka, Japan where she spent the summer of 1991. All of this while working several part-time jobs afterschool and on weekends.
After high school, Vivian immediately moved to the San Fernando Valley where she worked her way through an undergraduate degree in 3.5 years at CSUN, while working in the newsroom at various radio stations throughout Southern California. She was quickly promoted to on-air personality and ran the console of various shifts around her class schedule. In her last semester at CSUN she worked at Univision's KMEX Channel 34 as a general assignment field reporter. Upon graduation, she was hired by the Alameda Corridor Project which was the largest public works development in the country at the time. Her work in acquisitions and eminent domain hosting Spanish town halls up and down the corridor earned her an appointment as the youngest Public Relations Commissioner in the City of Carson, sparking her passion for community service.
It was around that time that Vivian met, fell in love with, and married her husband, George Malauulu. The alluring "short school days, Christmas and spring breaks, and summers off" teaching schedule enticed her to quit her demanding government job and only four years after graduating from Banning High School in Wilmington, CA – at the age of 22 – she returned to her beloved alma mater to teach. With a promising and stable teaching career ahead of her, she settled down to pursue a graduate degree in education and to start a family in Long Beach.
Vivian and her husband, who is also a longshore worker and former educator, have been married for 21 years. Together they are raising their four school-aged children in the Wrigley neighborhood of West Long Beach. George, who was the ambidextrous star quarterback at Carson High School, earned an athletic scholarship to the University of Arizona, and is the founder of the AIGA Foundation which assists student-athletes secure scholarships to play at the next level. The Long Beach Malauulu Family – as they are affectionately referred to – is very active in local school, sports, civic, and church activities.
In spite of working full-time in the longshore industry, serving at LBCC, and raising a very busy family, Vivian continues to be involved in the community as the Chair of the City's Commission on Youth and Families, as a Board Member of the Greater Long Beach YMCA Early Childhood Education Program, and as a volunteer in several neighborhood groups. Her family is usually right there by her side.
Vivian acknowledges that the opportunity she was blessed with to come to this country changed the trajectory of her life. She credits her strong faith in God, her passion for education, and her tough work ethic for guiding her on the road to public service. That is why she dedicates her three careers – teaching, longshoring, and writing – to encouraging students and teachers, equipping workers, and empowering the community.