Passion In the Garden
LBCC's Jorge Ochoa Plays a Part in Discovery of New Passionflower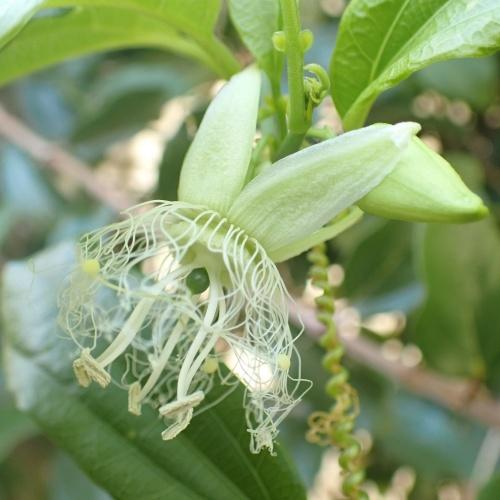 Long Beach City College Horticulture Professor, Jorge Ochoa, has been recognized in his important role in discovering a new species of passionflower.
Ochoa's first passion flower expedition took place in 2001 when he visited Costa Rica. Since then, he has been to Brazil, Ecuador, Columbia, Cuba, and Southern Mexico, all on exhibitions to look for new species of passion flowers native to those regions.
In 2011-2012, Ochoa participated in a project with scientists from universities in Missouri and Kansas to do the genetic analysis of a group of passion flowers. A visit to the Dominican Republic resulted in the discovery of a new plant, which was then cultivated and grown at Long Beach City College's Horticulture garden on the Pacific Coast Campus. Ochoa successfully got the plant to flower, which was the first time it flowered in cultivation.
This flowering confirmed it was indeed an undescribed species of passionflower. Ochoa then recorded the flower, measuring characteristics such as the fruit, leaves, corona, and filaments. This allowed the type of specimen to be determined. A type specimen is the first record of any plant when it gets discovered. The study included a genetic analysis to put this new species into a family tree.
This first record is the type specimen, which was then deposited in the Missouri Botanic Gardens Herbarium. And as of this writing (early October) Passiflore intricata is again flowering at the LBCC Horticulture Garden.
"Having the record of the flower, the flower verified it was indeed a new species," said Ochoa. "The next step was to enter it for publication so it would be accepted as a new plant."
It is common practice that when a new species has been determined/accepted into the scientific community, it must be published.
Ochoa's work has now resulted in the discovery and publication of "Passiflora intricata" an apetalous (having no petals) new species from the Dominican Republic. The name "intricata" comes from the Latin word for tangled, which is reference to the flower's long and slender filaments that look tangled (see photo). The discovery was recognized by the peer-reviewed scientific journal "Phytotaxa."
To learn more about LBCC's Horticulture Department, visit www.LBCC.edu/program-horticulture.