Cindy Macias
Child Development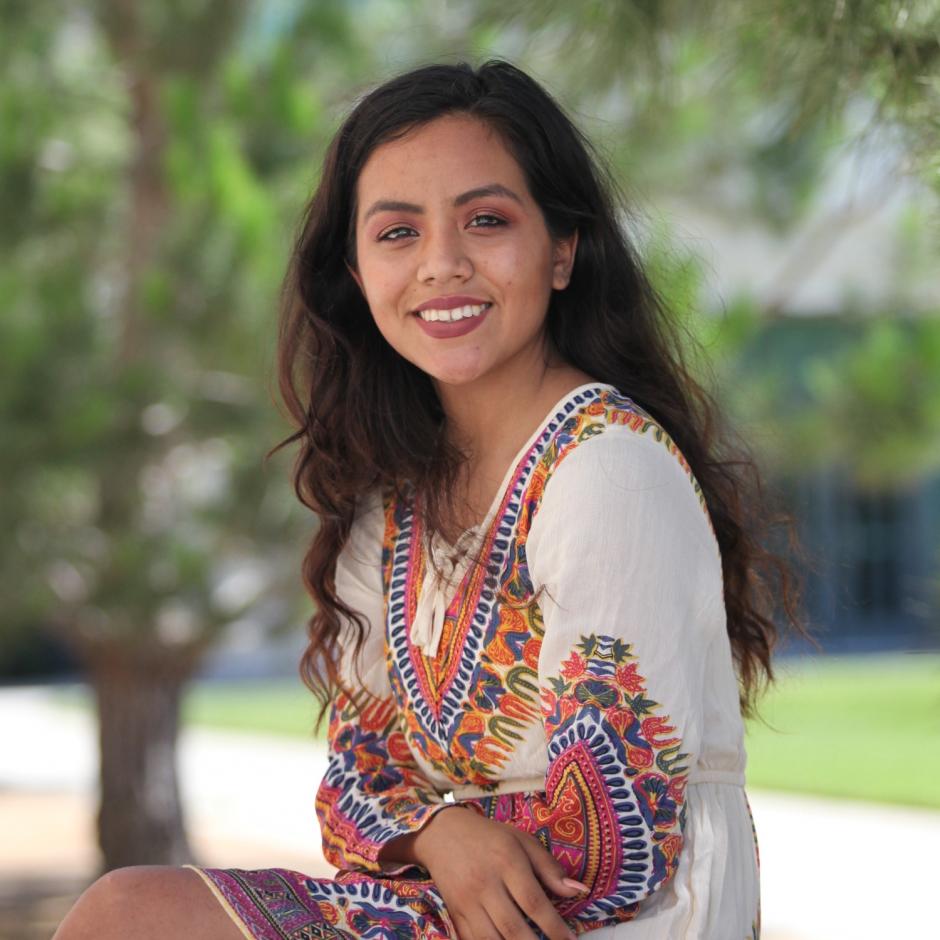 NAME:
Cindy Macias
AGE:
20
HOMETOWN:
Compton, CA
MAJOR:
Child Development
LBCC ORGANIZATIONS, CLUBS OR SPORTS AFFILIATIONS:
Spanish Club, Phi Theta Kappa, Alpha Gamma Sigma, Eco Club, Viking Volunteer, John Fylpaa Leadership Institute Cohort 2
Q: How long have you attended LBCC?
A: I have been at LBCC since Spring 2015.
Q: Why did you decide to attend LBCC?
A: I enrolled a semester later than most of the people I went to high school with because I decided to go to Mexico after graduating. It was a big eye opener and after returning and seeing the way life is there, I knew I didn't want to work; I wanted to start my path to higher education. Honestly, I just didn't want to go to Cerritos either because a lot of people I went to high school would be there. I wanted to meet new people and be in a different environment.
Q: What were your expectations when coming to LBCC?
A: I didn't know what to expect. I was lost and confused and didn't have any guidance, but I found my way.
Q: What does LBCC mean to you?
A: As cliché as it may sound, LBCC means home; it's my second home. I've always been involved in extracurricular activities since elementary. Not sports necessarily, but afterschool programs, clubs, and organizations. LBCC is a place I feel comfortable at. I like being as involved as I am and giving back and working towards a common goal with my peers. I learn to appreciate everyone I work with despite how different we are.
Q: Who is your role model?
A: My dad. He means the absolute world to me. He is the reason why I do what I do and I want to make him proud. He has shown me that hard work pays off. I want to give him a sense of accomplishment through the things that I do.
Q: What is your biggest passion?
A: Kids. They are the future and I think investing in them is something that I am passionate about. I want to make sure children receive high-quality care and education.
Q: In what way have you made an impact at LBCC?
A: I am not too sure yet. I was part of LBCC's 1st Annual AIDS Walk. I hope to return in the future to see how the AIDS Walk impacted LBCC.
Q: How has LBCC shaped you into your best self?
A: It taught me to ask questions. To always look for what else I can do and how I can help. LBCC shaped me to be my best possible self by working on my flaws & weaknesses and to exercising my strengths.
Q: What advice would you have for new LBCC students?
A: Get involved. No matter how small or big, go to the Fishbowl and see how you can GET INVOLVED! New LBCC students should know what resources are readily available to them. College is different, you aren't a baby and resources aren't going to come to you (they may, but they don't always do). I would also advise them to get a job on campus, as they work with your schedule.
Q: If there is one thing LBCC has taught you, what would it be?
A: To never settle and not do the bare minimum just to get by.
Q: Where do you see yourself in the future?
A: In the future I see myself working with children. They are the future.
Q: What is one thing you would change about your experience here at LBCC?
A: I wish I had some guidance when enrolling in 2015.
Q: What are your professional goals?
A: I want to be a social worker for most of my professional career. After that, I would like to become a teacher. Eventually, when I have a home, I want to open up an in-home daycare.
Q: What do you plan to do after you leave LBCC?
A: Transfer to a CSU for a bachelor's degree in Child Development and perhaps move over to a UC for a master's degree in Child Psychology. I actually have plans on coming back to LBCC in the far future to take fitness and/or philosophy classes to exercise my body and mind.