Clara Ure
Psychology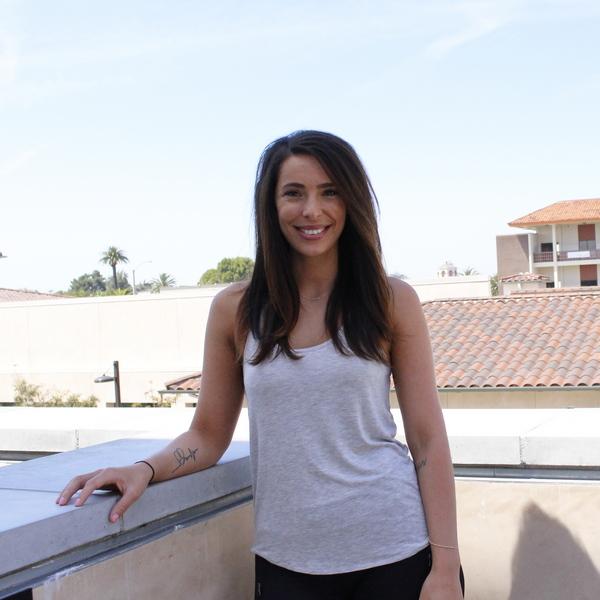 NAME:
Clara Ure
AGE:
24
HOMETOWN:
Manhattan Beach, CA
MAJOR:
Psychology
LBCC ORGANIZATIONS, CLUBS OR SPORTS AFFILIATIONS:
Founder of The Feminist Club, Second Chair on SLOT Team 12: Mental Health Workgroup, President of The Honorary Order of Kassai, Phi Theta Kappa
Q: HOW LONG HAVE YOU ATTENDED LBCC?
A: This is my second year and final semester.
Q: WHY DID YOU DECIDE TO ATTEND LBCC?
A: I was actually living in New York at the time I enrolled at LBCC. I was out here visiting family and decided to check out some of the community colleges in the area and fell in love with LBCC's campus. I was able to enroll, take my placement tests, and sign up for classes all in one day, about two weeks before classes started and the fact that the enrollment process moved so quickly made choosing LBCC so much easier.
Q: WHAT WERE YOUR EXPECTATIONS WHEN COMING TO LBCC?
A: To be completely honest, growing up in Manhattan Beach (where mostly everyone transferred to 4-year universities straight out of high school) I adopted a fairly negative perspective of community colleges, so my expectations of LBCC were low.
However, my experience here has been great and nothing like what I thought it would be. I've become an avid supporter of community college education and have encouraged others to consider attending LBCC.
Q: WHAT DOES LBCC MEAN TO YOU?
A: Renewed possibility and potential. As a high school dropout, I've been able to realize the enormous possibilities ahead of me and learn more about my potential as a person, as a student, as a citizen, as an ally, and as a woman.
Q: WHO IS YOUR ROLE MODEL?
A: I don't have one particular role model, but I do admire and respect a handful of people: my therapist, my boss, my friends, and Professors Hund, Orr, and Savoie.
Q: WHAT IS YOUR BIGGEST PASSION?
A: Social justice all day, every day – but specifically those issues that relate to masculinity, men, and the rigid gender roles men have been forced to adopt. What I mean by this is the expectation put on men by our culture to prove their masculinity by way of violent action, dominance over women, and being emotionally void.
Male social and emotional issues have been completely overlooked and are currently under-discussed. This is at the root of SO many relevant social issues, such as mass shootings and the stagnation in achieving gender equality. As a self-identifying feminist, my belief is that until we learn to work together with men and learn to support and advocate for the issues that affect men, we will never achieve absolute equality and social justice.
Q: IN WHAT WAY HAVE YOU MADE AN IMPACT AT LBCC?
A: I'd like to think that the Feminist Club has impacted students. My intention in starting the club was to create a safe space for a particular group of people to feel seen, heard, empowered, and mobilized and I think we're well on our way to accomplishing that.
My role as the student rep on the Mental Health Workgroup has allowed me to voice the needs and opinions of our students and I'm confident that because of this, our student body will be better served once we begin to roll out specific programs and initiatives that are being developed currently.
Q: HOW HAS LBCC SHAPED YOU INTO YOUR BEST SELF?
A: The courses I've taken at LBCC have challenged me to dig deeper in my understanding of myself and my place in the world. Being the daughter of two Hispanic immigrant parents, and having lived in New York for nearly four years before starting college, I thought I was pretty "woke" (for lack of a better word) – but my time at LBCC has prompted me to dig deeper in identifying my own learned prejudices, to dig deeper in recognizing my white privilege, and most importantly to dig deeper into learning to be an ally. I'm not at all the person I was two years ago and I attribute a majority of my growth to LBCC.
Q: WHAT ADVICE WOULD YOU HAVE FOR NEW LBCC STUDENTS?
A: Map out your entire Ed Plan in your first semester, develop a relationship with at least three professors, get involved in Student Life, join the Honors Program if you can. Your experience at LBCC will be 100x better if you do all four.
Q: IF THERE IS ONE THING LBCC HAS TAUGHT YOU, WHAT WOULD IT BE?
A: If you're struggling, ask for help. Ask your classmates, ask your professors, ask the administration, just ask someone. Speaking up allows you to realize you're not the only one struggling.
Q: WHAT IS ONE THING YOU WOULD CHANGE ABOUT YOUR EXPERIENCE HERE AT LBCC?
A: I would've liked to be a little more involved on campus – it's just hard to find the time! I think a lot of students can relate.
Q: WHAT ARE YOUR PROFESSIONAL GOALS?
A: My main goal is to influence large-scale social change and to use my white privilege to support the justice efforts of voiceless or oppressed groups.
I'd like to dedicate myself to philanthropic work but until then I see myself working as a therapist, lawyer, lobbyist, or politician and running my own non-profit.
Q: WHAT DO YOU PLAN TO DO AFTER YOU LEAVE LBCC?
A: Immediately after leaving, I'll sleep and binge on Netflix.
I may be doing a 5-week pre-law program over the summer before starting at my next university in the Fall. As of right now, I don't know where I'll end up; I've applied to UCI, UCLA, USC, Chapman, Rollins, and Yale.