Erick de Vera
Art, Graphic Design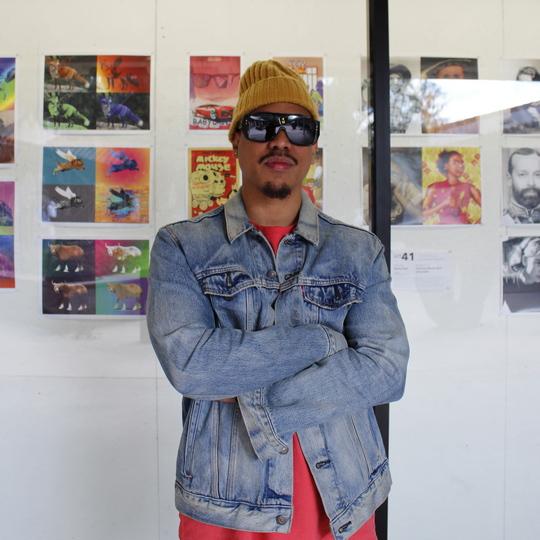 NAME:
Erick de Vera
AGE:
29
HOMETOWN:
Long Beach, CA
MAJOR:
Art, Graphic Design
LBCC ORGANIZATIONS, CLUBS OR SPORTS AFFILIATIONS: I know Michael Neal is starting a Graphic Design club, I'll be a part of that.
Q: HOW LONG HAVE YOU ATTENDED LBCC?
A: I'm a returning student. I've been here for about 3 semesters now.
Q: WHY DID YOU DECIDE TO ATTEND LBCC?
A: I decided to come back for a Graphic Design certificate.
Q: WHAT WERE YOUR EXPECTATIONS WHEN COMING TO LBCC?
A: My expectations are to learn from the best teachers at LBCC.
Q: WHAT DOES LBCC MEAN TO YOU?
A: LBCC, to me is a place of opportunity. It's an outlet to learn and work on your craft.
Q: WHO IS YOUR ROLE MODEL?
A: I have a few Role Models. One is Kobe Bryant, I love his mentality (Mamba Mentality) and his approach to his craft.
Q: WHAT IS YOUR BIGGEST PASSION?
A: My biggest passion is CREATING. I love to create and to get my ideas out.
Q: IN WHAT WAY HAVE YOU MADE AN IMPACT AT LBCC?
A: I try my best to motivate and inspire my classmates.
Q: HOW HAS LBCC SHAPED YOU INTO YOUR BEST SELF?
A: LBCC keeps me motivated and inspired.
Q: WHAT ADVICE WOULD YOU HAVE FOR NEW LBCC STUDENTS?
A: My advice for new LBCC students is to come here with a purpose and a positive mindset. I think it's very important to set goals and to stay motivated to achieve those goals.
Q: IF THERE IS ONE THING LBCC HAS TAUGHT YOU, WHAT WOULD IT BE?
A: LBCC has taught me structure. It has taught me to be more organized.
Q: WHERE DO YOU SEE YOURSELF IN THE FUTURE?
A: I see myself running my own company. A Creative agency that offers product and service.
Q: WHAT IS ONE THING YOU WOULD CHANGE ABOUT YOUR EXPERIENCE HERE AT LBCC?
A: There's nothing I would change. I believe everything happens for a reason.
Q: WHAT ARE YOUR PROFESSIONAL GOALS?
A: My professional goal is to collaborate with the top brands, artist, and designers. Through my product and service company of course.
Q: WHAT DO YOU PLAN TO DO AFTER YOU LEAVE LBCC?
A: I plan on transferring to get a BFA (Bachelor of Fine Arts). I'm still undecided on which school, but the end goal is a BFA.