Hong Sodalis
Registered Nursing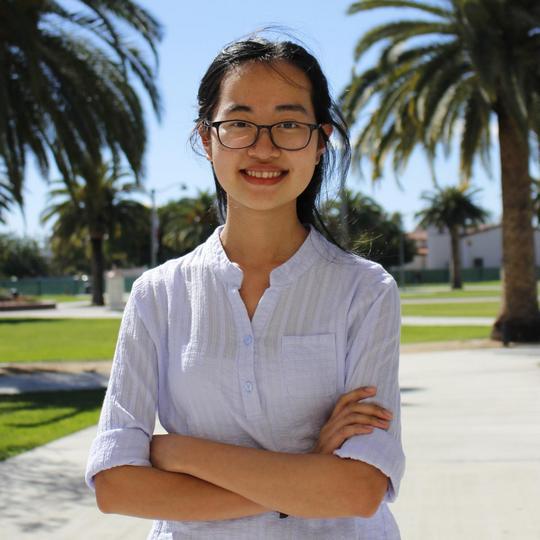 NAME: Hong Sodalis
AGE: 20
HOMETOWN: Phnom Penh, Cambodia
MAJOR: Registered Nursing
LBCC ORGANIZATIONS, CLUBS OR SPORTS AFFILIATIONS: Student Assistant for the Academic Computing Center
Q: HOW LONG HAVE YOU ATTENDED LBCC?
A: I have attended LBCC since Fall 2016.
Q: WHY DID YOU DECIDE TO ATTEND LBCC?
A: After graduating from high school in Cambodia, I decided to pursue my education abroad. I desire to receive a high-quality education, while also exploring the world. I intended to go to a community college, and LBCC was one of the prominent colleges in Southern California. LBCC has an "International Student Program" and variety of courses and majors for residents and non-resident students to choose from.
Q: WHAT WERE YOUR EXPECTATION WHEN COMING TO LBCC?
A: Personally, when I first came to the US, my dream was to improve my English to fit in with American environment. I have encountered many challenges as an international student, yet LBCC helped me overcome all those obstacles. After taking many ESL classes and general courses, I'm motivated to utilize my English, which boosts my confidence to participate in school and curricular activities in society.
Currently, I'm a pre-nursing student, and I wish to get into the nursing program. Although I know that the current path that I'm taking is complicated and competitive.
Q: WHAT DOES LBCC MEAN TO YOU?
A: LBCC means so much to me. Words could not describe how thankful I am for choosing LBCC. Professors, counselors, and school employees are really supportive and willing to assist even though I'm not a domestic student. As a non-English speaker, LBCC has expanded my vision and developed my mindset to adapt yo American culture and become an effective student.
Q: WHO IS YOUR ROLE MODEL?
A: There is no one I could think of besides my parents. I was born in a developing country where tradition and culture usually shape a women's life. The view that a woman does not have equal rights to obtain knowledge. However, my parents, set an example as role models for the precedence in my happiness. They focus on my physical, psychological health, and they teach me the value of education. Seeing them work hard to support my school fee prompt me to work harder in every situation.
Q: WHAT IS YOUR BIGGEST PASION?
A: To me, graduating with a well-known degree is what I dream of. As an international student, my parents have been working hard to support my studies as well as daily expenses in the US. I wish I could reduce my parents' burden by making them proud of me with my education. I want to let them know that the love and care they have provided me will be my ultimate accomplishment in the future.
Q: IN WHAT WAY HAVE YOU MADE AN IMPACT AT LBCC?
A: I wish I could feature Cambodian's culture to Americans as well as International students. Although there is a huge Cambodian community in Long Beach, so many people don't exactly know about our people and community.
Q: HOW HAS LBCC SHAPED YOU INTO YOUR BEST SELF?
A: I realized that I am becoming more confident in where I could depend on myself once I encounter difficulties. I used to be a quiet introvert once I communicated with English speakers. Working as a student assistant helped me boost my confidence, build a mature mindset, developed an attitude of accepting the truth and getting to know the diversity of people.
Q: WHAT ADVICE WOULD YOU HAVE FOR NEW LBCC STUDENTS?
A: Being a college student could be tough, yet understanding the root of failures and success, exploring where to get help, willing to change and being ready to confront obstacles are tremendous keys to obtaining achievements. In other words, don't let failures cease you from finding your goals and dreams.
LBCC has provided significant resources and services that students should be aware of. Learning Academic Resources (LAR), Library, Tutoring Center, Academic Computing Center and so on are available on both campuses. Students will benefit from using the school resources to improve their academic performances. Let's have fun together.
Q: IF THERE IS ONE THING LBCC HAS TAUGHT YOU, WHAT WOULD IT BE?
A: Accepting the truth. Life is not a straight line so that it could be ups and downs in some cases. So as an LBCC student, I know for sure that challenges would stick with me. However, LBCC has changed me from an unrealistic person to one who views things in positive ways. LBCC has shown me that it's worth it to go to college. College degree opens up so many opportunities for an internship to a full-time job, is the reason that LBCC has built a firm foundation in my life.
Q: WHERE DO YOU SEE YOURSELF IN THE FUTURE?
A: I have set my future goal into three main categories. For my short-term goal, I would definitely want to earn an AA degree and transfer to a prestigious university such as CSU or UC. Graduating with a BA degree is my mid-term goal. Ultimately utilizing my knowledge and qualifications that I have earned in the States and working in the medical field in Cambodia is my long-term goal.
Q: WHAT IS THE ONE THING YOU WOULD CHANGE ABOUT YOUR EXPERIENCE HERE AT LBCC?
A: I found myself inactive in the first, two semesters. I only focused on my study without giving myself sometimes to associate with school in the way being a part of LBCC organization member. I am planning to affiliate with some club next semester if I could manage my time properly.
Q: WHAT ARE YOUR PROFESSIONAL GOALS?
A: My professional goal is to have a good career in medical field. If I get financial support from my parents and my loved ones, I'm passionate to pursue my career in medical school as a Nurse Practitioner or Nurse Anesthetist.
Q: WHAT DO YOU PLAN TO DO AFTER YOU LEAVE LBCC?
A: I plan to transfer to a four-year university and work on my higher degree in the medical field.