Josie McCausland
Studio Art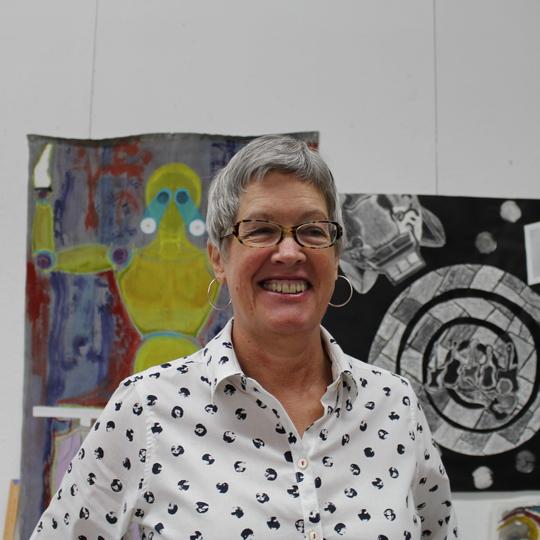 NAME: Josie McCausland
AGE: A half-century and counting!
HOMETOWN: Long Beach, CA
MAJOR: Studio Art, Drawing & Painting
LBCC ORGANIZATIONS, CLUBS OR SPORTS AFFILIATIONS: Club D'Art
Q: HOW LONG HAVE YOU ATTENDED LBCC?
A: I have attended LBCC since for over 2 years as a part-time student.
Q: WHY DID YOU DECIDE TO ATTEND LBCC?
A: I believe the best teachers are working artists who love what they do and enjoy sharing their passion with students, so I researched the teachers' backgrounds at local CC's. LBCC's faculty is top notch; every class I have taken at LBCC has been a gift.
Q: WHAT WERE YOUR EXPECTATION WHEN COMING TO LBCC?
A: As a bit of background, I began this process about 3 1/2 years ago and discovered how much I like painting. Many moons ago, I completed an undergraduate degree in French with a minor in Art, but over the years I only indulged my love for art vicariously, so to speak, as an ardent admirer. My expectations when I started classes at LBCC were fairly modest: study drawing and painting and just enjoy the process. It was wonderful. However, I found that my expectations evolved so much that I made a commitment to myself to pursue a career as a working artist. The studio art teachers at LBCC dedicated a lot of their time last semester to help me create a worthy portfolio for application to graduate school. I couldn't be more grateful.
Q: WHAT DOES LBCC MEAN TO YOU?
A: LBCC's Art Department has been a huge life changer for me. Students and faculty are completely dedicated to the fine arts. The department has a wonderful space for art shows and sponsors many visit artist talks. Last year, LBCC students were invited to submit artwork for a show last November curated by the Executive Director of the Long Beach Art Museum at the ArtX gallery on 3rd street. The show was a huge morale boost to the LBCC students, I can tell you! Events like these make LBCC such an enriching environment for budding artists. Last but not least, a shout out to the art faculty. You are such amazing, talented teachers. We love you! These are award-winning artists, for God's sakes: Carolyn Castano and Stas Orlovski both received the Joan Mitchell Foundation grant in 2013 and 2015 respectively, Coleen Sterritt won the coveted Guggenheim in 2016. I could go on and on with the accolades, not to mention all the art shows the faculty participates in. LBCC's Art program is to die for.
Q: WHO IS YOUR ROLE MODEL?
A: I have too many artist role models to name just one or two, but role models in my age group who started late in life are a bit harder to discover. Fortunately, age is not a deterrent in the Arts: writers, musicians, and artists can be very productive in later years. I would have to say the writer Harriet Doerr is a big inspiration. She went back to college and completed a BA at age 67 and published her first novel, Stones for Ibarra, at age 74. She won the National Book Award! So if she can do it…
Q: WHAT IS YOUR BIGGEST PASION?
A: Guess…it has to do with art.
Q: IN WHAT WAY HAVE YOU MADE AN IMPACT AT LBCC?
A: Perhaps I have made an impact on other students in the art department. I have a positive, playful attitude and feel very excited by my classmates' ideas and talent. I love the sense of community here and feel it is very important to show respect, be accepting and spread good vibes. I also like donating supplies to the department and sharing with classmates because I know money is tight for young college students.
Q: HOW HAS LBCC SHAPED YOU INTO YOUR BEST SELF?
A: LBCC has been a part of my journey to self-awareness; how to be in the moment and find the rainbows.
Q: WHAT ADVICE WOULD YOU HAVE FOR NEW LBCC STUDENTS?
A: Take advantage of everything LBCC has to offer you. Ask a lot of questions. Lean on teachers that you like; they want to help. If you are not sure what classes to take, get counseling and fulfill the GEs. Do get a bachelor's degree. It has been proven that a Bachelor's degree improves your future wage earnings compared to someone with a high school diploma. Lastly, if you want to pursue the fine arts, have a plan for how you will pay your bills. As some of you already know, poverty is stressful, exhausting and just plain bad for your health. Find a way to make a living to reduce your stress and make it possible to enjoy your passions, whatever they are.
Q: IF THERE IS ONE THING LBCC HAS TAUGHT YOU, WHAT WOULD IT BE?
A: A friendly campus makes for a positive experience.
Q: WHERE DO YOU SEE YOURSELF IN THE FUTURE?
A: Step One: Getting an MFA and making more artist friends. Step 2: Having my first group art show. After that, who knows?
Q: WHAT IS THE ONE THING YOU WOULD CHANGE ABOUT YOUR EXPERIENCE HERE AT LBCC?
A: I don't think I would necessarily change anything. I can see that the College administration has plans to continue improving facilities. I admit I don't know all that much about the goals of the Board of Trustees, but it is my hope that this desire to make LBCC a great CC is equally focused on retaining high-quality faculty with generous rewards for talent and teaching skill. An education is only as good as the teachers and the sense of community that exists on the campus. LBCC is a model community college in many ways, in my opinion.
Q: WHAT ARE YOUR PROFESSIONAL GOALS?
A: I am committed to becoming a professional artist. I don't know when or how exactly I will get there. One step at a time.
Q: WHAT DO YOU PLAN TO DO AFTER YOU LEAVE LBCC?
A: Get into a graduate art school MFA program.