Lara Lee Meintjes
Anthropology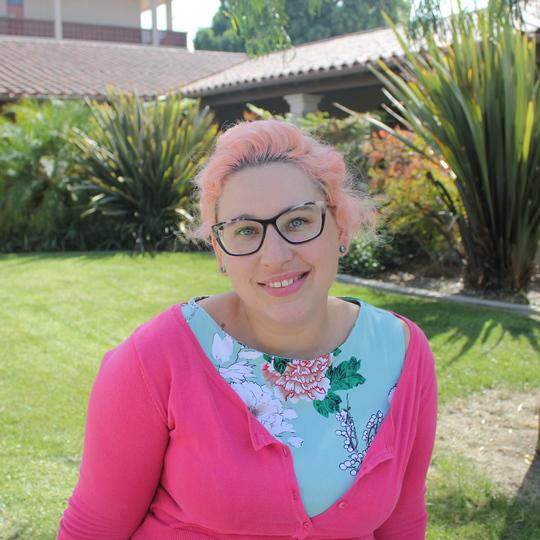 NAME:
Lara Lee Meintjes
AGE:
33
HOMETOWN:
Hillcrest, South Africa
MAJOR:
Anthropology
LBCC ORGANIZATIONS, CLUBS OR SPORTS AFFILIATIONS:
I am a member of the honors program and I serve as the student representative on the Student Success Committee. With a friend and fellow student, I also recently started an advocacy group for students with dependents. I work as a note taker for Disabled Students Programs & Services, which is a great way to motivate myself to take good, clear, focused notes. It is not really a club but is an incredibly worthwhile resource, so I should mention that I work as a supplemental instructor within Supplemental Instruction program. LBCC offers extraordinary student support, including peer-led learning programs like this one, that I have found useful from both sides of the table.
Q: How long have you attended LBCC?
A: This is an interesting one to answer. I took a class in late 2013 but dropped out due to work commitments, then I re-enrolled in Fall 2015 but had to fly back to South Africa because of a family crisis. I really started in Spring 2016.
Q: Why did you decide to attend LBCC?
A: I work as an artist and commercial illustrator. My husband and I were looking for access to a printing press for a project so we signed up, but the class we wanted wasn't being offered that semester and we got a little sidetracked. I am now a full-time anthropology student while he is a full-time math major – we still haven't taken that printing class, haha!
Q: What were your expectations when coming to LBCC?
A: As an immigrant, I really had no idea what to expect from them U.S. edeucation system. I have really fallen in love with the general education system and the broad base it offers to students who aren't 100 percent certain of what they want.
Q: What does LBCC mean to you?
A: As an immigrant, I really had no idea what to expect from the U.S. education system. I have fallen in love with the general education system and the broad base it offers to students who aren't 100 percent certain of what they want.
Q: Who is your role model?
A: I don't know if I have a role model, exactly, but Archbishop Desmond Tutu is my moral compass. And one day I intend to be at least 30 percent as wonderful, warm and as good at building pots as Professor Monterrubio in the ceramics program.
Q: What is your biggest passion?
A: I love to paint, I love traveling and exploring ideas about how different humans live their lives, and I love to debate just about anything with my husband and daughter.
Q: In what way have you made an impact at LBCC?
A: I think that is a question I can't answer culturally. I am South African. I come from a culture where you don't talk about yourself. You don't talk about your contributions. You can talk about what you've gained.
Q: How has LBCC shaped you into your best self?
A: LBCC showed me that I have a voice and that I need to use it in a manner that contributes positively to my community.
Q: What advice would you have for new LBCC students?
A: First, see a counselor. I took a couple of unnecessary classes early on because I didn't have a solid plan or the right guidance. Second, find your people on campus and work together to create the campus environment that you want to see.
Q: If there is one thing LBCC has taught you, what would it be?
A: There is always someone who is having a tougher time than I. Someone who is taking more units or riding more buses to make it to school. Juggling more jobs to make ends meet or caring for more family members and so on. If we work together, connect and communicate, we can make this journey a little easier for all of us.
Q: Where do you see yourself in the future?
A: I'm 33 years old and I only recently came back to school. I like to joke that I've lived life a bit backward. I had my daughter when I was a teenager then dropped everything at 27 to move across the planet with a single suitcase. I've just started again, so where do I see myself in the future? I'd like to continue this studying thing. I'd eventually like to get into a combined law/Ph.D program – that's a long-term goal. I'd like to work in legal anthropology and sort of find a balance at the intersection of law and culture. We live in these incredibly diverse societies now with globalization and so on, and I think our laws aren't moving with that. I think it is important that people with an anthropological understanding of the societies in which they are living contribute to our legal frameworks.
Q: What is one thing you would change about your experience here at LBCC?
A: I believe that our campus needs to be more parent-friendly. Barbara Gault, with the Institute for Women's Policy Research, recently published a study in which she found that 4.8 million U.S. college students are raising children. That is roughly 26 percent of the total student population. Most student parents attend community colleges, and the estimated numbers on campuses like ours are about 30 percent. I wish that I had started looking into this earlier, but I still have some time to work on it! I hope that I can help make our campus a place where these students feel welcomed and supported.
Q: What are your professional goals?
A: I would like to work within legal anthropology, taking tiny steps toward a legal system that balances the varied values and interests of our diverse population.
Q: What do you plan to do after you leave LBCC?
A: My husband and I hope to transfer to UCLA together. I will work on a degree in anthropology and philosophy, and then I would like to work toward a combined J.D./ Ph.D. One step at a time.