LBCC Honors Student Published in Scribendi for First Time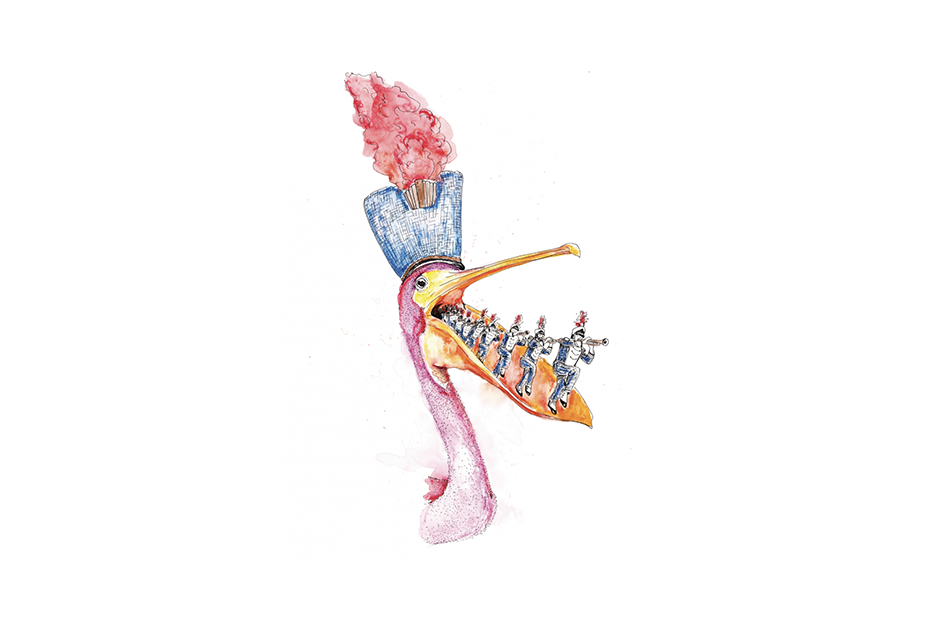 The visual art of Long Beach City College student Lara Lee Meintjes has been selected to appear in the latest issue of Scribendi, Western Regional Honors Council's annual print publication of creative work from undergraduate honors students from more than 200 institutions. Mentjes is the first LBCC student to be published in Scribendi.
The project selected for publication is Mentjes' watercolor, pen and crayon work titled "Doris, or: Every Time I Open my Mouth in Public."
"As a child I constantly questioned the world, but as soon as a question emerged I would try to answer it myself, so I often made strange and sometimes outlandish statements," Mentjes said. "My father would laugh and call me 'Doris' in response to these rambles. I painted this piece fairly soon after he died as a sort of nod to our relationship and also that part of myself that still engages in those questions, if in a somewhat more restrained manner. It references social awkwardness and the feeling that once one opens one's mouth the words are out in the world and the speaker no longer has any control over them."
Mentjes will be graduating in Spring 2019 and transferring into the UC system. She says she is excited to move on but also grateful for the extraordinary growth that LBCC has facilitated within her. She eventually hopes to earn a Ph.D., and to work in legal anthropology and public policy.
"The work that Scribendi has published is typical of Lara's ingenuity, intelligence, and great sense of humor," said LBCC Honors Coordinator Dr. Jeff Wheeler.
Scribendi solicits work in a number of different categories such as poetry, creative nonfiction, short fiction, foreign language, visual art, photography, and open media. Only undergraduate students currently enrolled in an accredited honors program in a college in the Western Regional Honors Council, or the National Collegiate Honors Council, are eligible to submit work to be considered for publication in Scribendi.
Learn more about Meintjes and see her award-winning artwork here: http://scribendi.unm.edu/?p=4323