Martin Saldana
Political Science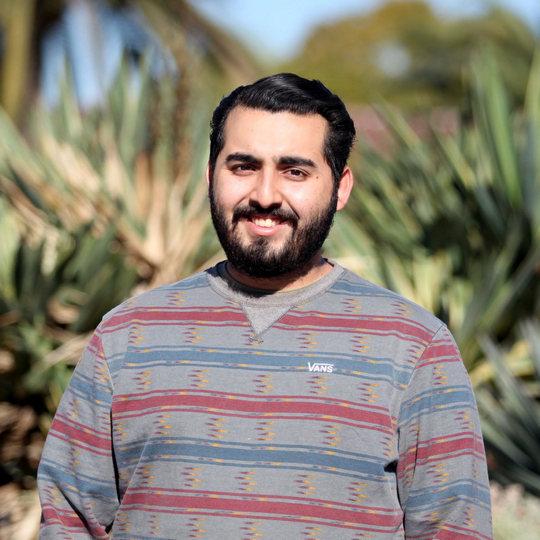 NAME:
Martin Martinez Saldana
AGE:
21
HOMETOWN:
Long Beach
MAJOR:
Political Science
LBCC ORGANIZATIONS, CLUBS OR SPORTS AFFILIATIONS:
Honors Program and Men of Aztlan
Q: How long have you attended LBCC?
A: I have attended LBCC for two years.
Q: Why did you decide to attend LBCC?
A: Their honors program and dedication to assisting students in transferring were always a very big pull factor for me.
Q: What were your expectations when coming to LBCC?
A: My expectations honestly were that I would come to school, leave, go to work, and repeat. Instead, I was pleasantly surprised to find a great community on campus and with the Men of Aztlan.
Q: What does LBCC mean to you?
A: LBCC means opportunity for me. Whether you are a freshmen student looking for an AA, transfer or a non-traditional student that is looking to build an educational background or career LBCC has many pathways leading to success.
Q: Who is your role model?
A: My role models are my parents. As cliché as that sounds, it's true. Their stories are of great sacrifice in order to achieve a better future. There might not have been a concrete end goal, but their journeys have provided me with a multitude of inspiration to continue moving forward with my life.
Q: What is your biggest passion?
A: My biggest passion is helping those around me, in particular, communities of color to be successful. Through my studies of Politics and Sociology, I have the ability to switch my paradigm in order to fully assist all of those around me to create a better community and ultimately a greater society.
Q: In what way have you made an impact at LBCC?
A: I believe that I have made an impact at LBCC by participating in our student government through Club Senate. Student Life Coordinator Teila Robertson and I have always been in contact in order to assist our clubs in their development and maturity through my two years at LBCC.
Q: How has LBCC shaped you into your best self?
A: LBCC has shaped me by exposing me to great staff and faculty. Two great professors and their continued support for me are things that I could not have found anywhere else. Professor Savoie and the late Professor DelGaudio were two absolutely great mentors to me.
Q: What advice would you have for new LBCC students?
A: Take a risk. Join a club you might not otherwise join, take the class you might not think is right for you, take advantage of everything LBCC has to offer while you are there.
Q: If there is one thing LBCC has taught you, what would it be?
A: That I am a valuable student capable of doing great things for my community and myself through academics and education.
Q: Where do you see yourself in the future?
A: Hopefully, I'll be attending law school after I graduate from a 4-year university and I can use that experience to run for my local government or become the City of Long Beach 7th district representative to represent the Latino, African America, Pilipino, and Pacific Islander community.
Q: What is one thing you would change about your experience here at LBCC?
A: Nothing. Honestly, everything has fallen perfectly into place for me. I have met great people, done great things and have been able to enjoy every single aspect of it.
Q: What are your professional goals?
A: Like I mentioned before I would like to run for representative of Long Beach's 7th district, and potentially someday become mayor for our great city.
Q: What do you plan to do after you leave LBCC?
A: Transfer to a 4-year where I can gain some legitimacy in the field of Political Science so that I can move forward and help others.