Reginald Hughes
Biology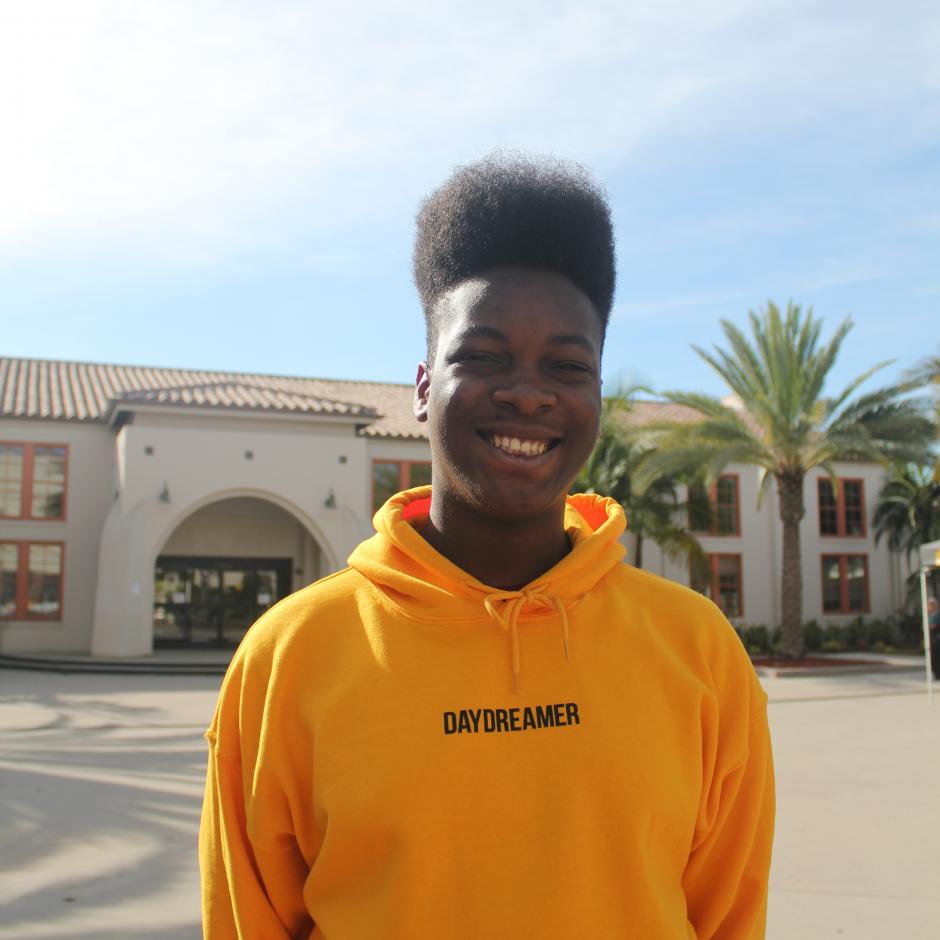 NAME:
Reginald Hughes
AGE:
18
HOMETOWN:
Long Beach, CA
MAJOR:
Biology, AS-T
LBCC ORGANIZATIONS, CLUBS OR SPORTS AFFILIATIONS:
Honors Program, Biology Club, Development of African American Professionals, UMOJA Scholars Program, Black Student Union
Q: HOW LONG HAVE YOU ATTENDED LBCC?
A: Fall of 2017 is my first semester at Long Beach City College.
Q: WHY DID YOU DECIDE TO ATTEND LBCC?
A: LBCC caters to almost every student it welcomes each semester. There are many academic programs to choose from that allow you to obtain an A.S. degree or prepare you to transfer to a 4-year institution. LBCC also is a beautiful campus and along with new resources for students to use, LBCC gears us for success.
Q: WHAT WERE YOUR EXPECTATIONS WHEN COMING TO LBCC?
A: When I first came to LBCC, I thought I was not going to receive a well-rounded education. Not only that but the possibility of not graduating in a timely manner. But from the experience and advice from both teachers and counselors, I could see myself graduating and gaining the full experience at LBCC.
Q: WHAT DOES LBCC MEAN TO YOU?
A: LBCC literally means opportunity for me. They give you the foundation to be successful wherever you go in life with opportunities that can be curated just for you.
Q: WHO IS YOUR ROLE MODEL?
A: My parents are my role models. Seeing them work hard for my siblings every day has influenced me to work hard in my studies. Me succeeding in my education would give them a sense of accomplishment for all the things they have invested in me.
Q: WHAT IS YOUR BIGGEST PASSION?
A: Volunteering. When I don't have my head in books or fingers on the computer, I really love to volunteer. It brings me joy seeing that I could make a huge impact on people's lives with just a simple act.
Q: IN WHAT WAY HAVE YOU MADE AN IMPACT AT LBCC?
A: I'm not too sure yet, but I do try my best in school which I hope will set an example for the peers around me.
Q: HOW HAS LBCC SHAPED YOU INTO YOUR BEST SELF?
A: LBCC has taught me to really think and take action for myself. They have allowed me to utilize my strengths and help build up my weaknesses.
Q: WHAT ADVICE WOULD YOU HAVE FOR NEW LBCC STUDENTS?
A: The advice I would give for incoming LBCC students is to venture out and try new things whether it be joining a club or meeting new people. Getting involved is a great way to find out what you love to do and can open many doors for you.
Q: IF THERE IS ONE THING LBCC HAS TAUGHT YOU, WHAT WOULD IT BE?
A: Excel in everything you do, so you can give your future self a chance.
Q: WHERE DO YOU SEE YOURSELF IN THE FUTURE?
A: In the future, I see myself holding my medical degree as I walk across the stage at my graduation ceremony. That degree is the key to my career.
Q: WHAT IS ONE THING YOU WOULD CHANGE ABOUT YOUR EXPERIENCE HERE AT LBCC?
A: I would love to see a club focused primarily for pre-med majors, which connects us to opportunities in the medical and healthcare field.
Q: WHAT ARE YOUR PROFESSIONAL GOALS?
A: My professional goal is to have a career in medicine, specifically to become an anesthesiologist. If in my power, I want to give back to my community by offering internships, and mentorships for young African Americans who wish to pursue a career in the medicine or healthcare field.
Q: WHAT DO YOU PLAN TO DO AFTER YOU LEAVE LBCC?
A: After I leave LBCC I plan to transfer to a 4-year university where I'll obtain my B.S. in biology, biochemistry or molecular and cellular biology, which will prepare my journey for medical school.