COS Wall of Fame
Alonso Naranjo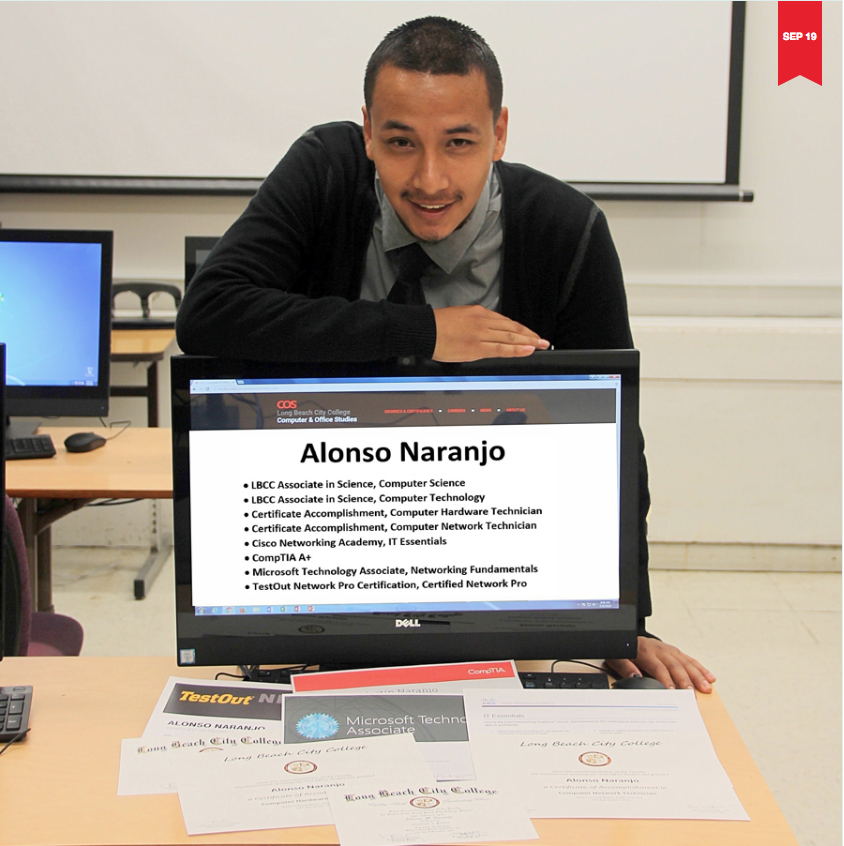 Meet Alonso Naranjo. Alonso is a Computer Technology major at Long Beach City College who has acquired an Associate's degree, along with two certificates of accomplishments, and several industry certifications during his time with the Computer and Office Studies Department at LBCC.
We asked Alonso about his academic journey. He explained, "I was clueless like many others about which major I would be pursing. I have always been fascinated with computers, so after looking at the different majors and reading about a newly added computer major, I decided to follow that route and take some courses which I realized that I actually liked."
After meeting some professors, one of which was COS Professor, Anthony Pagan who guided him and told him what it took to stand out from the rest, he knew that it was going to take hard work and perseverance to achieve his goal. "I was a procrastinator," Alonso admits, but he developed a passion for computers which kept him motivated. He recommends students who like technology visit the COS department and look at the various majors to see if they are willing to take some courses. He also highly recommends getting guidance from Counselor Yolanda Padilla, who helped him develop an educational plan that "fit him well."
In fall 2016, Alonso transferred to Cal State Dominguez Hills with a major in Computer Technology. In addition to furthering his education, his plans include gaining more experience and one day becoming a Network Administrator.
For his dedication, drive, and accomplishments Alonso Naranjo is hereby inducted into the LBCC, Computer and Office Studies Department's Wall of Fame!