AAUW Pay & Benefits Negotiation Workshop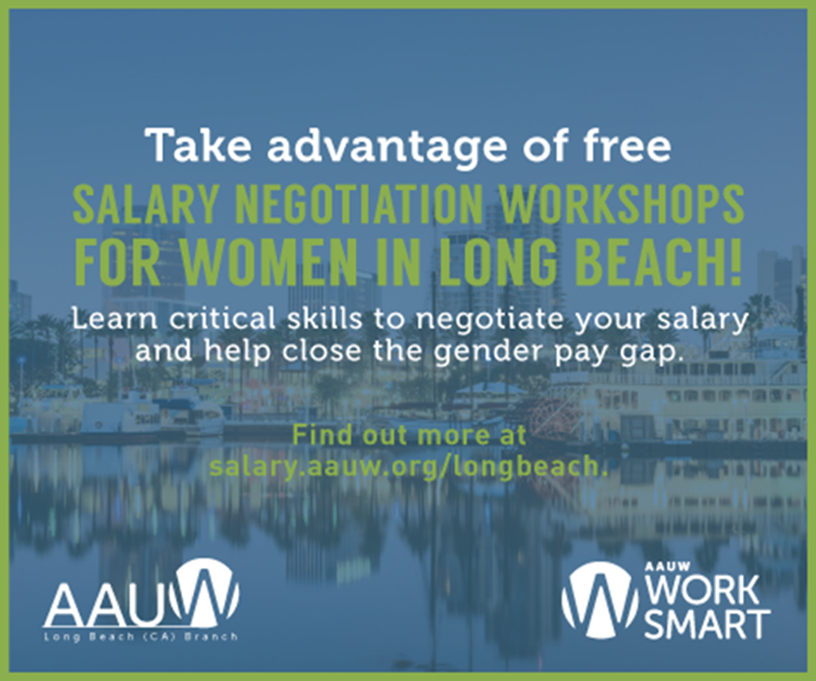 Are you earning what you deserve? In 2015, full-time working women in the U.S earned 80% of what men earn. In California, the figure is 86% – better, but still not at parity. A portion of this gap is attributed to women's lack of knowledge in how to best negotiate for their pay and benefits.
Created for working women, AAUW Work Smart is a free interactive workshop that teaches you to evaluate, negotiate, and articulate your worth confidently in the job market. AAUW's facilitators lead discussions on the gender pay gap and its personal effects, while small group activities and role-play exercises give you the opportunity to create and perfect your persuasive pitches. You learn objective research and benchmarking skills to establish an equitable target salary or wage, whether you are striving for a promotion, asking for a raise, or negotiating for a position with a new organization or company.
Coordinated by American Association of University Women (AAUW) Long Beach, the workshop is limited to 40 participants. Men who champion equality are welcome. Want life-enhancing skills with which to start the new year? What are you waiting for?
| Date | Time | Location |
| --- | --- | --- |
| Monday, Dec. 4 | 3:00 pm – 5:00 pm | LAC, T-2377 |
| Wednesday, Dec. 6 | 6:30 pm – 8:30 pm | El Dorado Park Senior Center |
Be sure to register online and learn how to negotiate what you deserve!
---
STUDENTS ONLY
If you require Sign language interpreting services or Communication Access Realtime Translation (CART) services , please contact the event contact person and Stephanie Bonales at least 72 hours prior to the event at (562) 938-4918 or sbonales@lbcc.edu.

FACULTY AND STAFF ONLY
If you require Sign language interpreting services, please contact the event contact person and Rebecca Lucas at rlucas@lbcc.edu at least 5 business days prior to the event.

If you require Communication Access Realtime Translation (CART) services, please contact the event contact person and Jaymee Hunt at cart@lbcc.edu at least 5 business days prior to the event. *Please note requests are based on provider availability*