Stress Reduction and Prevent Relapse Workshop
Healthy Viking Initiative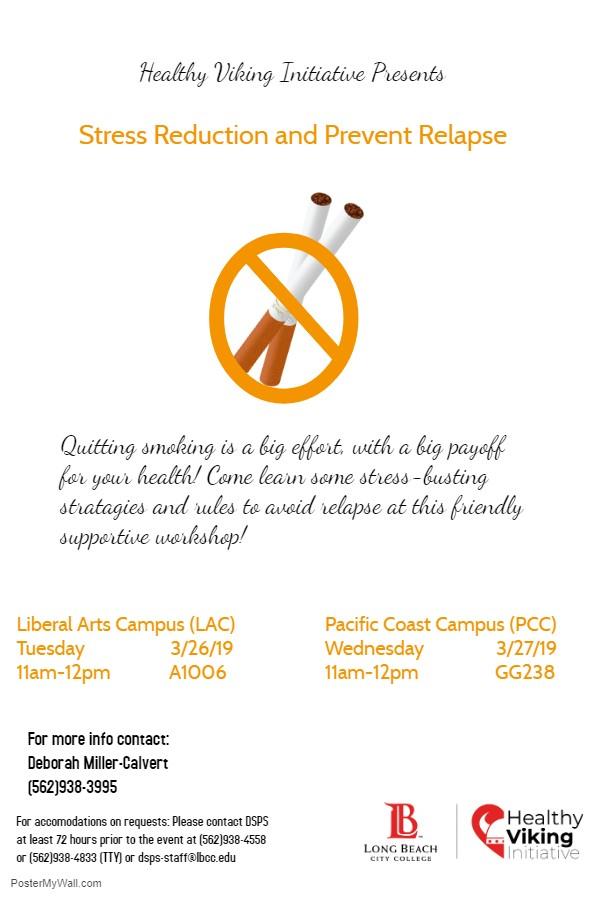 Quitting smoking is a big effort, with a big payoff for your health! Come learn some stress-busting strategies and rules to avoid relapse at this friendly supportive workshop.
LAC – A1006
Tuesday, March 26
11am-12pm
PCC – GG2388
Wed., March 27
11am-12pm
For more info contact Deborah Miller-Calvert at 562-938-3995
---
If you require accommodations, please contact the Disabled Students Programs & Services (DSPS) at least 72 hours prior to the event at (562) 938-4558 or (562) 938-4833 (TTY) or dsps-staff@lbcc.edu. If you require sign language interpreting services, please contact Stephanie Bonales at sbonales@lbcc.edu or (562) 938-4918 at least 7 days prior to the event.