Transfer Bootcamp Workshop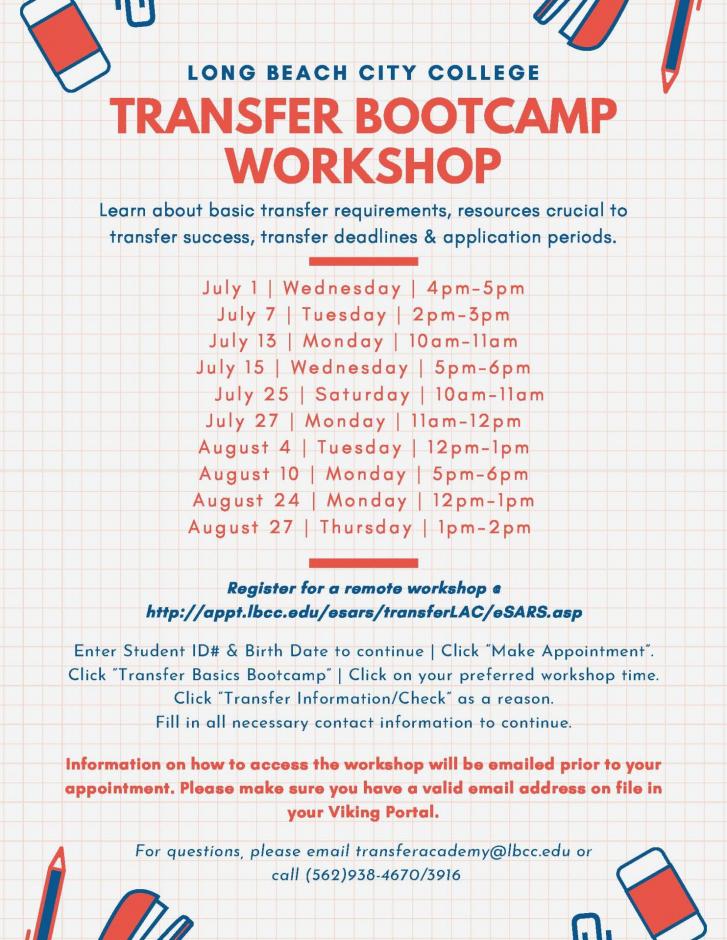 Learn about basic transfer requirements, resources crucial to transfer success, transfer deadlines & application periods.
Register for a remote workshop
http://appt.lbcc.edu/esars/transferLAC/eSARS.asp
1. Enter Student ID# & Birth Date to continue
2. Click "Make Appointment".
3. Click "Transfer Basics Bootcamp"
4. Click on your preferred workshop time.
5. Click "Transfer Information/Check" as a reason.
6. Fill in all necessary contact information to continue.
Information on how to access the workshop will be emailed prior to your appointment. Please make sure you have a valid email address on file in your Viking Portal.
For questions, please email transferacademy@lbcc.edu or call (562) 938-4670 Ext. 3916
---
GENERAL ANNOUNCEMENT:
Please note for Accommodations: At least 72 hours prior to the event, (562) 938-4558 (voice), (562) 353-4217 (videophone), & dsps-staff@lbcc.edu // Sign Language Interpreting, please contact Stephanie Bonales at sbonales@lbcc.edu or (562) 938-4918.
Communication Access Realtime Translation (CART) services, 5 business days prior to the event, please contact HR Analyst: Jaymee Hunt 562-938-4547 | j2hunt@lbcc.edu or Sonia Leticia Vélez 562.938.4323 | svelez@lbcc.edu. *requests are based on provider availability*