Spring 2022 Dance Ensemble Concert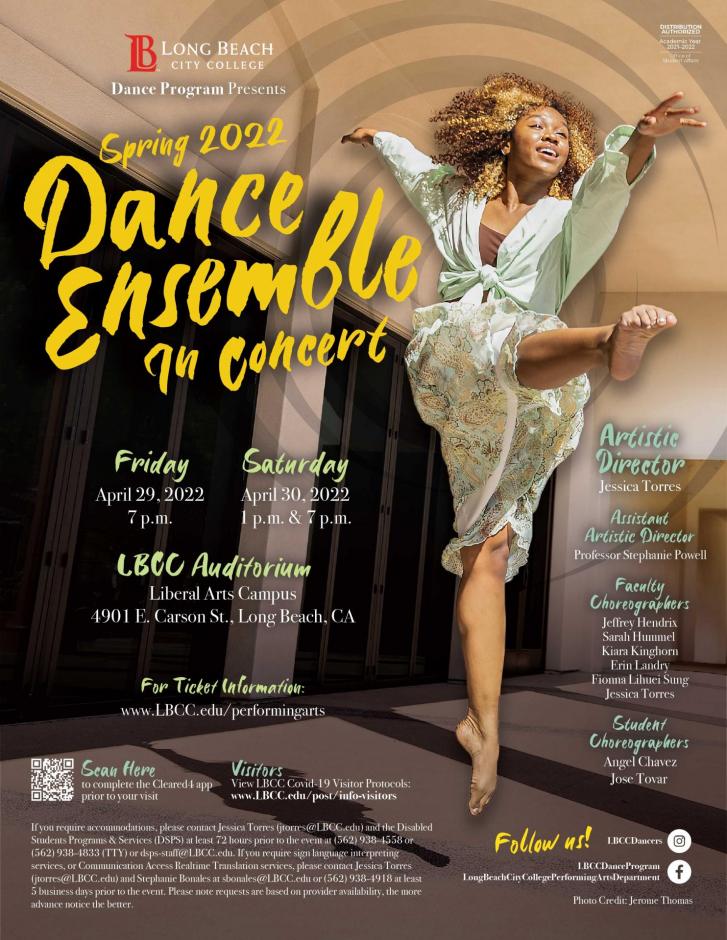 Spring 2022 Dance Ensemble Concert – Fri, April 29 & Sat., April 30
The LBCC Dance Program and Artistic Director Jessica Torres are proud to present the Spring 2022 Dance Ensemble in Concert.
Date/Time: Friday, April 29, 7:00PM
Date/Time: Saturday, April 30, 1:00PM & 7:00PM
Location: Auditorium (LAC-Building J)
Tickets are $10 for Students, Staff & Seniors, and General Admission is $15.
The exciting showcase will feature the LBCC troupe performing the unique, cutting-edge work of both Dance Faculty Choreographers Jeffrey Hendrix, Sarah Hummel, Erin Landry, Fionna Lihuei Sung, Jessica Torres and Marth L. Z. Pamintuan, and Student Choreographers Angel Chaves and Jose Tovar.
Current indoor mask and COVID-protocols required. Visit Info for Visitors for more information.
---
GENERAL ANNOUNCEMENT:
Please note for Accommodations: At least 72 hours prior to the event, (562) 938-4558 (voice), (562) 353-4217 (videophone), & dsps-staff@lbcc.edu // Sign Language Interpreting, please contact Stephanie Bonales at sbonales@lbcc.edu or (562) 938-4918.
Communication Access Realtime Translation (CART) services, 5 business days prior to the event, please contact Human Resources Staff at cart@lbcc.edu *requests are based on provider availability*