Bands – Winds & Percussion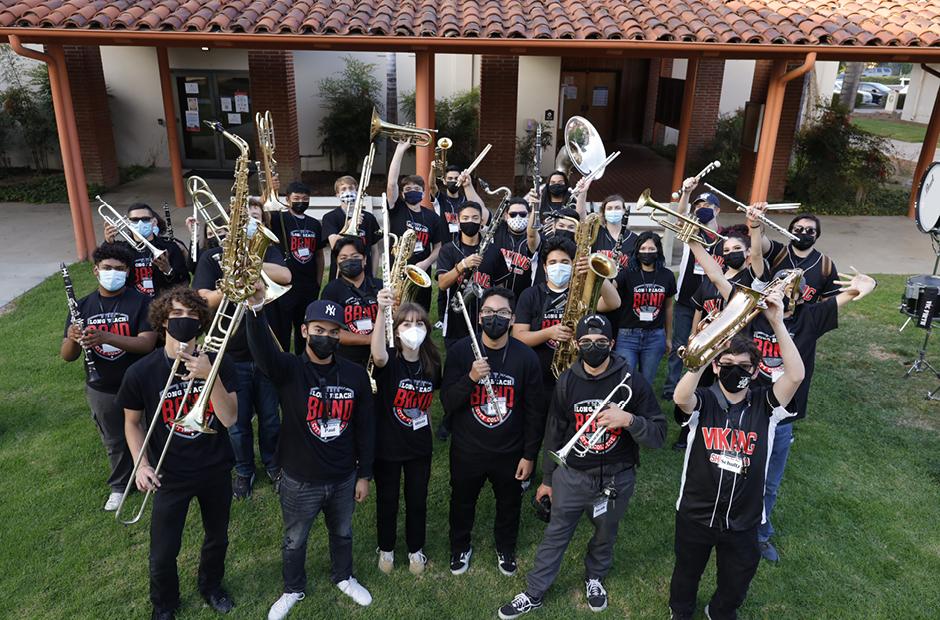 Wind Ensemble (MUSIC 38AD)
The Wind Ensemble is Long Beach City Colleges premier wind band. Students will study and perform both traditional and contemporary wind and percussion music. The group consists of both music majors and non-music majors. Guest artists and conductors often work with this group and students will perform at least two times a semester. In addition, the Wind Ensemble travels annually to various locations for festivals and performances. This course is required for all wind and percussion majors who are part of the applied music program.
Viking Show Band (MUSIC 49AD)
The Viking Show Band performs at home football games in the fall as well as other local events, including the annual "Band Spectacular." In the spring, the band is a performs a marching show at local schools and competition events in Southern California. The band primarily performs "popular" repertoire and all standard band instruments are utilized. Both music majors and non-majors are welcome to join.
Percussion Ensemble (MUSIC 28AD)
The Percussion Ensemble is dedicated to performing percussion repertoire from all periods and styles of percussion music. Students will learn skills and techniques for playing various percussion instruments. Students will perform at one concert per semester. The percussion ensemble is open to all levels (including beginners) and is for both music majors and non-music majors.
Evening Wind Symphony (Community, non-credit ensemble)
The Evening Wind Symphony is a community band made up of college students, community members, and high school students. The band is part of the Life-Long Learning Program at Long Beach City College. The Band performs once per semester. Contact Mr. Hamilton for the start dates and more information.