New Partnership Will Allow All Long Beach City College Students to Ride Many Transportation Systems for Free
Long Beach Transit, L.A. Metro partner with LBCC in program that starts Spring Semester 2022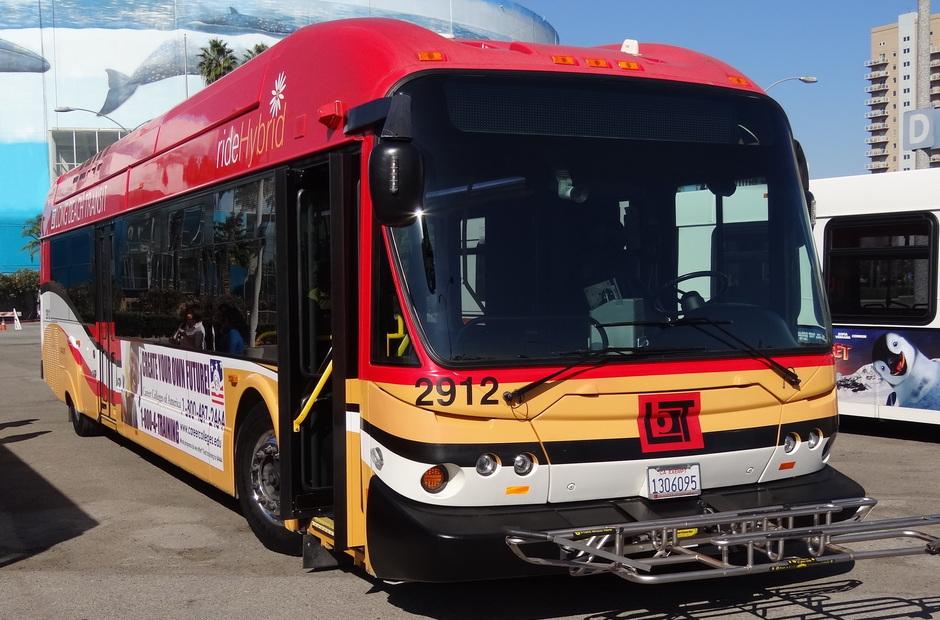 Long Beach Transit (LBT), the Los Angeles County Metropolitan Transportation Authority (Metro) and Long Beach City College (LBCC) announced a new partnership today that will offer free rides for all LBCC students across several transportation systems.
Beginning with the Spring 2022 semester, all LBCC students – whether full-time, part-time, in-person, online, credit/non-credit or dual-enrollment – will be eligible for the free Metro GoPass, Metro's student fareless pass program.
The new program is an expansion of LBCC's highly successful "Strong Beach" Bus Pass Pilot Program with Long Beach Transit that was first introduced in Fall 2019 for full-time students only.
"I'm excited to see this expansion of the Strong Beach transit program that was initiated at LBCC in 2019," said Long Beach Community College District Board of Trustees President Uduak-Joe Ntuk, who led the Board effort to create the Strong Beach program. "We've already seen through the pilot program how this helped hundreds of our LBCC students who needed transportation assistance, and received an overwhelming positive response from the students who participated. It's wonderful to be able to offer this invaluable service to our students, and we thank our partners at Long Beach Transit and Metro for working together to make this expanded program a reality."
Besides expanding to include all students, the new program also goes beyond Long Beach Transit to include free rides on all Metro Bus and Rail lines; Culver CityBus; Foothill Transit; Gardena Transit (GTrans); Montebello Bus; Norwalk Transit; Santa Monica Big Blue Bus, and Torrance Transit.
The only criteria are that students must be enrolled for LBCC's Spring 2022 semester.
"LBCC recognizes that for some of our students, sometimes just getting to class is a barrier, particularly for students who do not have reliable transportation to and from campus," said LBCC Superintendent-President Mike Muñoz. "The ability for all of our students to travel across several transportation systems will make a huge difference for our students. Not only will they be able to travel to class, but they could also travel to work or visit family in the greater Los Angeles area."
"About 40 percent of our customers are students, and Long Beach Transit is proud to support the GoPass initiative by providing students with reliable transportation," said Michael Clemson, Chair of the Board of Directors. "This new program encourages public transit ridership, supports educational achievement and promotes sustainability."
"As a participating agency of the GoPass Program, LBT is directly contributing to the success of students in the communities we serve," said Kenneth A. McDonald, LBT's President and Chief Executive Officer. "The program will continue to provide reliable transportation to promote the success of LBCC students and is an example of LBT partnering to make everyday life better for our customers."
Metro's GoPass Program seeks to use fareless transit as a tool to help participating L.A. County students better manage the ever-rising cost of living and help recover from the ongoing COVID-19 pandemic. Approximately 70 percent of Metro riders are considered low-income riders today.
"This program is one of our most transformative efforts to help Los Angeles County emerge from the pandemic, reduce transportation emissions, simplify students' return to school, and increase ridership," said Metro Board Chair and L.A. County Supervisor Hilda L. Solis, representing the First District. "We encourage all community colleges in L.A. County to take advantage of the opportunity to provide these and other key benefits for their students."
"Students do better at school when they don't have to worry about how they'll get there. That way they can focus on what matters most: their education," said Los Angeles County Supervisor and Metro Board Member Janice Hahn. "Removing their cost of transportation helps Long Beach City College students pay the bills while still getting to class on time. Thank you, Long Beach City College, for offering this program to your students."
"As a Metro Board appointee for the Southeast Long Beach sector, I couldn't be happier to see Long Beach City College join Metro's GoPass Program," said Metro Board Member and Whittier City Council Member Fernando Dutra. "I know these students need equitable access to the city's public transportation network. With several convenient Metro A Line (Blue) stations serving the Long Beach area, LBCC students can easily connect with all of the major transit lines Metro has to offer."
LBCC will contact students with additional information on how to receive their free pass, including instructions on how to get a Metro GoPass to access the transportation services.
"We are tremendously excited that Long Beach City College has added its name to the growing list of regional community colleges joining our GoPass Program," said Metro Chief Executive Officer Stephanie N. Wiggins. "This important program is the largest unlimited-use student program in the nation. Long Beach City College students can use this pass to take transit freely throughout our county — not just to and from their schools. It is our hope that we can convert these students to lifelong transit customers with the help of this fareless pass program."
Nearly 400 LBCC students responded to an online survey regarding the Strong Beach pilot program, and survey results were overwhelmingly positive. Almost all respondents said that they used their pass on a daily basis and said that receiving the pass helped them be more successful at LBCC. Complete information about the LBCC GoPass Program can be found on the LBCC website at https://www.lbcc.edu/post/transportation.
For more information on Metro's GoPass Program, visit www.metro.net/gopass.
---
About Long Beach Transit
Long Beach Transit is dedicated to connecting communities and moving people, making everyday life better by providing transportation services in Long Beach, Carson, Lakewood, Paramount, Signal Hill, as well as Artesia, Bellflower, Cerritos, Compton, Downey, Hawaiian Gardens, Los Alamitos, Norwalk, and Seal Beach. For more information, visit www.ridelbt.com.
About Metro
The Los Angeles County Metropolitan Transportation Authority (Metro) ) is currently providing lifeline service for essential trips and frontline workers. Metro continues building the most ambitious transportation infrastructure program in the United States and is working to greatly improve mobility through its Vision 2028 Plan.
Metro has proudly pledged to the American Public Transportation Association (APTA) Health and Safety Commitment Program to help ensure the safe return of transit riders as the U.S. recovers from the COVID-19 pandemic.
Stay informed by following Metro on The Source and El Pasajero at metro.net, facebook.com/losangelesmetro, twitter.com/metrolosangeles and twitter.com/metroLAalerts and instagram.com/metrolosangeles.
Editor's Note: Metro Operators are crucial to keeping LA moving. Metro is currently hiring more than 500 bus operators and is offering a $3,000 bonus for coming aboard. This is a great career opportunity. Metro offers competitive hourly rates starting at $19.12 with benefits that include health insurance, tuition reimbursements, paid training, retirement plan options and flexible working hours. Please encourage friends, family and community members to become a part of the Metro team that provides excellence in service and support and keeps our region moving. Apply at metro.net/driveLA.
---
About Long Beach City College
Long Beach City College consists of two campuses with an enrollment of over 25,000 students each semester and serves the cities of Long Beach, Lakewood, Signal Hill, and Avalon. LBCC promotes equitable student learning and achievement, academic excellence, and workforce development by delivering high quality educational programs and support services to our diverse communities. Visit www.LBCC.edu for more information about Long Beach City College.
MEDIA CONTACT
Stacey Toda
LBCC Associate Director
Communications & Community Engagement
(562) 938-4004